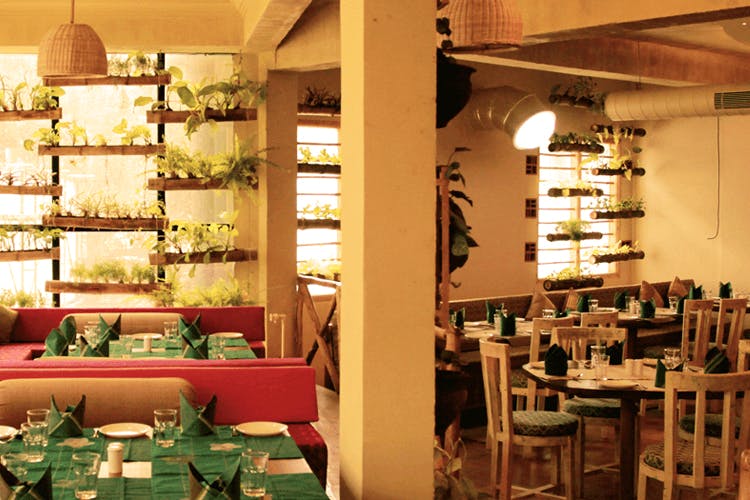 A Green Lung Right Here In Malleswaram
Shortcut
Eco hotel, organic store and probably one of the greenest corners in the city, all rolled into one, The Green Path is full of eco-initiatives, promoting sustainable living. Plus, a detox cafe. No wonder they call themselves the Earth People!
Roots And Routes
Providing easily replicable models of sustainable living, The Green Path is not just about being eco-friendly, but showing that their approach is not too far fetched. The founder of this foundation, HR Jayaram is a lawyer who moonlights as an organic farmer. His love and dedication for Earth comes from his deep rooted attachment to it, inculcated by his partner-in-crime and mother, Smt Nagamma. Originally from a small village near the Sathyamangala forest in Tamil Nadu, the mother-son duo is now the core team of this organisation. That must have been quite a journey, we think. Their belief of respecting the Earth and celebrating life is the foundation of The Green Path. The founders also run a eco retreat and hotel on New BEL Road.
Vegans, Listen Up!
Promoting slowly grown organic food, no addition of preservatives and chemicals in food, rain water harvesting, herbal cosmetics and even local artisans, this impressive movement is what the world needs. The Green Path, spreading across 24,000 square feet is nestled in Malleswaram, near Mantri Mall amidst the bustle of the traffic. They have an organic restaurant named Forgotten Food.
Eat, Detox, Shop
The name is pretty straightforward since the restaurant is all about bringing back traditional cuisines that are long forgotten. And breaking the assumption that organic food is boring and bland, they even have delicious pizzas made from millet flour! The detox cafe serves some interesting smoothies, probiotic drinks and snacks, and it goes without saying that they are all healthy. The furnishing and the flooring of the cafe are made from waste wood but provides wonderful aesthetics along with the hanging plants and colourful decor. They even have workshops, events and exhibitions that promote eco-friendly, healthy and sustainable living. And what's even better? They retail clothes, bags, cosmetics, jewellery and even vegetables, rice and masala powders — all organic supposedly! If you pay a visit to this lovable haunt, don't forget to take a peek at their terrace garden.
Where: No. 185/,1 Opposite Metro Station, Rajeev Gandhi Circle, Sampige Road
Contact: 080 23569777 or e-mail nfo@thegreenpath.in
Timings: 10am-8pm
Find them on Facebook here.
Check out their website here.
Comments