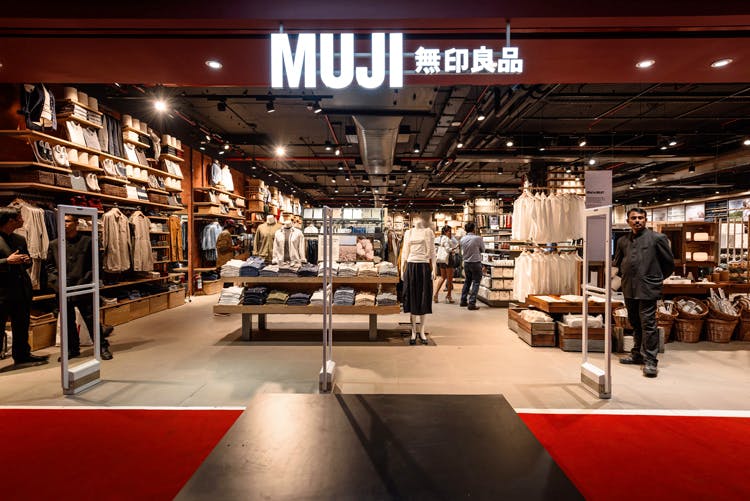 Miles Of Stationery, Storage Solutions, And T-Shirts To Fit Your Bed At Muji
Shortcut
The Japanese label at VR Mall with its brand of minimalist aesthetic, simple home and lifestyle objects, stationery and apparel, but with clever and functional design.
What Makes It Awesome
Enter the store only to be wowed by how everything is organised so neatly and beautifully and is much bigger than Mumbai and also houses home decor, missing in the other city. Single beds that can be pulled out to make a double one, pillows stuffed with feathers (we hope fake ones), light-as-air bean bags with particle beads in them and bedsheets made out of T-shirt material for that perfect fit, comprise the home decor section. Everything is white, cream or in earthy tones (think the Kinfolk magazine aesthetic), and might be a pain to handle thanks to our dusty Indian homes. And the prices are steep. But the kitchen section full of gorgeous jars, cups, mugs, ladles and more, is better priced and really covetable with elegant designs.
Stationery fiends, you need to make a beeline for Muji's fantastic section dedicated to pens, notebooks, erasers, pencils and what not. Since they don't believe in branding (you wont find it on any of their products), feel free to use the store's free stamps to create your brand on stationery. We have already stocked up on their simple notepads (blank/square/ruled) and coloured pens, both at INR 90 a pop. For those who are slightly cray cray about storage (made out of acrylic), this is where your search should end, from tiny bottles to carry pills to boxes that perfectly fit on each other to form shelves, you will be amazed. We are particularly in love with their woven baskets and their filing cabinets.
The only section which we found a bit boring was clothing that remind you of GAP stuff, but there was a cool hoodie with a two-way zip (so that they never get stuck). The kids section is the only place where you will find a bit of colour. We also spotted a lot of Breton stripes throughout the store. They also have a smallish section dedicated to bath and body care (divided according to sensitive skin and regular skin). Most of the products here are available in travel sizes and include toning water, a Muji staple, cleansing milks and all-in-one essences that work like serums.
Pro-Tip
Muji internationally is known for their funky snacks and food kits, but no such luck here because apparently the stores here won't sell food because of certain regulations. While the home decor and apparel section were priced rather steep, we found everything else pretty reasonable, especially stationery.

More Information
Muji
Nearest Metro Station: Baiyappanahalli
Comments