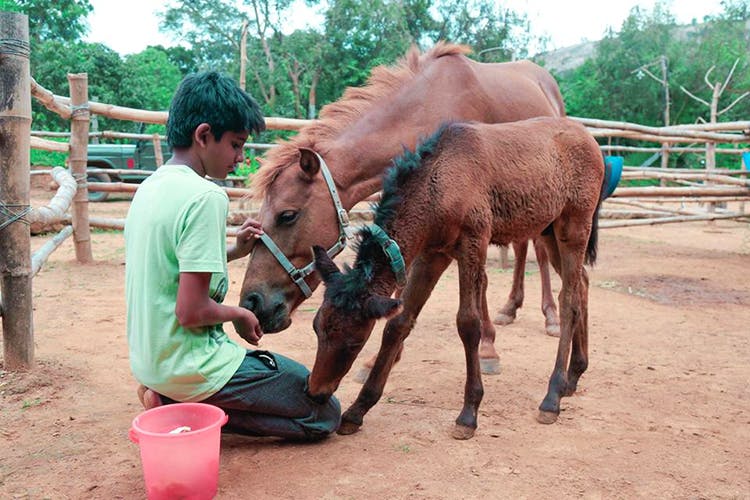 National Parks & Wildlife Sanctuaries
Emus, Hedgehogs And Horses: Spend A Day With Animals At This Interactive Pet Sanctuary
Shortcut
Sitting on the outskirts of the city, Prani is a pet sanctuary that's home to rescued animals like horses, terrapins, hedgehogs, and birds. You can sign up for a guided tour and a day of fun here.
What Makes It Awesome
Living in crowded, busy Bangalore doesn't afford us many opportunities to interact with and observe animals. And if you sorely miss that, then, Prani is just the place for you. Located just outside the city (it's a 20-minute drive from The Art Of Living International Centre on Kanakapura Road), Prani is an interactive pet sanctuary. And we think a must visit for every animal lover and curious soul in the city. The pet sanctuary has been established by Sanjeev Pednekar, a herpetologist and conservationist who has worked with the likes of Romulus Whitaker, and Kartik Prabhu, who has more than 13 years of experience in wildlife rescue, relocation and rehabilitation. So, you know you are going to learn plenty on your trip here. Prani is open on all seven days of the week between 7am and 7pm.
We recommend you drop by as early as possible to make the most of your guided tour (plus you'll avoid the harsh midday sun). Once you get your ticket at the entrance (INR 399 per head), the experts take you through the two-acre sanctuary. At the very beginning, you meet gerbils, mice, and hedgehogs. Your guide will teach you how to interact with them and also share stories of origin. Next, you move on to a small but thrilling aviary. This is Bangalore's only aviary where you get to walk through and actually touch and feed the birds. Here you'll meet colourful parakeets and other winged creatures who'll happily sit on your shoulder and even nibble away at your ears. The rest of the farm is home to larger animals.
There's Maya – the mischievous horse who demands to be fed. There are emus whose slightly waxy feathers you can ruffle. And terrapins, rescued for local lakes, who bask quietly in the sun. You can also hang out with donkeys, rabbits, chickens, and ducks. Needless to say, Prani is especially popular with the kiddies but the adults will have an equally fun time too, we think. Once you are done with the guided tour, you can picnic under the trees or at the eco-friendly shelter they have built on site. However, if you haven't brought your own lunch, we recommend you sign up for their simple, vegetarian lunch that's made by locals using fresh produce. This will cost INR 150 per person.
Also On Prani - The Pet Sanctuary
Comments
National Parks & Wildlife Sanctuaries