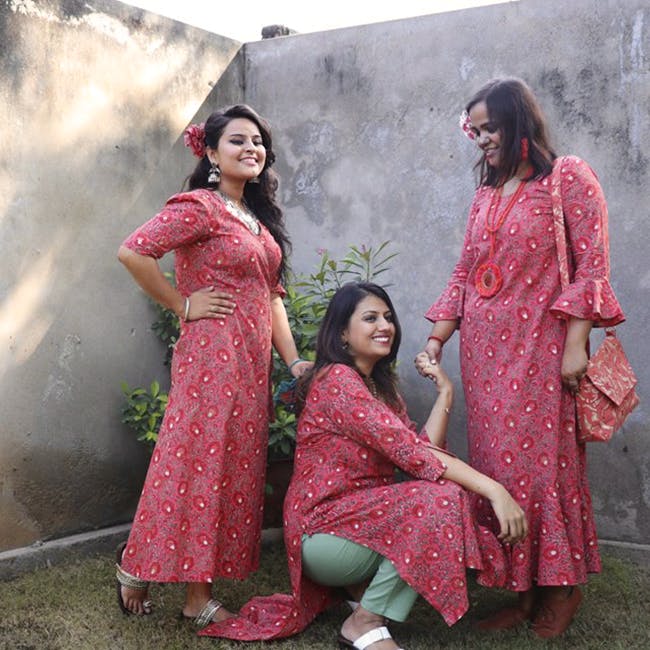 Padharo Mhare Desh With Some Irresistible Jaipur Cotton From These Stores In Bangalore
Everyone loves the feel of breezy, light and comfortable cotton clothing. Jaipur Cotton has become one of the most sought after and staple fabrics in our wardrobes. Always on a lookout for some Jaipur cotton with block prints in Bangalore? We've got your back. Check out these places to get your fix of Jaipur cotton without having to travel all the way to Rajasthan.

Anokhi
Anokhi, One of the most loved brands of Jaipur, has a perfect blend of cotton, block prints, and western silhouettes. If you are looking for styles such as wrap skirts, crop tops, anghakaras, cover-ups, and straight pants, Anokhi in Leela Palace, Bangalore, is your place to be. With prints such as floral, chevron, geometrical and paisleys in colours that are unique to the brand, Anokhi makes a mark amongst the crowd. Apart from women's clothing, they also stock up on bed linens, utility and storage bags, stoles and scarves, men's shirts & kurtas and adorable children's clothing. The nightwear such as kurta and pants, nightgowns and shorts, are absolute best sellers.

Suvasa
Based out of Jaipur, this store in Indiranagar is all about breathable cotton and block prints. Suvasa is well known for their ethnic wear: Kurta sets, Kota doriya, and chiffon dupattas and home linen that elevates not only your wardrobe but also your house. Apart from women's wear such as kurtas, skirts, anarkalis, sarees, and dupattas, they also sell menswear such as shirts and kurtas. They also have a range of dhurries and bed linen with block prints of Rajasthani motifs, paisley, floral accents and geometric shapes and styles.
Cottons Jaipur
Adding to the list is another gem that every cotton enthusiast must visit is Cottons Jaipur. Technically based out of Jaipur (Obviously), Cottons Jaipur has a store in Indiranagar and the garments here are usually plain Jaipur cotton accented with hand embroidered and mirror work - an art that comes from the tribes of Rajasthan. With both ethnic and western wear, Cottons Jaipur is a store one must visit if they're in love with anything and everything cotton. They do have a few pieces of clothing that are block printed. The bright coloured skirts in yellows and reds and breezy kaftans are our favourites.

Jaipur Hutz
Jaipur Hutz, based out of Basavanagar, has to be on your speed dial if you are looking for some budget-friendly, everyday cotton wear. With hues derived from natural sources such as indigo and greens (leaves) , this store stocks up on salwar materials with block prints and sarees with chevron and floral prints. Find unstitched salwar materials with dupattas made out of Kota doriya and chiffon in bright yellows, reds, oranges and the ever favourite Indigo. The sets start at INR 700, making it budget friendly. If you can't visit the store, you can also place your order on their social media pages.

Bandhej
Rajasthani clothing is incomplete without the famous tie and dye technique. Get your fix of tie and dye at Bandhej. Check out a range of bandhani and bandhej clothing, a traditional tie and dye technique found in Rajasthan and Gujarat. From salwar sets to Kali skirts and breezy palazzo pants, each piece of clothing is made by local artisans with 100 percent organic cotton and silk. The foil print and zari embroidery on the anarkali kurtas makes them suitable for festivities or even get-togethers. The leheriya and bandhej dupattas in cotton and silk cotton are worth buying.
Kilol
The two storey building on 100 feet road is home to one of the most loved Jaipur cotton labels: Kilol. From Rajasthani prints of paisleys and floral buttas to block printed jaals, find a range of airy, breathable and comfortable clothing at Kilol. Everyday wear to occasion wear and even unstitched cotton fabrics for those who prefer custom made clothing, Kilol makes sure everyone who enters gets their fix. The range of bed sheets, dhurries, blankets and cushions with block prints in reds, blues, yellows would make you want to redo your home decor.
Soma Shop
With its roots in Jaipur, Soma Shop has stores across the country, spreading the traditional block print on Jaipur cotton all across the nation. The use of organic colours for block printing makes it very earthy and paisleys and shekhawati prints of peacocks and flowers make it a must buy for any handloom enthusiast. With two stores in Bangalore: Indiranagar and Ulsoor, Soma stocks up on women's wear such as kurtas, dresses, skirts, tops and a very limited collection of men's wear and children's clothing.

Comments