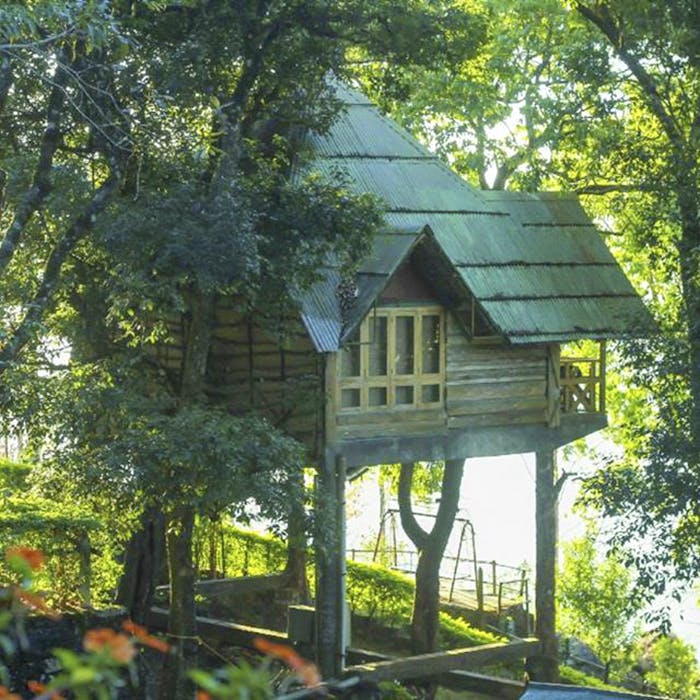 Head To Munnar, Turn Off Your Phones, And Live The High Life At These Tree Houses!
Our neighbour Kerala is a gift that keeps on giving. Beaches, backwaters, wildlife sanctuaries , rivers, and hills - God's Own Country has everything! For those of you who have never been, and think it's only hot and rainy, you've obviously not heard about Munnar. If you're looking for places to stay that are slightly different, you should try a tree house, and there are plenty across the region.

Nature Zone Resorts
Keeping in mind the sensitive ecosystem and biodiversity of the area, Nature Zone Resorts in Munnar offers luxury tents, and treehouse accommodations. Treehouses are built on living trees, so you'll literally be living side by side with nature! Wooden paths wind through thickets and lead up to your front door while the insides have a 360 degree view thanks to ceiling-to-floor windows all around. All about the experience the tree houses are rustic with modern amenities.

Great Escapes Resort
Perfect for dialing up the romance, the Tree House accommodation in the Great Escapes Resort in Munnar is one of four types of rooms offered. The tree house is a cozy cabin suite looking out to the rest of the resort, and the rolling hills ahead. The resort only offers three other cabins (not tree houses), so you won't be running into many people and can enjoy walks around the property, or just stay in with a book.

Ela Ecoland Resort
Super basic and subsequently very quaint and rustic, the accommodation at Ela Ecoland Resort tends to work around the environment, rather than the reverse. The tree house is positioned between five trees, of which one actually goes through the house! The room is small, and when we say basic, we mean that the only phone connectivity you'll get is BSNL, so it's perfect for an offline holiday. The restaurant on the property serves local fare, so you'll have a truly immersive experience.

Jungle Jive
Set in a 15 acre plantation, Jungle Jive resort's tree house is like a little apartment! The tree house has twin as well as single room accommodations, either facing the mountain, or the garden. Nature and adventure enthusiasts will love it as the resort organises activities (apart from plantation tours of course) like star gazing, jeep safaris and photo walks. If you're looking for some downtime, though, just lounge on their hammock with a book and some tea.

Kaivalyam
Kaivalyam Nature Retreat in Munnar is another place you can enjoy the natural beauty of the rich biodiversity around. Small wooden bridges lead you to the treehouse, and the space is designed around nature. Pretty secluded from, well, civilsation, the retreat offers a natural, organic, and holistic experience. So plenty of Yoga, nature walks, tea tasting sessions, and connecting with the great outdoors.

Comments