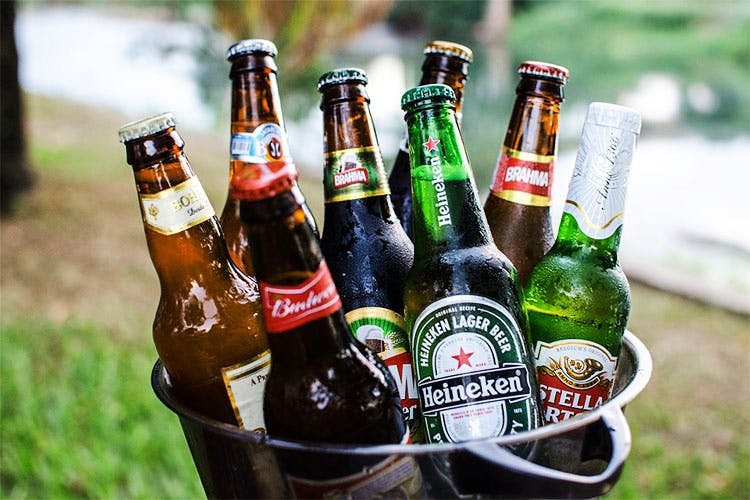 Chug, Chug, Chug: Put These 10 Bars On Your (Beer) Bucket List For Great Offers
Has anyone actually ever had just one beer in the history of mankind? We doubt it. We actually think it's humanly impossible to have less than three beers in one sitting (okay, maybe two). This is why beer buckets were invented by some smart soul who understood what beer is—not alcohol, but life itself.
Here are some of our favourite bars that have beer bucket offers on the menu, so you never commit the crime of drinking a pint and calling it a night.
Tamasha
A gorgeous rooftop, music to make your feet go crazy, and beer buckets on the menu? Count us in. Make sure to try their Tandoori Chicken Salad and make it desi.
Price: Six pints starting at INR 825, 12 pints starting at INR 1,525 (taxes extra)
Lord Of The Drinks
The Lord commands you to order your beer bucket the moment you reach there, you better obey. Their live music nights are a big hit amongst the good folks of Delhi, so make sure you go there on the right night.
Price: 6 pints starting at INR 1,195, 12 pints starting at INR 2,195 (taxes extra) for domestic beer. And, INR 1,795 for 6 pints for imported beer! They also have good draught beer options in mugs, towers and pitchers.
MyBar Headquarters
Is there a single bar list that MyBar doesn't make it to? No wonder it's a drinker's paradise. MyBar knows how to do affordable booze best, so your beer buckets aren't gonna burn a hole in your pocket.
Price: 5 pints starting at INR 480 (taxes extra).
The Flying Saucer Cafe
A grand space with an open area can never go wrong and that's exactly where Flying Saucer comes in. Order your beer bucket with their chicken tacos for a fiery time.
Price: 6 pints starting at INR 1295 (taxes extra).
Harry's
A small space with a big heart, Harry's is a boisterous bar in Khan Market with an ever-so-lively crowd. Stand in the outside area and sip on your beers with a cool, breezy night.
Price: Bucket of 5 starts at INR 600 (taxes extra)
Masabaa
This place with their famous herbal Hookah and delish food is taking the Punjabi Bagh club scene by storm. Try their specials including Treasury Paneer Kalyan, Dahi Kebabs, Sarso Mahi Tikka and Biryani with your lovely beers.
Price: 4 pints starting at INR 900, 6 pints starting at INR 1,100 (taxes extra).
Headphones
Have your own personal party at Headphones and enjoy a good time banging your head to your choice of music. Add beers to that mix and you've got yourself a winner.
Price: 6 pints starting at INR 799, and for INR 1350 for 12 pints. (taxes extra).
Norenj
Norenj,with its warm yellow lights and good music, is one of the best spots in Gurgaon to enjoy your drinks at! Not only do they serve delicious Mediterranean, but their beer game is strong too! Their beer bucket options are available in Kingfisher, Budweiser, Corona, Hoegaarden & Simba.
Price: For 5 pints, the rates start at INR 1225, and for 10, it's INR 2150 onwards!
I Sacked Newton
I Sacked Newtone is, undoubtedly, one of the best places to chill at in Noida. People love their ambience, quick service, and food! They have bottled beers like Bira, Sol, Asahi, Corona, Kingfisher and more!
Price: 6 pints start at INR 1,899 and 12 pints start at 3,499
Imperfecto
Imperfecto never stops being our fav place, and it largely has to do with their awesome discounts on beer buckets! While a pint here starts INR 395, if you buy a bucket of 6, you'll get 10% off and if you choose a bucket of 12, then you get a 15% discount.
Saving you some basic calculations, here are the prices: Bucket of 6 starts at INR 2,133 and bucket of 12 starts at INR 4,172 (excluding service tax)
Well, I guess that it's safe to say - the more, the merrier!
Ask Tushar a question