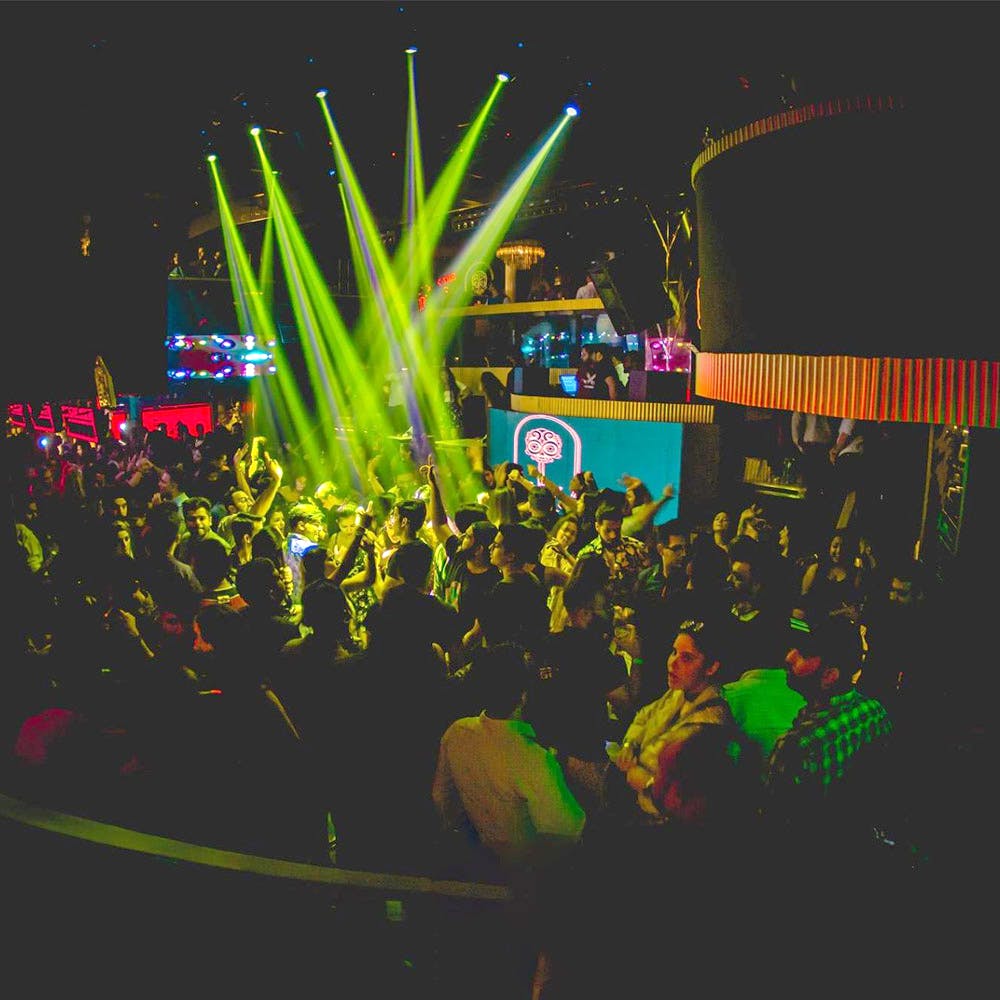 Drink & Dance The Night Away At These 10 Night Clubs In Delhi
Love partying? We've shortlisted some of the best night clubs in Delhi, venues made popular by our city's intrinsic desire to drown our sorrows, and this is what we found.
Keya
One of Delhi's more popular nightclubs, Keya has been cornering the South Delhi market for ages now. With outdoor seating and a classic indoor nightclub décor, this is a good spot to head to if you're around Vasant Kunj. Their cocktails are good, with their signature items being quite popular. Though this isn't open till the wee hours, we had to put it on the list for its intense nightclub feels.
Timings: 12:30 PM - 1 AM on all days.
Kitty Su
One of Delhi's most pumping nightclubs, Kitty Su is open long into the night. Known for their intense electronic dance music gigs, this is the place to be if you're planning to get down and dirty. The nightclub has a Champagne lounge, 'A' list section and a mini club within the club called The Salon. They even have a tattoo parlour!
Timings: 10 PM - Late (depending on the crowd) from Wednesday to Sunday. Closed on Monday and Tuesday.
The Electric Room
The Electric Room is fast emerging as an underground hub for live music in Delhi. Their cocktails are on-point (we hear great things about the Gin Fizz and the Pomegranate Caprioska). It's open till the early hours of the morning, and is usually packed to the brim.
Friday is a good day to head here, as they play live music till midnight and then, start with the regular house and electronic.
Timings: 9 PM - 5 AM from Tuesday to Saturday. Closed on Sunday and Monday.
Privee
One of the few places which is packed even on Sundays, Privee is a hit among all the party people in town. They play a lot of hip hop on Sundays, have a massive space and dance floor. And you can't leave this club without trying their cocktails!
Thursdays here are expat nights and ladies get drinks on the house all night.
Timings: 10 PM - 4:30 AM from Wednesday to Sunday. Closed on Monday and Tuesday.
Playboy
Playboy at The Samrat boasts of state-of-the-art interiors, brilliant sounds, and a super-fun crowd. If you're really in the mood to splurge, you can book a private room for yourself (post getting membership) and party with the best malts.
Timings: 10 PM - 4 AM from Wednesday to Sunday. Closed on Monday and Tuesday.
Story Club and Lounge
With an uber elegant and chic decor, ace mixologists serving delicious cocktails, a carefully-curated food menu and amazing music to let you dance the night away, Story definitely has us impressed. It's also got a cigar lounge to boast of. Make a note—although it's part of The Westin hotel, entry to the place is separate.
Timings: 4 PM - 4 AM from Wednesday to Sunday. Closed on Monday and Tuesday.

Toy Room
Present in eight countries (including Dubai, London, Istanbul, Mykonos), Toy Room is one of Delhi's newest nightclubs that has opened in Aerocity's Aloft Hotel. It can accommodate over 400 guests and they follow a hip-hop/rock n roll policy. Also, be sure to try their Black Rose Bellini.
Timings: 10:30 PM - 3:30 AM on Friday and Saturday. Closed from Sunday to Thursday.
Key
Decked up in red velvet sofas and curtains with huge-ass chandeliers, Key in Hotel Samrat is comparatively new on Delhi's nightclub scene but still boasts of a healthy list of regulars that swear by it. If laser beams, neon lights, spacious dancefloors, and heady cocktails (try the herbal bomb, for sure) are your thing, then Key won't leave you disappointed.
Timings: 10 PM - 4 AM on all days.

MNKY Houz
MNKY Houz in Eros Hotel prides itself on 'branching' away from the usual and you can see that in its monkey decor pieces, wall art, and the mood-enhancing backlit branch roof. The music is mostly EDM and commercial pop with an occasional hit of Bollywood thrown in and they host global DJ's often in their space.
Timings: 10 PM - 3 AM from Wednesday to Saturday. Closed from Sunday to Tuesday.
SoHo Delhi
Launched earlier this year in the space occupied by Capitol, SoHo has taken Delhi's nightclub scene by storm and is going from strength to strength (They recently hosted Wiz Khalifa in the club, people!). The bar area at SoHo is huge and the music literally never stops. A word of advice: the club gets really jam-packed, so don't expect a lot of space for yourself.
Timings: 10:30 PM - 5 AM on Friday and Saturday. Closed from Sunday to Thursday.
Comments