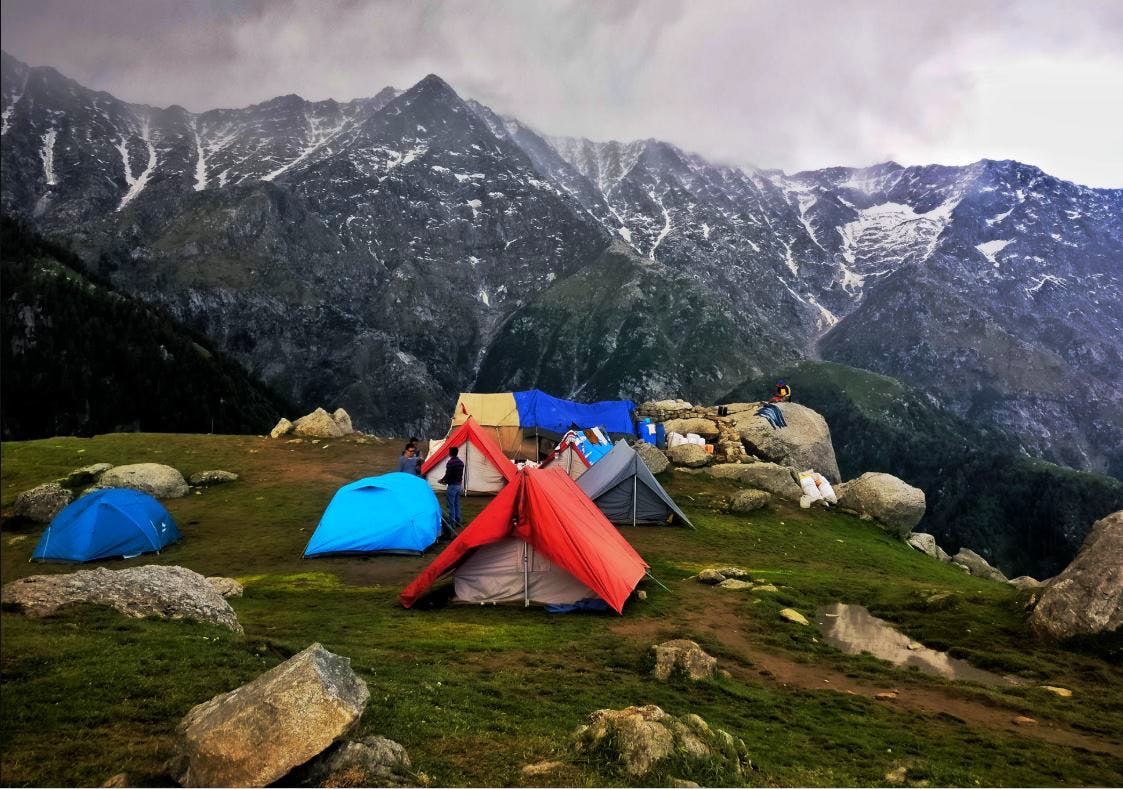 14 Places To Visit In Dharamshala For A Fabulous Time In The Mountains
With summer at its peak and the monsoons right around the corner, a quick getaway to the hills is all that you need to reboot from your hectic work schedule.
Dharamshala is a well known hill station, an overnight journey away from the capital. Mcleodganj and Dharamkot are like its siblings, and there is no way that you can miss out on visiting them when there. You can easily cover all three in a weekend, if that is what you're worried about!
Here's taking a look at the top places to visit in Dharamshala to make the most out of the home of the mighty Dhauladhars.
Tsuglagkhang Complex
Dharamshala has a large community of Tibetans residing in the city, and is also the Indian abode of His Holiness, Dalai Lama. The Tsuglagkhang Complex is the most important touristy spot for precisely this reason. It has the private residence of Dalai Lama and one of the main monasteries – the Namgyal Monastery. Attend the chants, chat with the monks, take in the spiritual vibes, and if you're lucky, you could also be there around the time of some fair and will be able to enjoy dance and music performances.
It's free entry for all.
The timings are from 5 am to 8 pm.
Dharamshala Cricket Stadium
Hands down the most breathtaking stadium any cricketer would have ever set foot in, this is a treat for all fans and nature lovers alike. With the sight of Dhauladhars in the background, snowy throughout the year, any picture taken here is bound to go viral. Situated at a height of 1457m (approx. 4790 ft), it should be on your list whether there is a match or not.
Open from 9 am to 6 pm on all days since 2003.
Bhagsunag Waterfall
Bhagsu, a village a little higher up from Dharamshala is a popular trekking spot with a beautiful waterfall in the centre of it, where you can go take a dip. But due to the influx of the crowd the place has started to get filthy, so please ensure you don't create any waste when you go there.
Start a conversation with a local and ask them for some hidden waterfalls (there are plenty), and maybe head there to have an exclusive time. There is a famous temple right down the trail from the waterfall that many Shiva bhakts go to pray at.

Kangra Fort
Some 20kms away from the main Dharamshala town is the oldest and largest fort of Himachal known as the Kangra Fort. Ruins from the 4th century stay alive here, where people go to relive a bit of history. Makes for a spot with good views.
Timings: 9 am to 6 pm
Fees: INR 25 per person
Naddi
A tiny village above Dharamshala where you get a 360 degree view of the valley and the Dhauladhars behind, it's a place right out of a fairytale book. Hike up the many trails, and watch breathtaking sunsets from here to truly feel like you're in the mountains without the hustle.

Dharamkot
The hippie village of Dharamshala region, this is where the backpackers head to. With cafes lining the route and hostels offering cheap accommodation, this is the place to be if you're looking for a party vibe in the hills.

St John In The Wilderness Church
This church is one of the oldest in the state and is surrounded by deodar trees turning it into a picturesque site, similar to those in Hallmark movies. Admire the beauty of this neo-gothic church or just feel at peace by sitting in the garden nearby. Christmas here is a sight to watch and celebrate at.

The Cliff – Blossoms Village Resort
This stunning resort has a rooftop lounge cum restaurant that does live music events, cricket match screenings, special barbecue dinners and so on with the backdrop of snowy mountains. But on any giving day their food is just top notch. The angara chicken tikka, Arabian delights, Irani Machboos and Andhara chicken are a total winner. Ask for their cocktails, and the staff will be happy to help!

Spaced Out
A budget option to hog on all things good, this café is a great hanging spot or to catch up with friends. Go for the classics – margarita pizza and chocolate mousse.

Café Illiterati
Possibly the most popular eatery in Mcleodganj, many go there just to visit this place, Illiterati is a book café that instantly lifts up your mood with its amazing vibe. Their breakfast is a wholesome meal, and the perfect way to start your day. Also, the aglio olio pasta is a personal favourite.
Right adjacent to it is a co-working space, artistically done by the same owners. 'The Other Space' as it's called is for you to have a quick coffee and reply to any urgent mails while looking at the mountains above.
Café 129
A fairly new space, tucked inside the main market is Café 129 with its uber cute interiors. Dressed in pastels, tea here is an experience in itself.

Sunset Café
Another hidden gem that requires you to hike a little, this is the best spot to have your coffee. The views, damn the views are something that every café should aspire to have.

Café Indique
Recently re-launched, this eatery was a favourite with the young locals. Now that it's back and running with awesome interiors, it's a stop worth making for anyone who is looking to just do nothing for a bit and sip on their beverage.

Main Market
Dharamshala market has your shops that sell clothes and souvenirs but the main deal is the chowk in Mcleodganj, always packed with shopkeepers. Tiny stalls line up on the side of the road with the hawkers trying to convince you to buy their product. Use your bargaining skills to purchase things here. Shawls, prayer flags, wind chimes, dream catchers, crystals are the top things to be taken back from Mcleodganj.
A small shop, a few steps before Jimmy's Pizza is a heaven for those looking for handmade diaries, in all shapes and sizes.
Pro-Tip
Don't forget to eat momo on the stalls outside the main market as they make them the authentic way.

Ask Japleen a question