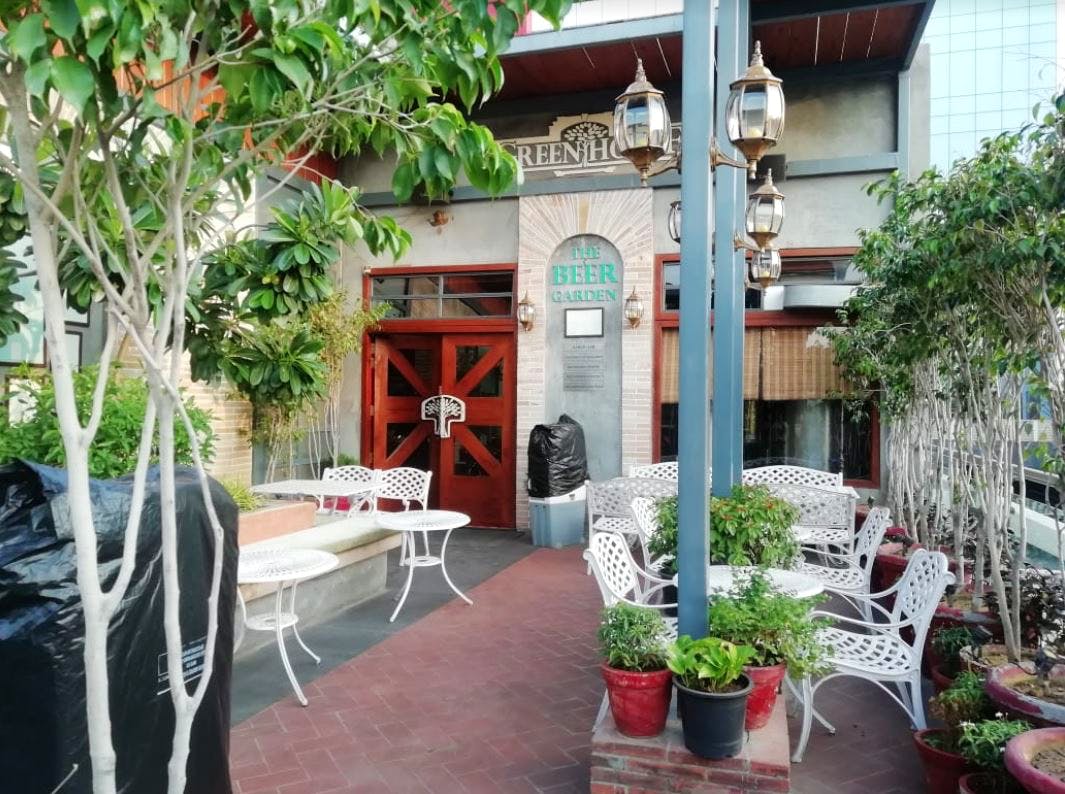 Keema Pav To Jacket Aloo: You Can't Miss These Eateries At Eros, Gurgaon
Most popularly known for its McDonald's drive-thru, the Eros City Square is a neighbourhood mall for Sector 49, Gurgaon. It's ironic how they have restaurants and cafes on the ground floor and right above them are gyms and other pro-fitness stores (gets me every time!). And on the top floor is a really cool pub-cum-microbrewery and also a super pretty restaurant.
So, they clearly have everything for all your moods. If things don't go as planned, they have a decent range of clinics and physicians lined up as well.
McDonalds Drive -Thru
This McDonald's outlet is one of the most popular ones in Gurgaon. If you're on the move, the drive-thru is perfect as the service is quick, easy, and convenient.
This outlet has the standard menu like every other McD. You'll find vegetarian and non-vegetarian options here in burgers (we miss you, Chicken McGrill) starting at INR 40 and wraps, starting at INR 170. If you're ever confused, just order some fries and don't forget to add the peri peri spice mix. The outlet also offers a plenty of beverage options (starting at INR 50). So, you can choose from hot or cold coffee options, juices, soft drinks or even a McFloat. A meal at McDonald's is affordable and perfect for snacking over some good ol' chit-chat with your buddies.
Green House - The Beer Garden
Green House Beer Garden is a pub-cum-microbrewery located at the top floor of the Eros City Square. The ambience of the place is very relaxing and chill. They have both, outdoor and indoor seating options available. If it's a pleasant day, I recommend you grab one of those cute white chairs to sit on, at the rooftop. If you're chilling with your squad, sit inside as Green House is really accommodating with those soft booth seating sofas and long wooden tables (in short, don't worry about your food and drinks not fitting). They have nicely-done interiors, so click lots of pictures.
Apart from their beer options, which are available freshly brewed (mug for INR 225, pitcher for INR 575 and a tower for INR 995) and bottled options (like Kingfisher, Budweiser, Corona, etc.), they have killer mocktails, gins, liqueurs and also shakes! Their happy hours are 12 pm - 7 pm (the whole week), where you can avail a 1+1 offer on drinks.
If you're hungry, don't forget to check out their signature dishes. Green House serves a 'Chef Special Cottage Cheese Sizzler' at INR 545 and 'Keema Pav' (also available in soya) at INR 295/ 375, which is DELICIOUS! Also, do try their pizza.
Hong's Kitchen
With those pretty teal walls, Hong's Kitchen has a super inviting vibe. Plus, nobody really says no to Chinese. Located right next to McDonald's, Hong's Kitchen serves lip-smacking Chinese food. We've heard a lot about their momos (that start at INR 129 for 6 pieces), chilli garlic noodles (INR 209), and their mango mojito (at INR 99). It's a cool place to just chill at with your gang and hog on some really delicious Chinese food.
Level Up
Level Up is a cosy eatery that serves Mexican, Italian, Lebanese and American cuisine. Although we haven't been here yet, we've heard good things about their tasty pizzas, sandwiches, fries and their range of mocktails like Guawa Merry, Spicy Pomegranate, Lychee Beam, Thai Refresher and more.
Domino's Pizza
Domino's Pizza is an all-time favourite if you're craving some cheesy, or even better, stuffed garlic breads and pizza. A (classic) margherita pizza starts at INR 99, and garlic bread sticks start at INR 95. They also have an add-on to their menu- Burger Pizzas. Yep, and they're delicious. We're happy about the fact that Domino's also offers thin crust and cheese burst bases now, under INR 99.
Jacket Aloo
The Jacket Aloo outlet in Eros has such a quirky and creative menu. Let's just say that they're all(oo) about jacket potatoes! They have a pizza mania jacket potato at INR 175, a kung pao jacket potato at INR 180 and a classic herbilicious jacket potato at INR 105. They also serve a small range of sandwiches and quick bites like fries, potato wedges and nachos, all of them are priced decently. If you're in a mood for something like a smoothie or a lemonade, then do check their beverages out.
Ji Memsaab
If you're bored of going to the same old Indian diners, then head to Ji Memsaab in Eros mall, Gurgaon. Their service and staff is as nice as their name, and we've heard it's a superb spot to get some North-Indian food. It's located at the rooftop, which automatically makes things so much better. You can definitely take your fam to this wonderful place as ordering Indian food is a very safe option, and people love it. Amongst the most popular dishes are their kebabs, tikkas, paneer lababdar, butter chicken, dal makhani and gatte ki sabzi. For two people, you'd spend somewhere around INR 1500 here.
Sindhi
Drop by Sindhi if you're looking to buy some namkeen, dry fruits and other chatkaares. They have a really huge collection of finger foods that you can buy and snack on. You'll find packs of pani puri, corn/cheese puffs, papads and also sweet n' tangy choorans.
Barista
Barista is a perfect place to grab some coffee and desserts. Their espresso is priced at INR 115, cappucino at INR 145 and hot chocolate at INR 195. You can also try their cold beverages and smoothies, they are perfect for a hot day.
As for the food, their quick bites and sandwiches are good and go well with their coffee options.
Kwality Cafe & Bakery
The Kwality Cafe & Bakery is a big space on the ground floor that has really pretty interiors and serve the most refreshing mojitos. The cafe is recommended for a chill, meet-up 'lets grab a coffee' session. They serve good food and you can choose from pizzas, pastas, sandwiches, burgers and even a few Chinese options. Kwality also has some really delicious cakes and muffins to calm your sweet tooth.
Kunaic Mandi Mart
Kunaic Mandi Mart will meet all your grocery needs. They're well-stocked with exotic fruits, herbs and veggies including avocados, as well as dairy products. Also, feel free to make your way there early as it opens at 6.30am.

Comments