Kashmiri Wazwan In Jama Masjid For Authentic Rista & Goshtaba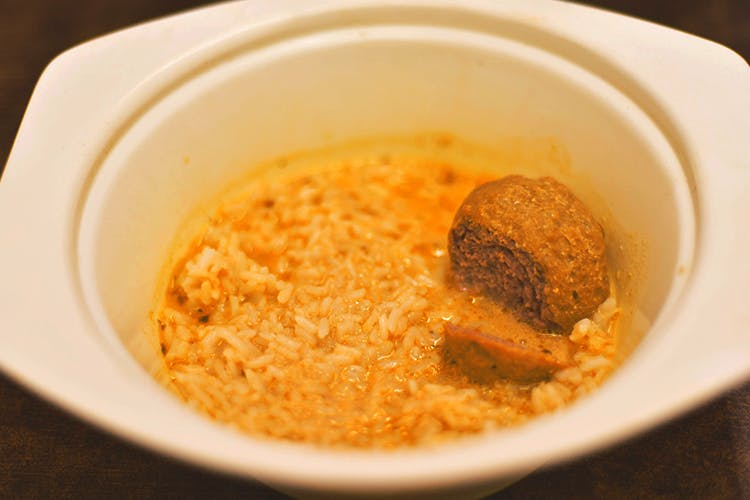 Shortcut
Kashmiri Wazwan offers meat like you've never tasted before, in gravies that'll have you licking the plate.
Meatballs With A Twist
You think you've had meatballs, you haven't really: Order the Rista, and you'll see what we mean. Large meatballs of the softest, most succulent mutton served with red curry will leave you craving more.
Usually, these are had with a serving of rice, and then they become a full fledged meal, but we prefer having them alone. Next, order a dish called the Goshtaba, which is likely to be the most massive mutton meatball you'll encounter, served with yakhni. We were in love.
There's another dish called the Tabakmaas, which is only made on order. They're mutton ribs slow-cooked to perfection. You'll need to order them a day in advance.
Apart From The Food?
This is one of the first places you'll see once you enter Gali Kebabiyan at Jama Masjid; it's difficult to miss, and is on the first floor. It's also one of the only in the area places with proper seating and air conditioning.
The staff is mainly Kashmiris, and we loved how they explained how difficult it is to make such meatballs, using spices that only grow in Kashmir and how long it takes to grind and mince the meat to achieve this texture, with a hardcore, syllable swallowing Kashmiri accent.
Personally, I've had authentic Goshtaba in Kashmir itself, and I loved this just as much.
Featured photo: Arunav Sharma/LBB