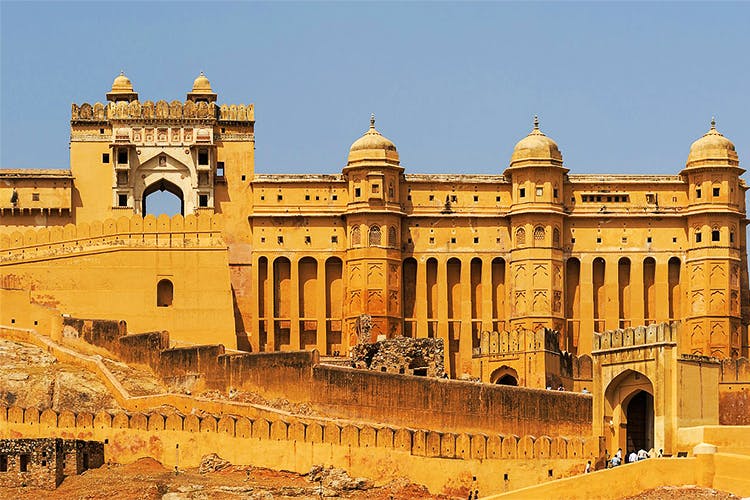 Visiting Jaipur Soon? Here's A Local's Guide To 14 Offbeat Places In The City
There's no better way to experience the city than from a local's point of view, so here's a compilation of All Things the entrepreneurial community in Jaipur finds awesome.
Central Park, Prithviraj Road
"Go for a long run", recommends Singer/songwriter Prateek Kuhad. The largest park in Jaipur located in the heart of the city boasts of a beautiful 5km jogging and walking tracks, lush greens, the country's first day and night flag, and a wide variety of native bird visitors throughout the year.
Islami Kallu Hotel, Ramganj Bazaar
"The Nihari here is available only in the morning from seven to 11 and is absolutely unmissable", exclaims Shan Bhatnagar, an Artist. A trek for the brave-hearted, Islami Kallu (in Ramganj Bazaar) is for those who love their meat enough to ignore everything else. Make sure that you ask if they have Teetar/Partridge dishes on the menu too. However, Handi at M.I. Road is a more hygienic bet.
The Walled City
"It is a labyrinth of historic landmarks, you'll find those bustling lanes filled with shops selling traditional arts and crafts and much more", exclaims Ritu Singh, Co-founder Wolf. The pink city of Jaipur refers to the old walled city that was built in the year 1727 by Maharaja Jai Singh II. Coloured in dusty pink, it is a place of royal heritage, culture and architecture. Bustling markets, along with old family havelis, palaces and forts come together to make the walled city. Some important structures within the walled city are Jantar Mantar and City Palace.
Surajmal Rampratap Khilonewale
"This is an ancient shop run by an equally old man. He sells all kinds of painted objects made from bamboo and chilli wood", says Aavriti Jain, Co-founder Dhora describing her favourite toy shop in the old city. There's an eclectic collection of objects in this fascinating market. Walk around and explore other stores too.
1135 AD, Amer Road
"The grandeur and ambience at this restaurant is absolutely breathtaking", says Aastha Jagwani, Jewellery Designer. A truly royal experience, the 1135 AD kitchens are one of the few that are dedicatedly recreating age-old palace recipes. This ode to Jaipur's culinary heritage is aptly housed in the historic Amer Palace with magnificent views. They have an open air courtyard, a formal dining room and a private dining space called Sheesh Mahal that's perfect for intimate candle lit dinners.
Chandi ki Taksal
"Don't miss being at Hawa Mahal early in the morning. While you're in the vicinity, drop by at Chandi Ki Taksal – the local flower market. It's right around the corner, where the locals will be your guide", recommends Sanyukta Singh, Founder of Tokree. A bustling vibrant market, the smells and sounds are just as powerful as the sights around you in this space.
Rambagh Palace Hotel
"Watching the sunset from the Rambagh lawns, facing Moti Doongri", is one of Mita Kapur's (Founder – Siyahi) favorite things to do. Truly reminiscent of the bygone era, The Rambagh Palace in Jaipur is the former residence of the Maharaja of Jaipur and now, a hotel run by the Taj Group.
Purohitji Ka Katla, Tripolia Bazaar
"Spend sweaty afternoons discovering treasures in Katla – a must-do for an intense experience", recommends Geetanjali Kasliwal, Founder Anantaya. Tripolia Bazaar is a popular wholesale market with wedding shoppers and has suffocatingly tiny entry points. This market has shops selling everything from currency strung garlands to beautiful wedding outfits and even party supplies and fabrics.
Rambagh Polo Ground
"Watch a Polo Match in the city", recommends Ruchi Jain, Designer – Crazy Heart. Jaipur is considered to be a perfect destination for polo and the polo tradition in the city dates back to the 16th century when Raja Man Singh Ji, King of Amber, developed a keen interest in Chaugan. Visit the Rambagh Polo Ground to catch polo tournaments that may be on, if not, ask for practice sessions and exhibition match timings for the day (Psst, Amber Fort has an Elephant version too).
Sanganer, 16kms South of Jaipur
"Visit Sanganer for a huge variety of paper and fabrics", recommends Timmie Kumar, Founder of charitable animal welfare organisation – Help in Suffering. In the 16th Century, Raja Man Singh brought Kagzis or papermakers from central Asia to Sanganer, an ancient town that existed long before Jaipur. After many years, The Kagzis and their precious art to use three types of raw material (cotton rags, silk and banana trunk fibre) to produce paper has survived. Cotton-based paper is the most popular and newer paper manufacturers and modern techniques too have become common in the city now.
Kadar Bux
The beautiful hand quilted Razais from Kadar Bux make even the coldest winter days seem warm. Look out for the "Original Super Hit Razai" board. Amongst all the things Jaipur is known for, its cotton Razais should probably be in the top five.
Saffron by Nidhi Tholia
"The colours and patterns she uses are symbolic of all things Jaipur", says Akanksha Arora, CEO of Amrapali Jewels describing Nidhi Tholia's garments. Moved from its old location behind the iconic Tholia Jewellers, Saffron is now tucked in a C-Scheme by lane. This store is perfect if you're shopping for your wedding and are looking for more than just the same run-of-the-mill pieces everyone has.
Spice Court
"The Keema Baatis here are to die for", sighs Vijay Singh, Founder Rajputana Customs.
Mosaic's Guesthouse, Amber
"It's an extremely interesting space run by a French mosaist. The food and the pizzas in particular are great!", say Jai Singh and Vikramaditya Barkana of Polo Factory describing the hidden gem that Mosaic's is. Nested in the charming village of Amber, the shelter of an historical Fort, the Mosaic's Guesthouse just 20 minutes from Jaipur is a comfortable place surrounded by the hills. They have four rooms and a tiny restaurant too.
Comments