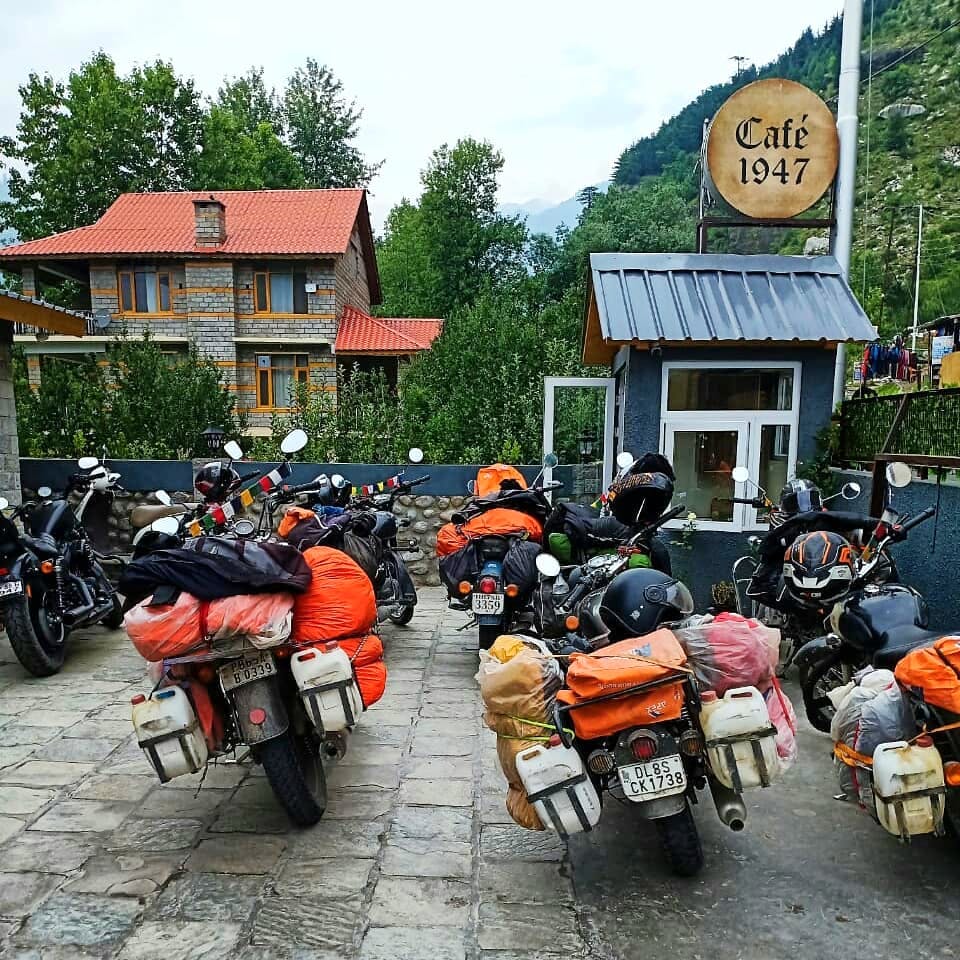 Make Your Plans: 19 Things To Do In Manali For The Best Vacation Ever
Manali is one hill station that has been immortalized as one of the best tourist destination of India, and we know it'll continue to rule the list. So, scroll down to virtually explore the mountain city before you visit this modern yet rustic beauty.
Also, just FYI, if you love cold/chill-y climate (not the snowfall kind), the best time to visit Manali for you would be around September to October and March to May. If you want to see the snowfall and try adventure sports like skiing, drop by between November to February. We recommend that you avoid making a trip to Manali between June to August as heavy landslides and floods are common here during the monsoon season.
Mall Road
Like every mountain town, Manali too has a famous 'mall road' lined with shops that sell everything it is famous for and more. Buy shawls, cute winter hats, eat softy ice-cream, and just see the hustle of this crowded, vibrant town in one place.

Manu Market
Located next to the 'mall' is Manu Market. With a similar vibe but narrower lanes, this market is good for jewellery and clothes. It also has stalls to eat local food at if you're on a shoestring budget.

Old Manali
The other side of town, this is where you can walk and not get tired. With cafes on both sides of the road, and quaint little shops inviting you in to buy products made out of hemp, you really will never get bored here. This is the hippie part of town where most travellers like to chill at. It's also where you'll find hostels and cutesy homestays.

Van Vihaar
Van Vihaar National Park is a stone's throw away from Mall road and is a haven for all nature lovers. In an attempt to preserve the lush deodar forest, this park serves its purpose well amidst the many markets. One can spend hours sitting inside with a book or just aimlessly strolling to admire the sky high trees for a minimal entry fee of INR 5.

National Parks & Wildlife Sanctuaries
Vashisht
A village close to downtown Manali, this place still has a serene 'pahadi' charm. The temple here is where devotees and travellers come to pay their respects. Near the temple are auspicious hot springs known to have healing medicinal properties. Fancy a dip, anyone?
Hidimba Temple
Built in Himachali style, this temple in Manali is dedicated to the wife of Bhima, Hidimba Devi. Wooden structure with a pointy roof, it's unlike any other temple of the community. It looks its best during winter when it's dressed in white with snow.

Rohtang Pass
Closed for about half a year, Rohtang pass is a sight to behold with the breathtaking views that it offers. Surrounded by mountains, a two-hour drive from Manali till the pass will be splendid if not for any traffic jams on the way. From June to October you can go to Ladakh, Lahaul, and Spiti via this pass.
Rafting
Manali is one of the best places in Himachal for rafting. The current of Beas River keeps the conditions suitable for a day out in the river. There are multiple operators who conduct this adventure sport for INR 1200-1500 for 9-12 kms.
Trekking
Manali is the base camp for treks like Bhirgu Lake, Hampta Pass, Beas Kund, Chandratal, Pin Parvati and so on. If trekking is what you fancy, Manali is the place to start them.
Paragliding
After Bir, Manali is the place for paragliding. Though the activity is more popular in Solang Valley, Dhobi is the less crowded spot to be at for the same. Starting from INR 1500 or so, you could paraglide for a good 15 minutes in tandem.

Naggar Castle
Another unexplored part of Himachal near Manali is Naggar that is famous for the castle there. The Himachali vibes and architecture are still retained inside this heritage hotel. Naggar is also a good spot for those who want a slice of luxury amidst the mountains.

Fat Plate
Located 15 minutes away from the main town, this isolated restaurant is located inside the beautiful Gurung Cottages where one can book their stay too. The cuisine served here is fresh, organic, and home-cooked. Their breads, vegetables, herbs – everything is grown and made at the property itself. Sit in the garden with the views around you and eat a hearty meal here.

The Lazy Dog
The is one of the best restaurants in Old Manali; no trip is complete without a meal here coupled up with the local apple cider beer. Order the hummus platter, pasta, and the pan-fried trout for the perfect meal. The outside stair area is perfect for groups, especially during dinner time. Oh, it's absolutely gorgeous.
The Johnson's Cafe
This is another property that tops the list for the best venues to stay at in Manali. Their in-house restaurant is remarkable with huge indoor and outdoor seating with vibrant furniture to lighten anyone's mood. Pour your favourite poison here, enjoy the fabulous ambience, live music, and a great evening.
Find more info here.
Chopsticks
Situated bang in the middle of the busy mall road, it is your best bet for a satisfying meal after a tiring day of shopping. Good ol' yummy Chinese with Tibetan cuisine, momo, and noodles here are an absolute must-have.
Find more info here.
Il Forno
If you take the road towards Hidimba Temple from the Mall Road, you will find a cute cottage-like café in the middle, get down there to have delicious wood-fired pizza and pastas while sitting in their garden gazebo. Also, makes for a pretty spot to click hundreds of pictures at.
Dylan's Toasted & Roasted Coffee House
Old Manali has a plethora of cafes as we mentioned before, but sometimes all you want to do is sit by the roadside, observing the happy shoppers with a cup of coffee, and for that Dylan's is there for you. The Depth Charger and Irish Coffee here sound like heaven to us. Oh, with a side of cookies of course.
Café 1947
As soon as you enter the old side of Manali, you'll see boards with the words Café 1947 written that'll tempt you to go visit this eatery. And you won't be disappointed. Always brimming with people, the trout here is a major hit.

Drifter's Café
At the other end of the festive Old Manali road is this popular café where everything on the menu is delectable and meant for super long conversations. Great for a warm, romantic date too!
Find more info here.
Comments