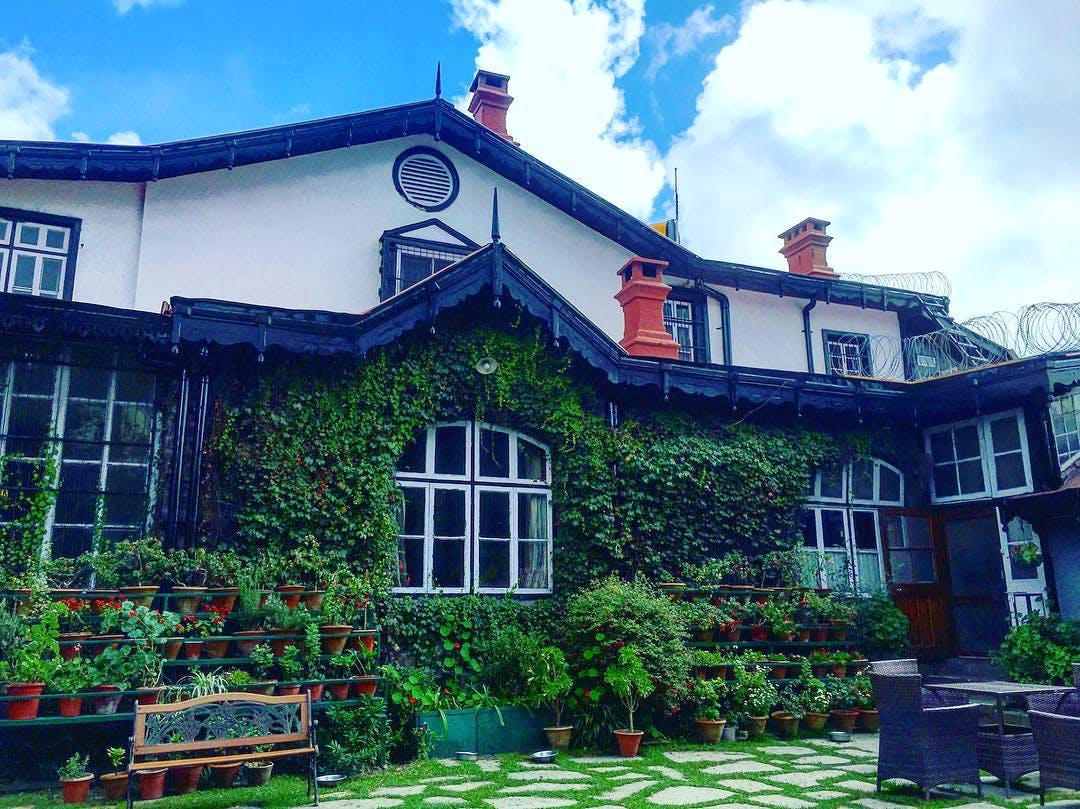 Take A Break! Check Out These 10 Hotels In Shimla For The Perfect Vacay
Other than the fact that Shimla is beautiful and super easy to reach, it's also super crowded. Perfect for family trips and impromptu weekend getaways, Shimla's charm and grace still remains but you won't find it in the hustle-bustle of the city. So we'll help you out!
Shortlisting affordable hotel rooms at Mall Road isn't a unique Shimla experience. If you're planning to surround yourself with tall pine trees, blue skies and the seasonal flaky snow, these hotels in Shimla will sweep you off your feet.
The Nilaya, Mashobra
This boutique hotel is a perfect stay in the hills especially for people who want to surround themselves with beautiful frames of nature and wildlife. The hotel has a welcoming vibe and offers a beautiful view.
Nilaya has an array of games in their attic to ensure that you have a gala with your family and friends. Be prepared to be one with nature, as you'll be invited for nature walks, star-gazing sessions and other fun events.
It's located an hour away from Shimla, but the journey is definitely going to be worth it.
Read more about it here.
The Chalet's, Naldehra
If dwelling into the history of a place is what you love, you should spend a few days at Chalet's. The hotel is located amidst a forest and you can spend hours outdoors just being with nature. Their cottages are made out quality wood and have a very earthy vibe.
To read more about Chalets, click here.
Suro Treehouse Resort, Shogi
One of the best luxury resorts around Shimla, Suro resort offers a comfortable and relaxed stay. They have spacious yet cosy individual and duplex chalets. The resort also promises a fun time as they offer activities like jungle picnics, treks, camping and mountain biking. Suro has a beautiful and scenic landscape (you'll go home with an overloaded gallery!).
Read more about Suro here.
Marigold Sarovar Portico, Mashobra-Naldehra Road
Although Marigold Sarovar Portico is located near tourist attractions (Mall Road), it still somehow manages to offer guests a clam and comfortable stay, away from the chaos of maddening crowds.
Marigold Sarovar's cottages are elegant, luxurious and have an old word charm. If you want to keep your health in check, you can use their spa and fitness centre. Their menu also offers a decent variety. Activities like paragliding, trekking and mountaineering is what people love to indulge in at this hotel.
Read more about this stay here.
Chapslee, Elysium Hill
Everything about Chapslee is just breathtaking. From the outside, the accommodation looks like a set from a fiction movie ('Alice In The Wonderland', to be particular). Apart from the lush green outdoor area of the place, beautiful flowers and creepers cover the Chapslee home almost entirely.
They have luxury and deluxe suites (and they are as grand as they sound). The interior decor is regal, vintage and aesthetically pleasing with huge paintings and chandeliers.
Mahasu House, Purani Koti
As the name suggests, Mahasu is a very welcoming homely stay. Things like waking up to the smell of pine trees, going for nature walks, fishing and then coming back to chill in a jacuzzi are literal goals. You can visit this accommodation at any time of the year as they have something suitable for each season.
Other than the mandate woollens and toiletries, you should also carry notebooks, paints and brushes as the Mahasu house is at a very scenic location (get your creative juices flowing).
Sunnymead Estate, Cart Road
With Sunnymead Estate's residence-style lodging, you'll feel right at home. There are paintings, wall art and decorations at every corner of the accommodation (a very Matilda-like vibe).
During winter, the accommodation is gracefully covered in snow but if you're visiting during summer, you should definitely spend your mornings in their garden (the place is loaded with vibrant and colorful flowers).
Sevilla Grand, Naldehra
If you're looking for valley view rooms, you'd love Sevilla Grand. You will get to experience the offbeat side of Shimla, as it is 13 kms from the Mall Road. Away from the hustle-bustle of the city, the hotel resides amidst tall pine trees and lush green landscape.
The rooms are affordable and simple, which means that you can just be one with nature, indulge in activities (like rafting, burma bridge and horse riding), and come back to soft cosy mattresses. People love to be here for the outdoor activities and the simple facilities they offer.
Hotel Dhroov, Lakkar Bazar
Hotel Dhroov is located very close to the Mall Road, and offers facilities like a gym, spa, bar and a restaurant. This hotel is one of the classic stays in Shimla. They have comfortable interiors and offer deluxe, classic and premium rooms (all are priced decently).
If you're visiting Shimla with a big group, this place is perfect. They cater to everybody's needs and have great customer service reviews.
East Bourne, Khallini
East Bourne is a pine forest resort in Shimla. They have a library, a heated swimming pool, a spa and much more. The hotel is family friendly, and even has a big banquet hall (if you plan to celebrate).
East Bourne is a staycation spot in itself. You can literally not go out of the hotel and still have a good time. It is perfect for people visiting in large groups, who just want to have a chill time.
Comments