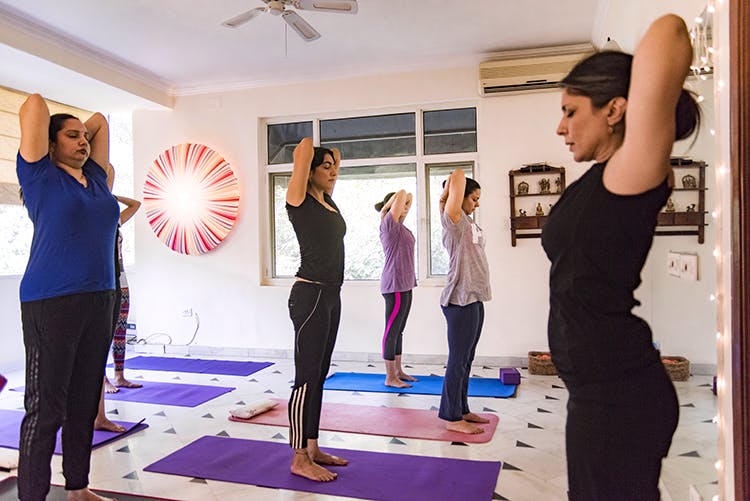 Mini Shastri's Yoga Classes Are Steps Beyond Ordinary
Shortcut
After nine years of having done yoga in the comfort of home, I stepped out to Mini Shastri's Yogashala in Vasant Vihar for my very first class and came back rejuvenated.
Yoga Calling
Having recently tried a yoga class in Bali got me wondering why I hadn't taken one outside my house. The comfort of being at home and not being around strange beings was probably great for the nine years I did at home. With no knowledge and interest in the asanas, I performed like a diligent cat and stretched and centred my chakras. Now at 26 and more mindful about the duties and activities I indulge in, Mini Shastri's Yogashala in Vasant Vihar called me for my first class.
But First, Some Background
Shastri's Yogashala completed 18 years of educating students/learners with the help of established teachers and heavy influence of the teachings from the south—Chennai and Mysore to be precise. The institute has gained popularity through word of mouth and extraordinary personal experiences; they train you in hatha yoga as a way of life. The Yogashala believes in wellness and an Ayurvedic lifestyle, macrobiotic eating, and discussions; buying and consuming-chemical free products from farmers and mindfully leading the life. PS: Hatha yoga stems out from focussing on the breathing. 'Ha' means the sun, and 'Tha' means the moon; it's all about balancing the two aspects within our body.
A Wholesome Experience
My sister Zoya and I both waltzed into a sunlit class of 15 women {few of whom were expats}, ready for an experience. The class started off with the soft words of the Bhagvada Gita, which gave us the clear indication that this was not going to  be just about mastering physical poses. An hour into the session of having exercised with a hamstring injury in one leg, and I came out feeling rejuvenated and ready for the day. Yoga isn't a form of exercise or a mindset only—it's a way of living and that's what this place propagates through its practices. You can start now at a class nearby, or at Mini's where you can enjoy her lovely company and experience. Price: Starting at INR 5,000 per month {two classes per week}
Comments