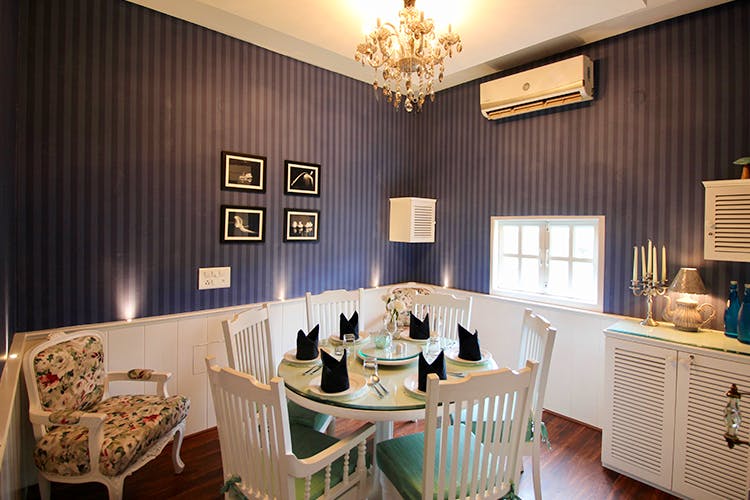 New In Love? These Restaurants In Noida Are Making Date Nights Super Memorable
You're probably crinkling your nose thinking, are there any such options? Well, let's just say, you'll be surprised. From exclusive, candle-lit enclosures to bathed-in-white pretty cafes, we've found a bunch of options for you to try out.
Pick one for every week. You can switch between peppy, lunch-y cafes where you can land up in easy summer dresses and quiet, dinner places where you can sip your umbrella-laden mocktails without loud chatter drowning out your voices.
Saffron Boutique
We found this gem hidden in a not-so-pretty market but once you're in here, the starry ceiling and pastel decor acts as a loving embrace that's full of tikkas and twinkling lights. We hear they've turned their erstwhile office into a private dining area and that's enough reason to plan a date here. North Indian and Chinese on their menu are prepared with a lot of heart and creativity. So, reserve a table on a day there's live music or just choose their new enclosure to pop the question.
Read more on what we ate and liked here.
Our Story Tea Room & Bistro
They host a Sunday brunch starting at INR 399 and we're tempted to land up at 10am with bae so we don't bump into manic shoppers who throng every corner of Sector 18. Two floors of soothing ambience and a laid-back vibe keep calling us back. Oh, and that Mutton Khichda and Watermelon Mojito of course. If you see people sitting on their swings playing Jenga and eating Bunny Chow, it's probably us.
Imperfecto
As beautiful for a day scene as for a night of tipsy conversations, this has but become our favourite haunt in Gardens Galleria. For one, it's away from TGIP's crowds and secondly, the rooftop is the stuff of dreams. Truth be told, the food might not have you going weak in the knees but it's the only pretty place on the list that serves alcohol. So… Strangely enough, people say good things about their tandoori dishes and pizzas.
PS: Go here towards the beginning of the month – a date night here doesn't exactly costs peanuts.
Kalpak Restaurant & Cafe
Done with the malls? Sector 18 too done to death as well? We feel you. This rooftop beauty has remained hidden for far too long and now, we're just about to give it the limelight it deserves. Call them to reserve a table for two and you might be as mind-blown by the ambience as by its 20 plus page food menu. The cuisine is North Indian and Chinese and their dahi kebab and tandoori chicken are pure perfection.
If you can enjoy desi food on a date without judgements of how brutally bae eats tandoori chicken, you're probably in for a long haul.
Bohemia
Want some alone time before dancing away at Imperfecto? Head to this beautiful neighbour cafe that mostly gives you enough breathing and eating space. It's soothing and we're so grabbing a seat outdoors to feel the wind in our hair as we dig into a plate of spaghetti and devour waffles with bae… Because he/she is the only one who deserves an exception to the "no-sharing-food" rule.
Want to know more? Read here.
Theos
Sometimes, the best dates are the ones spent reliving good memories and everyone has good memories of Theos. Hop over here if you're pressed for time and just want a quick catch up with puffs/pizza/pasta and cheesecake. We swear by their shakes and the cold coffee is our absolute favourite. Oh, and we're dreaming about the creamy mushroom pasta.
The Big Chill
Yes, we're a little bummed that it's in a mall. Yes, it also gets mad busy but hey, you need to go here with bae at least once – even if it's to celebrate its entry into Noida. We're sticking with our usual order here: Oreo shake, Penne Vodka, mushroom/chicken lasagne and New York Cheesecake.
Comments