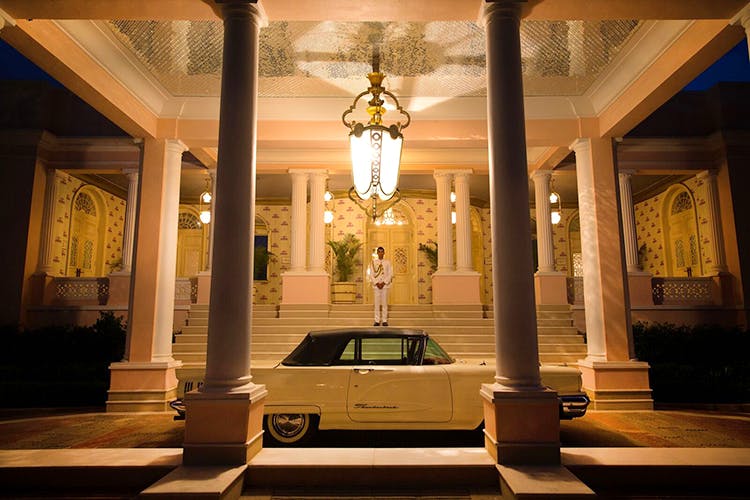 Settle Into The Lap Of Luxury At SUJÁN Rajmahal Palace
Shortcut
In the heart of Jaipur lies the SUJÁN Rajmahal Palace—once home to kings and queens, and now open to those with discerning taste, looking for a quick weekend away.
The Property
It must be said that the driveway up to the palace is stunning. With lush green lawns on either side of you, and the palace straight ahead, it feels like a fairytale. But that's only the beginning. Good Earth (which also has a store there) has created all the wallpapers used in the hotel, and it is stunning. This is definitely a hotel that you've never seen before, and probably never will—in our opinion, this holds true for most SUJAN properties.
The Rooms
There are only 14 rooms here, including the Maharaja and Maharani's suites (these are what dreams are made of) — the Mountbatten suite, Queen Elizabeth II suite, and the Kennedy suite; Jackie Kennedy stayed here for three months — and the Palace suites, which includes the room that Diana, Princess of Wales stayed in.
The Food
They serve a variety of food across cuisines, but we are in love with their breakfast menu. It starts with a plate of fresh, cut fruit, and then you choose either eggs, or pancakes, or French toast…it's a long list. We ate the pancakes of course, which came stacked; kiwis, grapes, honey, maple and anglaise came alongside. Ditto for the French Toast. The Eggs Florentine were absolutely divine, too.
A huge shout-out here to the cold coffee; it's strong and perfectly balanced; all you need is this hearty breakfast and the cold coffee and you're ready to go exploring!
So We're Saying
None of this is inexpensive at all, of course, so we suggest you bookmark this for special occasions like proposing to your SO, a destination wedding with only close family and friends, a babymoon…you get the drift.
Comments