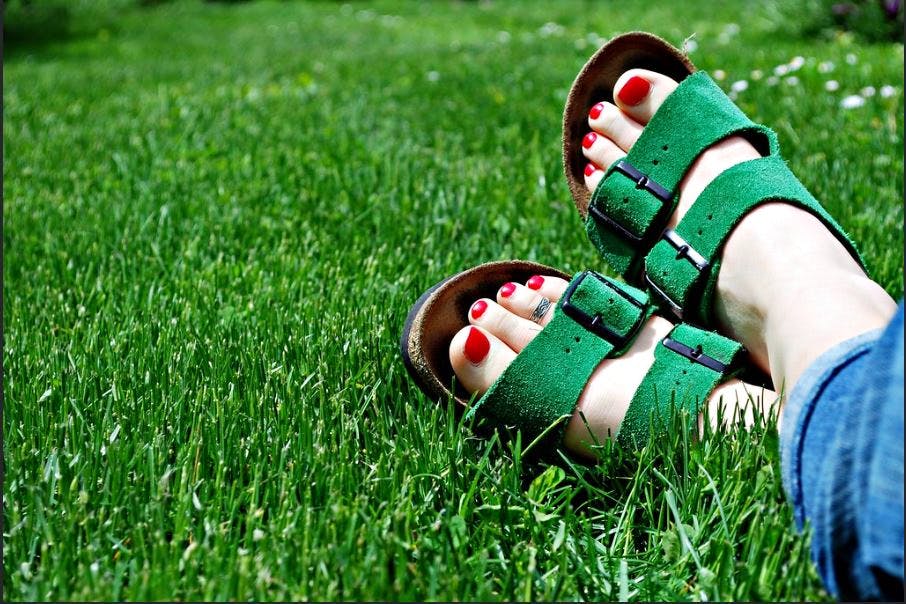 We Love These 12 Footwear Brands For Their Summer-Friendly Options!
As Delhi gets hotter and hotter, it's time for you to keep your pedicured feet ready! Why? Because summers aren't over yet and they are not going away anytime sooner (obviously, global warming, thanks to us!); we picked out some of the best brands to invest in for a pair of breathable twins that will help you slay all through.
So, are you ready for some wise investment?
Forever 21
Forever 21 is the best place to head to just in case, you are looking for flip flops, tie-up sandals, or pointed toe flats. Plus. what we really love about this brand that it's always stocked with colours such as hot pink, beige, burgundy (that you always need!).
Their price range starts from INR 800.

Chappers
Summers are never complete until you invest in a breezy, free-flowing kurta or apparels with a similar silhouette. To top it off, it is always best to invest in a good pair of Kolhapuris to go with your outfit and what's better than Chappers? What we really love is that you could even customise your pair (oh, yes!).
Their price starts at INR 2600.
Vanilla Moon
With shoes created by a team of designers from India, England, Italy, and Japan, Vanilla Moon is fully stocked with ballerinas, oxfords, and moccasins. What started under a shed with a single sewing machine in Agra has now grown into a full-fledged brand with stores across Delhi/NCR. Their collection is quite unique and with each collection, we see a distinct quality. Although we feel the brand is quite expensive, but the quality it has to offer surpasses everything.
Their price range starts from INR 3,490.
Chalk Studio
With a wide range of footwear available, Chalk Studio is perfect if you are looking to invest in affordable and quality summer footwear. Featuring summery prints (think nautical stripes, floral prints, fruity prints); we absolutely love their collection. And the best part is, they are TOO comfortable (tried and tested!).
Their price range starts from INR 799.
Truffle Collection
When summers are around, everything is definitely incomplete without a pair of white sneakers. As fashion pundits say, it's a must-have and if your closet doesn't have a white sneaker, you are probably going in the wrong direction (fashion-wise). Truffle has a huge collection of sneakers and trust us, you'll love each pair. Not just this, but their collection of flats is wide too!
Their price range for sneakers starts from INR 1,599 while sandals start from INR 1,899.
Aparjita Toor
Aprajita Toor is an online footwear brand that mostly specialises in Kolhapuris. What's special about the brand is that it does Kolhapuri in block heels, wedge-sneakers, sling-back Kolhapuris, and a lot more. Also, it does footwear in shades such as hot pink, green, golden (we love each colour!).
Their price range starts from INR 2,899 and you could visit their website to have a clear idea (specially wedge-sneakers).
Vishal Foot Wear
This gem in Paharganj houses a giant variety of leather chappals. From the regular scissor chappals to kolhapuris in a myriad of styles and colours to gladiators, Vishal Foot Wear has it all. And what they don't have, they can customise and order.
Their price range starts from INR 300.
Oceedee
With shoes made by hand using age-old techniques, each of their shoes is made using eco-friendly, chrome-free leather sourced from India. Their main idea was to bring forward the concept of fashion without compromise and hence, the brand was born. Their Resort'19 collection incorporates pastel shades and designs that are simple yet unique.
Their price range starts from INR 2,999.
Kurio
Kurio is an online brand that makes use of eco-friendly up-cycled materials for their shoes. It's a sustainable footwear brand that started a few years back and has now grown immensely. The brand believes that each of their pair speaks of simplicity and sophisticated (and we couldn't agree more!). They have footwear for both men and women and each of the pairs is worth a gaze.
Their price range for women slippers starts at INR 1,950, while for men starts at INR 1,750.
You could visit their website for any other details.
2358 India
If you thought, you were done with Miniso and Mumuso, we are here to give you a surprise! Guess what? You are not done yet! 2358 is a Korean brand that is based out of Rajouri Garden and the stuff it has is pretty much similar to what Miniso and Mumuso have (though, we thought it was relatively cheaper!). The place is quite well stocked up with summer footwear which includes colourful flip-flops. We even tried on a pair and it was impressive! We suggest, go RN!
Their price for flip-flops starts from INR 249.
Swati Modo
If you weren't aware, then let us tell you that this label has been around for over 11 years now and has a really good variety of footwear. WIth collection that has lots of detailing for you to relate it with summers (think different colours, silhouette). Also, their shoes are not just available in India but also in Japan, New York, Dubai, Singapore, and Nepal.
Havaianas
If you're a flip flops kind of person, you'll love this Brazilian brand's colourful and comfy footwear options. They've got flip flops in dark solid colours, pastel shades, those with stripes, floral prints and they've even recently launched a Marvel's Avengers-themed collection! Other than flip flops, Havaianas also does T-strap flats, back strap flats and a small collection of espadrilles.
You can buy Havaianas' footwear online (on Myntra, Jabong and similiar websites) and also, at their offline store in Select Citywalk.
Their range of basic chappals start at INR 649 and can go up to INR 2,200 as well.
Comments