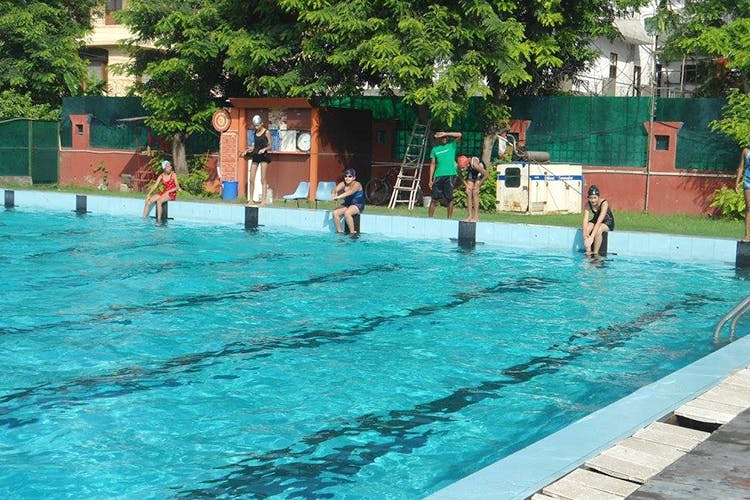 Noida Folks, Keep The Heat At Bay & Head For A Swim At These Pools
The scorching Delhi sun has the best of us skipping our jogs and trips to the gym. So, when the temperature's soaring high, swimming is perhaps the only respite, and possibly the best way to stay fit. This one's for all you Noida peeps who are looking for a swimming pool you can dive into.
Here are eight pools you could check out.
Ramagya Sports Academy
Open to everyone, Ramagya Sports Academy boasts a pool for adults, and one for toddlers. They have a large team of coaches to guide you in case you need assistance. Keeping in mind all your busy schedules, the pool is open both in the morning (6am – 10am) and the evening (4pm – 9pm), all seven days a week. The pool itself is gorgeous, surrounded by greenery, with a bunch of recliners and sun umbrellas lined up on one side..
Price: INR 3,000 per month. Discounts can be availed for membership of three months or more.
Billabong High School
Come summer and Billabong High School opens its gates to anyone who wants to enroll for swimming. Swimming classes are provided by Dolphin Swimming Academy. With 8 lanes, and the deepest end being six feet, it's a fairly big pool and ideal for both those who want to do laps, and those who are just learning. They have an NIS trained coach, in case you need classes.
Price: INR 2,200 per month; INR 1,000 (for coaching per month)
Timings: 5am – 8am; 5pm – 10pm (Tuesday- Sunday)
Club 26
This is one of the prime locations for swimming in Noida. You can opt for their life membership, but they also have a temporary membership which gives you access to their pool all year round. The pool is fairly big, and is 9 feet at its deepest end. They also offer coaching from 7 AM to 8 AM in the morning and 4:30 PM to 5:30 PM in the evening.
Price: INR 2,500 (for coaching per month and GST extra)
Radisson Noida
Take a long, luxurious dip in their pool at their lavish property. They're a little steep, but good to bookmark for a day of luxury. They also have an outdoor deck and an adjoining spa. The pool is open from 7am – 7pm, and you're free to visit any time in the day.
Price: INR 1,300 (per day); INR 11,000 (per moth)
Indraprastha Global School
A 25 metre swimming pool that is open to all is a dream come true for those wanting relief from the heat. The coaching classes for kids are held by Aims Sports Academy. The temporary membership allows both men and women to partake in one hour slots from 3 pm to 9 pm. Ladies can swim from 3 pm to 6 pm and the rest of the hours the pool is open to all.
Price: INR 3,200 (per month)
Timings: 5.30am – 6.30am; 3pm – 6pm (for women); 6pm – 9pm (for everyone)
Indian Aquatic Academy
This pool is a part of Kendriya Vidyalaya and is run by the Indian Aquaic Academy. It's a well-maintained pool, in case you're looking for some clean and healthy swimming time. Coaching is available for beginners and it's mostly encouraged for children. Women can avail some awesome pool facilities, every day betwen 5pm – 6pm. The pool is functional from March to October.
Price: INR 2,200 (per month for swimming), INR 1,000 (for swimming coaching).
Timings: 5:30am – 10am; 4pm – 10pm (Sunday's closed)
Fitso SEALs - Heated Swimming Pool
Fitso has a temperature-controlled facility in Noida with experienced coaches for every stage – advanced, beginner and kids. We also hear that they've got the tech to gain underwater video analysis of swim actions to help improve your techniques. Advanced level swimmers, we've found your kind of pool. In case you wish to go for a swim during winter, you know that there's at least this one facility in Noida you can always rely on.
Price: 3 days for 3 months at INR 8,999, all days for 3 months at INR 12,999. Plans could also be customised. Visit the website to know more.
Noida Golf Course
With NIS trained swimming coaches, lady coaches available in the evening, you will find different membership options at Noida Golf Course. They have different membership plans for kids and adults and you could contact them if you need any customisation.
Timings: Coaching timings are 8:30 AM to 9:30 AM in the morning while 5 PM to 6 PM in the evening.
Pricing: Coaching fees is INR 2,000 per person per month.
Comments