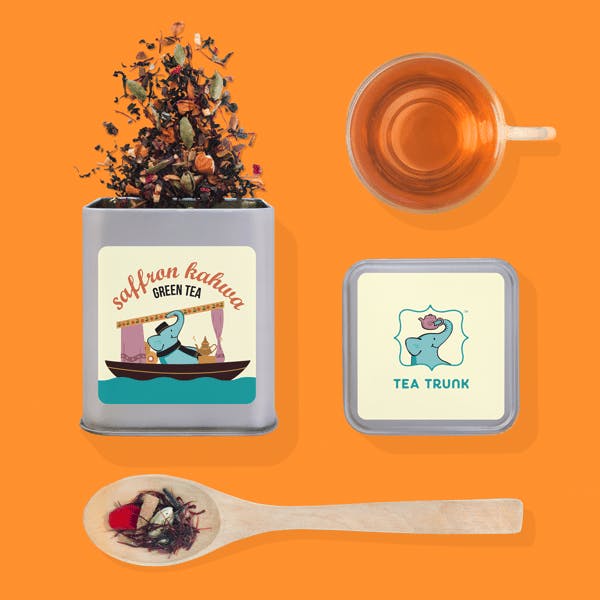 Tea Lovers! Stock Up On These Delish Tea Packs For INR 599 Only!
Tea Trunk is our favourite independent online tea shop that sells fine teas sourced directly from estates across India. These packs come in handy tin boxes that feature a rather adorable elephant and his trunk. The teas found in these little trunks actually pack in all those benefits that are attributed to our homely chai. You're unlikely to find any trace of disappointing dust which often makes up some volume in regular brands.
What Did We Like?
The tea ninjas at Tea Trunk source top-brass leaves from independent estates all over India, and infuse them with all-natural ingredients that make for the perfect cup. Inspired by a vintage trunk that stored prized teas from around the world, Tea Trunk brings its goodies to the table in playful bits of tin. Anything with green tea and we're sold. So when we tried a mix of green tea and Kashmiri Kahwa, we just couldn't wait to share! We enjoyed the subtlety of the Saffron Kahwa Green Tea as much as the Kashmir-inspired elephant cruising in a shikara on the label.
Green tea is infused with saffron strands, cinnamon bark, cloves, ginger, cardamom pods, rose petals and sweet almonds. This warm, nutty and spicy blend is known for its detoxifying properties and is rich in antioxidants and nutrients. Perfect for cleansing your palate after a heavy meal! We're offering you a tin of Saffron Kahwa Green Tea for an exclusive price of INR 599, only via LBB Specials!
Anything Else?
Aside from the fact that the tin boxes will be put to some honourable use long after every last sip of the tea has been drunk, it's safe to say that Tea Trunk has sneakily made its way into our homes for good.
For more information: Click here
Comments