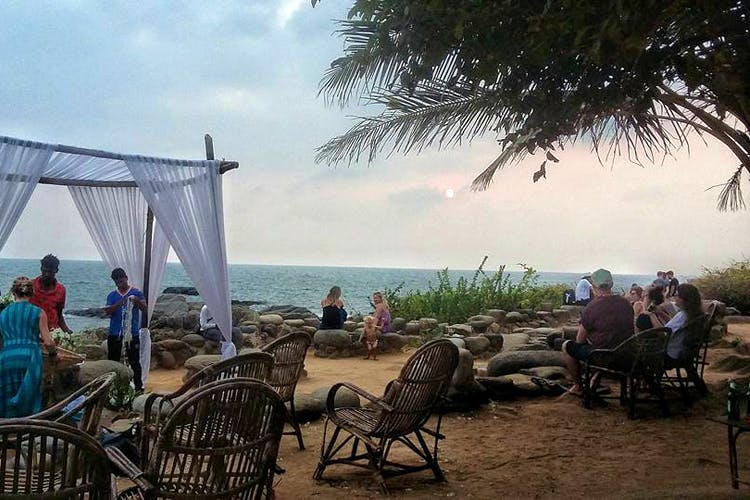 #InstaGoals: Hit Up These 10 Spots For That Perfect Goan Sunset
Possibly our favourite time, evenings in Goa are not to be missed — the sunset is beautiful, free and makes a great end to any day. We've picked out our favourite sunset spots — be it beaches, forts or restaurants — for you to lay back and relax with a nice cold beer in hand.
Calangute Beach
If you're looking for an all-in-one, Calangute Beach is where you need to head. Spend the day eating, drinking and shopping at the markets surrounding the beach before finding a comfy spot to settle down and watch the sun slowly vanish into the languid waves.
The beach is very touristy, but has a lively atmosphere, and its proximity to Baga and Candolim beaches make it a great transition point if you're looking for nightlife.
Sinquerim Beach
Perfect for an idyllic day spent dolphin watching or jet skiing, Sinquerim beach is great for a family day-trip. Close to Aguada Fort, watch the sun set right next to the majestic Taj Hotel.
If you're looking to stay away from the waves, visit the viewing deck made from rocks right by the Taj, for a great view without getting sand in your shoes.
Morjim Beach
More commonly known as 'that beach with the exotic turtles' (Olive Ridley sea turtles), this white sand beach is also a great place to relax and watch the sun vanish into pristine waters.
Our MO here is usually to take a couple of beers, dig it into the sand to keep it cold, and then just watch until the horizon disappears — all while making lofty life plans!
Baga Beach
Sure you know about Baga Beach — it's hippie paradise and one of Goa's most crowded turfs — but have you ever gone parasailing while waiting for the sun to set?!
Nothing can beat the feel of the lulling sea gently rocking you back and forth, while the last rays of sunlight warm your bare shoulders. Beyond being an Insta-worthy photo-op, it's something that captures the soul of Goa and cannot be missed.
Chapora Fort
The little bit of an uphill climb we had to take to get here was made up for by the stunning view of Vagator beach. Uninhibited by any surrounding structures, the fort offers multiple places to choose to watch the sunset from.
The fort is also best known for appearing in Dil Chahta Hai, and is a must-visit for all Aamir Khan fans or those looking for a bit of nostalgia. It's a two-in-one Insta-win!
Cabo de Rama Fort
Lesser known than Chapora Fort, this hidden gem is where you'll want to be if you love watching the sunset from a quiet spot with nothing but the whistling wind as your companion.
The fort is built on a cliff, so while you should be careful, you'll get a great shot with the ruins of the fort, the quaint church of Santo Antonio and the fading sun (if you do a panorama from the edge).
Fort Aguada Lighthouse
Just a 10 minute walk from the fort, this is the perfect spot for a panoramic view of a Goan sunset. Overlooking Calangute and Sinquerim beaches, it's totally worth the minor entry fee of INR 10.
The spot is well-known amongst tourists, so be sure to get there a bit earlier to catch the perfect spot!
Thalassa Restaurant
One of Goa's most well-known restaurants, this Greek eatery also has a fantastic view of the sunset. Skip their indoor seating if the weather is good, and ask for a table outside — shady palm trees and a clear view of the sea await.
Consider making a reservation for a prized spot as tables get filled quickly (they take specific reservations for a sunset view), and you wouldn't want to miss your chance at fine dining and a dusky sunset.
Pousada By The Beach Restaurant
Escape the noise and crowds of the popular Calangute beach with this hidden restaurant, located just steps away from the beach, surrounded by a lush patch of greenery.
Overlooking the Arabian sea, grab a seat, order a plate of vindaloo and take in the unhindered view of the sunset. Oh, so romantic! The restaurant is also home to two lovely dogs you won't be able to get enough of — named Chai and Biscuit!
Sundowner
At the north end of Palolem beach, right by Monkey Island, this little shack-restaurant is best accessed during low-tide. See, the adventure begins already!
Till two seasons ago, it was run by Jojo and went by the name of Jojo's Sundowner but after he passed away, one of his friends, Kim and his wife, decided to take charge and run the place. The views are still spectacular and their menu has pizzas and seafood but the character of the place remains the same. Yes, it's got the best views of the sunset and moon rise in South Goa and when things go well at the bar, they even offer to take you safely back to land in their free boat ferry.
Comments