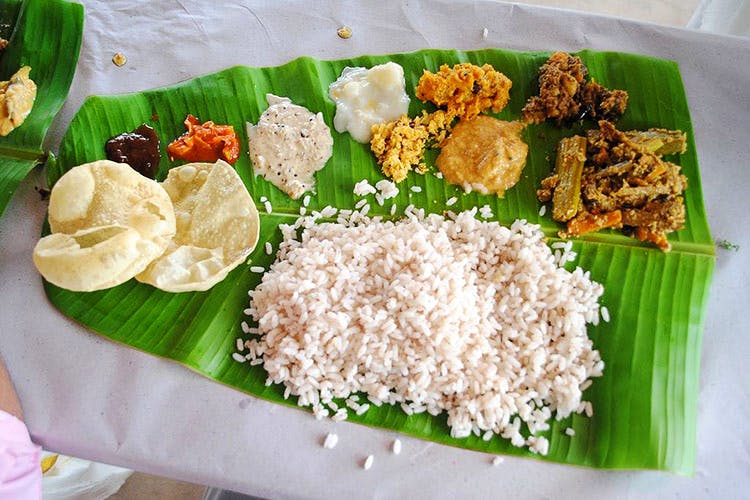 Gongura Avakayi, Vankaya Pulao & Sambar Rice: These Restaurants Serve Authentic Telugu Food
Missing home and the authentic Telugu dishes? Well, we cannot get you the warmth of home but they say good food can definitely place your woes far off. So, get to these restaurants in Hyderabad that serve authentic Telugu meals, walk into food coma.
Subbayya Gari Hotel
Get to
Subbayya Gari Hotel
in Kukatpally if you are craving an all-vegetarian heavy meal of authentic Andhra delicacies. The food is served on a proper banana leaf with Coastal Andhra specialties like Kakinada Kaja, Punugula Curry,
poornam boore, boond
i, tomato rice,
pulav
,
pulihora, gutti vankaya, gongura avakayi, perugu wada, payasam,
and more. The restaurant is generous with its quantities, and the staff is warm and urge you to try every dish. The ambience is simple but festive because of the constant banter. In fact, eating a meal here is a wonderful experience as we are served more than 20 varieties like a Pelli Bhojanam (Wedding food).
Telangana Spice Kitchen
Pappu Garela, Mudda Pappu - Pachi Pulusu, Koramenu Roast — does the mere mention of these dishes make your mouth water? Telangana Spice Kitchen in Jubilee Hills is where you can score Telangana dishes. They have local chefs and source raw materials from local farms, and for every festival or occasion, they add scrumptious dishes and host events. Making it all the more fun is the ambience with a wide open space, lawn, and walls adorned with beautiful framed paintings by local artists.
The Spicy Venue
If thalis are your thing, then you cannot miss out on the South Indian Thali at Spicy Venue. We love the dal and the flavoured rice and usually, keep asking the staff to refill our dal. Also what takes us back to Spicy Venue is — Apricot Delight — a custard-based dish that's made from apricot and hits the right spot. If you are looking for a meaty meal, we recommend Avakaya Chicken Biryani, Chicken Majestic, Ginger Quails, and Nellore Chepala Pulusu.

Vivaha Bhojanambu
Get your hands on bamboo chicken, Bhimavaram Mamsam Vepudu, Mirapakayi Mushroom, Steam Kodi Kebab at Vivaha Bhojanambu. This restaurant is always packed to its brim with food lovers gorging on all the meaty delicacies and pulaos it has to offer. Ever heard of Vankaya Pulao? You can try it out here. Plus, they've got an awesome spread of seafood delicacies that you cannot miss. Want a mix of everything? The three types of thali will set you back for good.
Chaitanya Food Court
If all that takes to please you is well-cooked sambar rice or
ulavacharu
, head to
Chaitanya Food Court
in Kukatpally with a massive appetite and patience to get a table. This restaurant makes delicious Andhra delicacies and it's quite pocket-friendly too. So, if you're missing a simple homecooked meal with a generous helping of ghee, this restaurant beckons you.
Kodi Kura Chitti Gaare
With more than 10 types of gaari (wada) in its kitty, Kodi Kura Chitti Gaare rings in a celebration like no other restaurant in the city. They've got interesting dishes like Tamalapaku Kodi Chaaru, Allam Kodi Wings, Royyala Pakodi, Amalapuram Fish Masala that reminds you of a coastal town. Plus, their desserts like Paakam Gaare, Apple Rabdi, Seetaphal Rabdi, Poornalu are really bae.
Comments