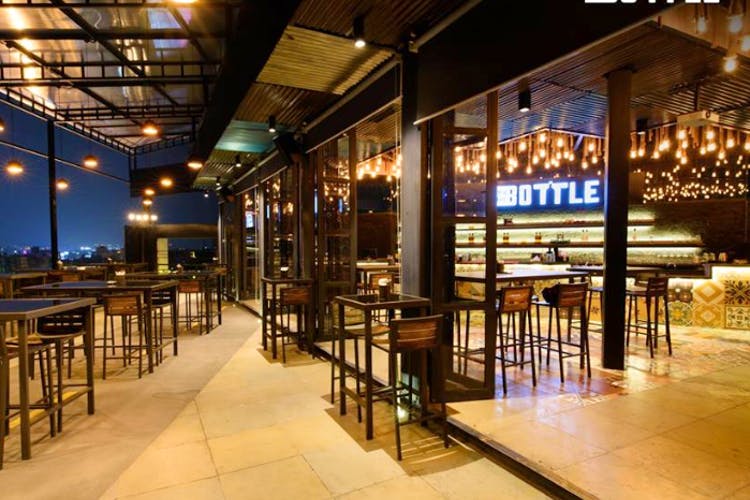 Round Up Your Squad & Head To These Bars That'll Never Leave You Broke
Whether it is a Monday or a Friday, the eternal search for the best affordable bars in the city continues. Are you looking for one too? Don't worry and follow us to these budget bars. Eat, drink and make merry.
Hoppipola
The door that leads you to Hoppipola is surely out of a Sanjay Leela Bhansali's movie set. Reminding you of Devdas or Saawariya, this bar allows you to take in its bright yellow walls and moody ambience. They have a separate menu for drink deals apart from the drinks menu. The deals are priced at INR 99 and INR 99+69. If you love your Pink Cosmo or Bloody Mary a little too well, score them at INR 99, but if a Long Island Ice Tea is your thing, it's at INR 99+69.

Amnesia
Known for its bizarro ambience and chill music scenes, Amnesia is one of those pubs that's popular with college students (above 21 years of age, though). They have killer happy hours where you can score drinks and finger food at INR 99 only. Only two drinks (Kamikazi and Tequila) are priced at INR 129, but we've done the math, and no combination of a drink and appetiser will cost you more than INR 228. This menu is valid between 12pm and 7pm from Monday to Saturday, so no matter what day of the week it is, drive away the blues!

The Lal Street - Bar Exchange
The stock market is volatile — with its rises and dips. At The Lal Street (a pun on Dalal Street, Bombay Stock Exchange), the price of liquor is also volatile. Located inside the SLN Terminus Mall, Gachibowli, The Lal Street's walls are painted in pop colours and graffiti art of Batman's Joker, and Monopoly board game. It's the first stock market bar of Hyderabad and to order drinks here, you have to download their mobile application, check the prices (they ebb and flow), and order when it's the lowest. We've noticed that the prices are usually cheap when the day is just beginning and rises high as night begins. Order their Peanuts Masala or BBQ Chicken Wings, and a pint of beer which might cost you less than INR 200.
Patio By Ciclo
Fairy lights in the backyard, delicious finger food, and a good music scene are just a few things that define Patio by Ciclo. A new bar by Ciclo, Patio opens at 6pm, and has an entirely different menu from Ciclo and at prices that don't pinch your pocket. Perfect for grabbing drinks and starters, you can get skewers or Naanza (a naan-based pizza) by skewer or a slice. We recommend Achaari Mushroom, Tandoori Paneer Tikka, Assorted Veg Shashlik at INR 75 each, and BBQ Cajun Chicken (INR 95). Do try an Old Fashion and Saketini (both INR 299).
10 Downing Street
One of the first places to introduce combo meals in Hyderabad, this suave pub offers lunch combos at both its outlets that include one soup/pint/cocktail/beverage, plus a main course dish of your choice. Choose between Continental, Indian or Chinese pre-plated dishes from the menu, and a dessert. There aren't any more specifications to this combo, but the pub recommends their Shepherd's Pie and we recommend their lasagna. So go here during lunch breaks between work or for a lunch meet with the squad and enjoy more for less. Their vegetarian combo costs INR 260 (plus taxes) and the non-veg combo costs INR 280 (plus taxes) per person.

Log Sabha
Holy moly is what we have to say about the graffiti at Log Sabha where politicians are getting comfortably unparliamentary (Erm!) and getting caught on Breaking News. With quirky captions like #UlluBanayega and #SabKiPhategi, trippy fairy lights, and a caravan bus, we found ample corners to Instagram. Get Fish & Chips at as low as INR 199, and score delicious cocktails at INR 199-299 (only two drinks are priced at INR 399 and INR 499). Do note that the food portions are high and they can be shared between two-three people.

By The Bottle
We've kept the best for the last — By The Bottle in Jubilee Hills has an epic 79 menu where you can get whiskey, vodka, rum, and gin at INR 79. What's even better is you can also score Gimlet, Daiquiri, Cosmopolitan, and even mocktails at INR 79 only! So, if you're entirely broke and want to have a fantastic time in a bar with brilliant ambience, By The Bottle is your go-to!
Comments