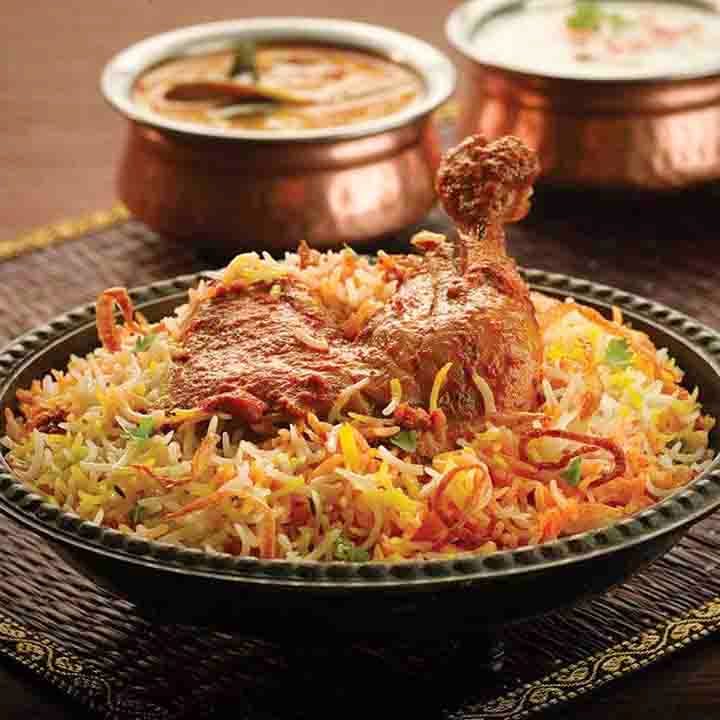 Bae Talk: We've Scouted For The Best Biryani Places In Banjara Hills
They say biryani is a religion in its own way in Hyderabad, and we agree. Whether we're sad or extremely joyous, we find ourselves reaching out to biryani. Banjara Hills is an awesome haunt for biryani places, and we've scouted its streets to bring you the best biryani places in Banjara Hills. Aish karo!
Biryaniwalla & Co.
Biryaniwalla & Co. is sort of a hidden gem and we cannot get enough of their Patthar Ka Gosht and dum biryani. The biryani comes layered thick with masala, caramelised onions, and garam masala, and the chicken was not cut into measly chunks but was like a quarter of it cooked in spices and nearly pan-fried. Vegetarians, you don't have to feel left out as their paneer tikka and veg biryani are delicious too.

Sarvi Restaurant
Sarvi Restaurant is a landmark in Banjara Hills which is hard to miss because of all the delivery people surrounding it (we're looking at you Swiggy & Zomato). This place has a no-nonsense ambience which is great because their charm lies in the food they make. Their biryani is easily one of the best in Hyderabad as they make use of authentic Iranian spices. Go for the Chicken Biryani and Mirchi Ka Salan, and you're in for a treat.

Firdaus
Firdaus is located in Taj Krishna and this fine-dining restaurant in Banjara Hills is known for its authentic Hyderabadi delicacies so you can expect a wide range of iconic dishes. The restaurant reminds you of a Nizami darbar, and their Kacche Gosht Ki Dum Biryani is a must-try. But if you'd like to try more than just biryani, go for Kaddu Ka Dalcha, Jheenge Ka Salan (prawns cooked Hyderabadi style) or Haleem with Sheermal.
Zaiqa-E-Hyderabad
Often touted as one of the best biryani places in Hyderabad, Zaiqa-E-Hyderabad in Banjara Hills is a must-try. Almost always crowded, their rice and meat ratio is on-point, and so are their flavours. That said, the service is not very pleasant and we didn't have a great experience albeit the food was great.
Kholani's
At Kholani's, we implore you to go beyond the regular biryani. This joint has two more branches in the city, and while you might not be extremely pleased with their laidback service, wait till the biryani arrives. Their Special Prawns Biryani and Special Fish Biryani are must-haves.
Mashaal
Lost amidst the many buildings of Banjara Hills, Mashaal is a Bollywood-themed restaurant with interiors that'll instantly calm you down. These folks are known for their Lucknowi and Mughlai dishes, and you've got to try their Gosht Biryani and Anda Biryani. The quantity is generous and you barely spend INR 300 on each plate, so that's pocket-friendly too.

Comments