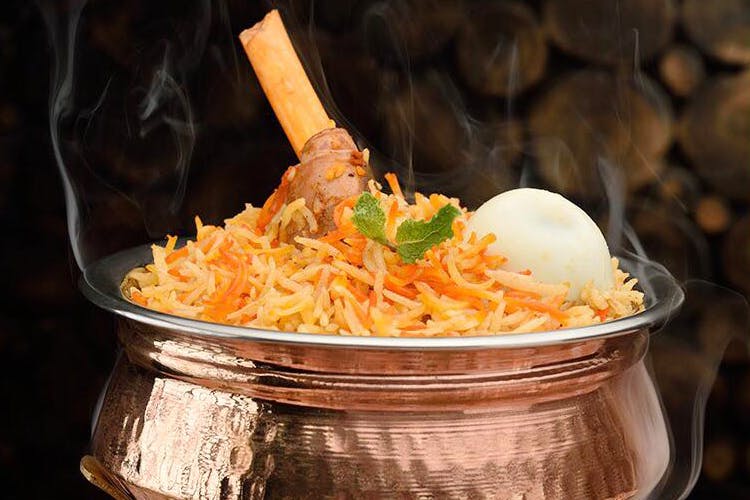 Mughlai, Dindigul, Or Hyderabadi: You Can't Go Wrong With Biryani At These Places In Chennai
Decadent and comforting, biryani is every food lover's bae and this city treats you with some decadent options. From Ambur and Dindigul to Chettinad, we have any biryani inventions to dig into in Chennai. And we can even feast on biryanis from Hyderabad, Lucknow, and the Mughlai kitchens right in the heart of the city. Check out our list to find out where you can eat the best biryani in Chennai.
Aasife Biryani
There are over 15 outlets of this legendary outlet in Chennai, so, you can gauge Aasife Biryani's popularity with the crowd. Lightly fragrant, the mutton (or chicken) biryani can sure perk you up after a hard day. Pair it with a plate of spicy Chicken Tikka or a plate of Aasife's Special BBQ and you've got a winning meal.
Price for two - INR 750
Dindigul Thalapakattai
Chennai is surrounded by biryani hubs. If you are heading towards Hosur, you'll find the famed Dindigul biryani. But don't worry, you don't have to budge an inch to get your share of steaming hot Dindigul biryani. With branches across the city, Dindigul Thalapakatti serves boneless mutton biryani, chicken versions, and biryani in a bucket to feed your entire brood.
Price for two - INR 800
Copper Chimney
Specialising in Mughlai and North Indian flavours, Copper Chimney is where you head to when you've got a calorie-loaded treat on your mind. Stuff your face with their excellent Dum Gosht Biryani that's sprinkled with saffron and features chunks of beautifully cooked lamb. That said, it's certainly a finer dining version of the meal. It is about feeding the Nawab in you.
Price for two - INR 1200
Maplai
This popular chain sure knows how to draw in the crowds. It's all about going big here! Dig into their unlimited Biryani thali offerings that come stacked with Thalassery or Madurai-style biryani. With this comes a meaty side dish, parottas, and a kuzhambu. If you are not prepared for the unlimited version, you can choose plates of piping hot Ambur Chicken Biryani or Prawn Biryani as well.
Price for two - INR 1000
Sukkubhai Biryani
Craving beef biryani? Look no further than Sukkubhai Biryani. The aromatic rice is subtly spiced and allows for the chunks of meat to shine through. Their hunky beef cutlets and beef fry prove to be worthy accompaniments to the stellar biryani. You can also check out our list of budget biryani restaurants to eat the best without shelling out much.
Price for two - INR 300
Charminar Biryani
A busy biryani joint in Royapettah, Charminar is a favourite with the crowds. The tiny place specialises in Muslim-style biryani and you can line up for plates of their mutton or chicken option that is served out of large, blackened cauldrons. They have a few tandoori dishes that you can chomp down with your biryani. Bucket versions, for large crowds, are available as well.
Price for two - INR 300
AlMaza
AlMaza's extensive menu is a meat lover's delight and features quite a bit of variety in biryani. If you want to go the tried and tested way, there is the Mughlai mutton and chicken biryani. Fish, prawns, and egg versions make an appearance too. But if you are looking for sheer indulgence, just pick the Mutton (also available in chicken) Zafrani Pulao that's sprinkled with the goodness of saffron. Looking for more places to eat in Anna Nagar? Click here.
Price for two - INR 1000
Nammaa Kitchen
Located in Taramani, the highlight of Nammaa Kitchen's menu is their stellar Hyderabadi style biryani. However, if you are in the mood to experiment, they also offer Special Chicken 65 biryani and a royal biryani that's got a variety of meats. Mughlai Mutton, Tandoori Chicken, and Prawn Biryani round off the menu. They offer combos as well.
Price for two - INR 600
Yaa Mohideen
When you put iconic and biryani together, head straight to Yaa Mohideen in Pallavaram (they also have another nearby). You can work up an appetite by joining the long queues and when it is your turn at the front of the counter, just snap up their superb Mutton Biryani. Pair this with their Chicken Pakoras and you've got yourself a memorable meal. They even sell biryani by the kilo. Perfect for those house parties.
Price for two - INR 600
Behrouz Biryani
The apparent capital of biryani was a place called Behrouz in Persia that served the long fragrant rice to its royalty and that's the ideology behind Behrouz Biryani that has over 30 outlets in Chennai itself. They specialise in making Awadhi style biryani. They have various Southern styled biryani as well. You could go for their vegetable biryani, murgh tikka biryani or murgh malai biryani. They taste heavenly with a bowl of raita.
Price for two - INR 700
H.Akbar Mess
Aren't wedding biryanis one of a kind? Tasting homely, H.Akbar Mess in Vepery serves some authentic biryanis in town. Their mutton biryani served in banana leaf adds not only to its comfort but also taste. It's not overly spicy but just right. Don't ask for a spoon to eat the biryani if you don't want to be judged. Dig in with your hand. For more legendary messes in Chennai? Click here.
Price for two - INR 200
Buhari
One of the iconic possessions of the city and a pioneer for giving us Chicken 65, Buhari has grown across Chennai. Not to forget, their biryani remains among the best in town. Their juicy chicken biryani paired up with chicken 65 is the perfect jodi. Spicy and thick, just how we like it. Ask for a leg piece in your biryani - it tastes the juiciest mixed with the spices.
Price for two - INR 850
Karaikudi Chettinadu Mess
When you say spice, we say Chettinad. And where else to try it than in the Karaikudi Chettinadu Mess? Located across outlets in Chennai, it specialises in *drum rolls* Chettinad biryani. Long grain and heavily spiced, the tears rolling down your eyes are worth it just for the sake of its taste. Apart from chicken and mutton biryani, they have special fish and prawn dum biryani that you have to try out as well.
Price for two - INR 450
Ente Keralam
Taste of Kerala all the way to your city, Ente Keralam in Alwarpet and Anna Nagar treat you with some Malayali delights. Apart from their fish fries and beef curry, their Thalassery biryani is one of its kind. Unlike the others, this biryani uses small grain, khaima rice. What's so different about it? Well, the rice and the meat are cooked separately first and then put together dum-style. If you haven't tried this Kerala favourite then this place is your chance.
Price for two - INR 750
Did we miss out on any of your favourite biryani joints? Mention them in the comments below.
Comments