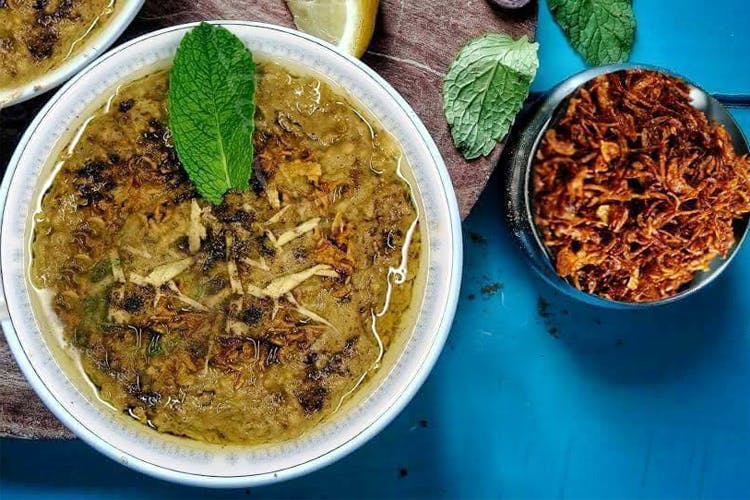 Clash Of The Titans: Do You Love Your Haleem At Shah Ghouse Or Pista House?
It's time for a verdict, people. Haleem Wars are in full force and we asked some good peeps (our wonderful LBB users) where they go for haleem. Who won? Read on…
Is Shah Ghouse A Step Ahead?
Walk up to any branch (Tolichowki, Shalibanda, Raidurgam) and you will find a long queue of foodies impatiently waiting for their haleem. Winning the Haleem Wars consistently, Shah Ghouse's haleem is a perfect combination of crunch and tender. The mutton is well-cooked and is extremely soft with layers of bones (some are chewable) and spices that introduce you to different flavours with every bite. We got ourselves a round of haleem at their Tolichowki branch. Dollops of ghee are added on top of the dish and served piping hot with crispy fried onions and cashew nuts, this heavenly dish kept us occupied for a while.
Verdict On Shah Ghouse: While the bones can hinder the experience of eating haleem, the consistency in the taste and the quality has never let us down over the years. Plus, you can ask for a boiled egg as a topping, and eat your way to glory.
Will Pista House Be Left Behind?
While Shah Ghouse has its own cult followers, the loyalists of Pista House have spoken too. Unlike its competitor, Pista House has 10 outlets in the city and has branches globally too. Well-packed in dabbas with tight lids, Pista House's haleem travels to different parts of the world, wooing foodies for all the right reasons. While the mutton haleem is something that's found anywhere, Pista House has earned brownie points for its Badami Haleemi — their in-house specialty. We visited the restaurant in Tolichowki and joined the festivities in welcoming the holy month. We rushed in and ordered ourselves some haleem. Although the cafe was crowded, there was no snag in the service and we were served in a jiffy. On digging in, we could taste the tender meat, cashew nuts and the occasional flavour of ground pepper and crisp fried onions.
Verdict On Pista House: Don't get us wrong, while we relished our haleem here, we found it bland after a couple of bites. But, in terms of availability (also, throughout the year), they take the cake.
And The Reigning King Is...
Shah Ghouse is our current love, and according to our poll on Instagram, our LBB users are on our side too. Although there wasn't much difference in the votes initially, at the end of 24 hours, Shah Ghouse scored 61 per cent of your votes, with Pista House trailing behind. Maybe we all do love Pista House, but the fondness for Shah Ghouse is just a little higher. We'll do this again in a year and see if anything changes then.
Comments