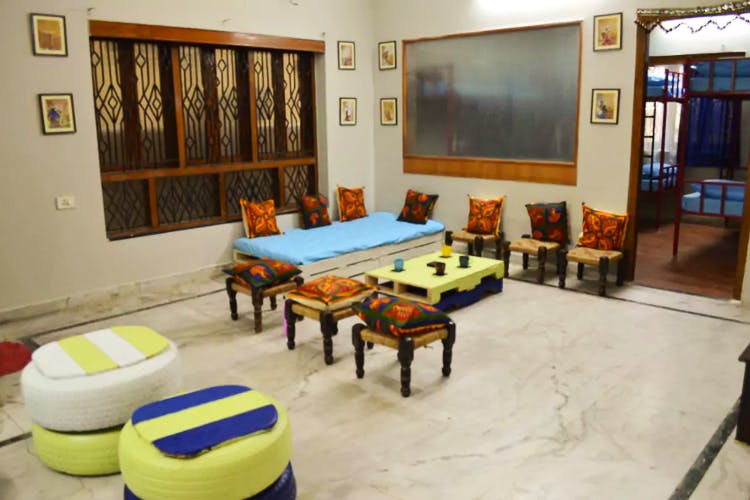 Traveling On A Budget? Plan Your Stay At These Backpackers Hostels
If you are traveling on a shoestring budget, no better place to crash than a backpacker's hostel. Plus, you get to make lots of friends too. Hyderabad is slowly picking up when it comes to this, and here is our pick of the best hostels in Hyderabad
BeeHive Hostel
BeeHive is Hyderabad's first backpacker hostel and we love it as it imbibes a DIY culture that is trust-based. The dorms are spacious and ventilated. Most of their interiors have a story — they've used industrial packaging wood and turned it into sofas, tires are hand painted to make seatings. The dining table was an unwanted piece of glass before they picked it up. There's a pop of bright colours against subtle shades that make the place very dynamic. If you are ever in Hyderabad and looking for a hostel, flock to BeeHive.

Elysium Inn Hostel
Think of bunk beds, amicable strangers, and epic conversations on globetrotting and exploration is what Elysium Inn Hostel is all about. Whether you're a solo traveler or visiting Hyderabad for the first time — this is a great pad for you to crash. The living room is decked up modestly with bright handpainted tables, low jute stools, and printed cushions. The bedrooms are more of dormitories with a mix of a female dorm room, a shared dorm room, and a private twin-bed room. The dorm rooms have bunk beds while the twin-bed room has two single cots with handmade decor accents that match the living room. This makes for a great getaway particularly because it's located in a prime area which is well-connected to the city. Although, do note that this hostel is only for travelers and group bookings of backpackers aren't usually accepted.

Nomad's Nest
Nomads Nest is a boutique hostel located in Banjara Hills and we are loving it as it's cosy, vibrant, and budget. This villa has quite a few rooms and each of them come equipped with colourful bunk beds, reading lights, and lockers that are attached to the beds. If you're the kind that likes to unwind with fellow travelers, there are common seating areas that match the vibrant look of the entire stay. Done up with bean bags and comfy seating, you can break bread or share your travel stories over a cup of coffee here.

Mahas Backpackers Hostel
Think urban furniture, traditional but sophisticated paintings, a charming, warm ambience, and Mahas Backpackers Hostel comes to mind. Ideal for those of you who are visiting the city, and want to meet more travelers and for students as well, this place is pretty close to the Indian School of Business (ISB). It has a common lounge where you can play indoor games like carrom or watch TV seated on comfy bean bags. The hostel has three rooms, all for men accommodating 4 in each room. They have bunk beds, AC, bathrooms, stovetop, microwave, and a balcony in each of the rooms. Besides, you get breakfast, maid and laundry services along with free parking and WiFi.

The Gully Bird
The Gully Bird — a backpacker's hostel in Hitech City is totally stepping up the staycation game in the city and we're telling you why. Perfect for hipsters and the ones who love the spunky decor, this one's a budget beauty. This couple-friendly space has 11 flats that include private and shared rooms. Bunk bed lovers, crash all you want in a minimalistic room with pretty succulents for a company. Or just park yourself on a printed bean bag for a game of Uno or Jenga with fellow travelers. While we're totally fetching deets on where to get those bean bags, we're also gawking at the quirky frames and wall paints.

Comments