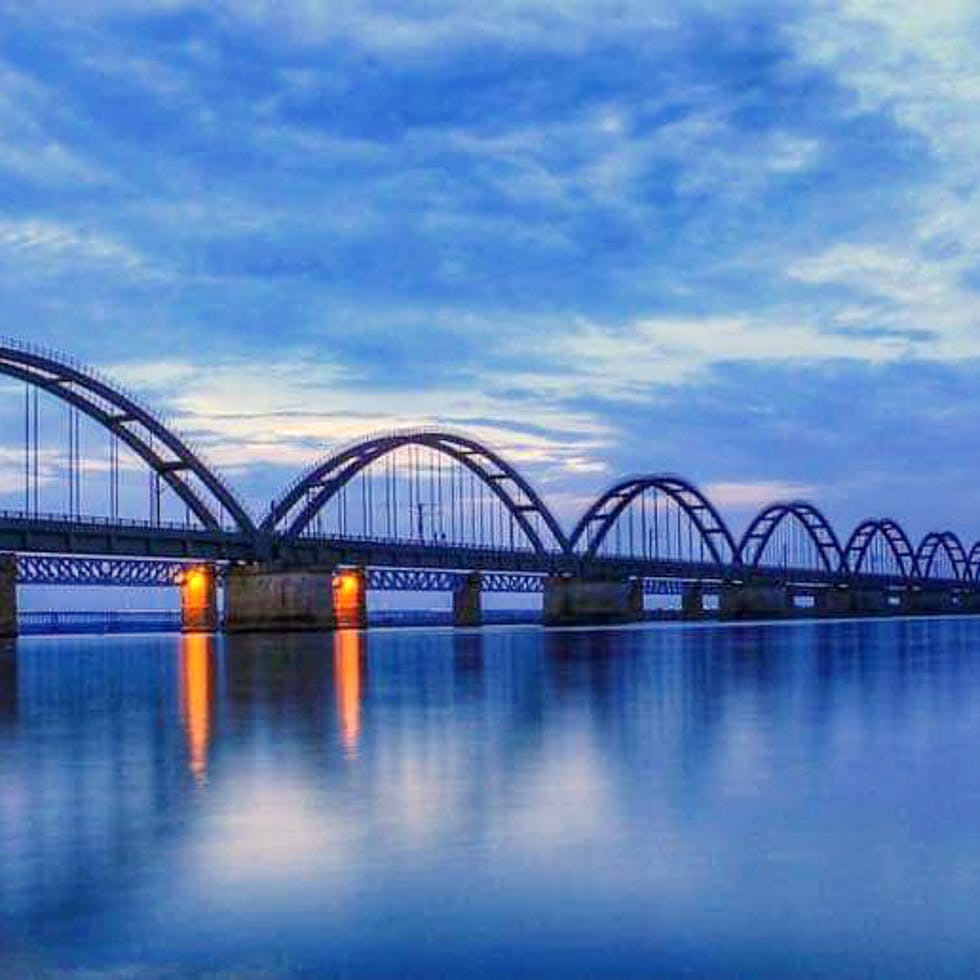 A List Of Places To Check Out When You're In Rajahmundry
Whether you call it Rajahmundry or Rajamahendravaram, this quaint town in East Godavari will wrap you in its beauty. Located on the banks of Godavari, no sunset is worth missing here. Planning a visit? Here's a list of things to do when you are in and around Rajahmundry.
Dowleswaram Barrage
Dowleswaram Barrage or Sir Arthur Cotton Barrage is an iconic irrigation structure that was built nearly 170 years ago. While it was rebuilt again in 1970, this barrage is said to have prevented several floods. It looks magnificent during the sunset hour and if you are big on taking photographs, this is one place you cannot miss.

Papikondalu
Surrounded by lofty hills on either side of the river, Papikondalu is a popular getaway in Andhra Pradesh and it is basically a series of mountain ranges. It comes with exciting activities like night camping, stargazing, and exploring the ebbs and flows of Godavari. The boat (or launch) ride begins in Rajahmundry taking you through Pattiseema, Polavaram Project which are located quaintly between hills. While dashing through these hills, you'll witness beautiful sunsets but it's the night stay at Kolluru Island that will blow your mind.

Maredumilli
Maredumilli is a sleepy hamlet in Rajahmundry that promotes ecotourism. If you haven't visited Kerala and want to get a glimpse of it, Maredumilli might just be it. Known for its greenery, coffee, and pepper plantations, a picture book from your childhood transpires into reality here. Go here to discover a charming tribal lifestyle.

Bhupathipalem Reservoir
This reservoir project is an hour and a half drive away from Rajahmundry, and if you're planning to visit Maredumilli, you've got to check this out too. Surrounded by pine and coniferous forest, this reservoir project also has an island that offers a stunning view of sprawling mountains and towering trees. There is a paddle boat facility which we highly recommend taking. The water beholds the reflection of the mountains, and you won't stop photographing.
Damerla Rama Rao Art Gallery
Got a thing for art galleries? This iconic art gallery pays homage to one of the greatest artists of Andhra Pradesh, who belonged to Rajahmundry. Damerla Rama Rao Art Gallery houses a vast collection of his paintings. It is often said that he was solely responsible for making fine arts mainstream in Rajahmundry.
Water Village by River Bay
Travelling with a large group? Water Village by River Bay is an amusement water park in Rajahmundry that is super well-maintained. Bringing out the child in you, this water park is surrounded by trees. It's got all the slides, pools, and rain dance activities that you'd look for in a water park. What's even better is that it sorts your stay by offering riverside cottages.
Godavari Bridge
Godavari Arch Bridge truly comes alive during the sunsets and we totally love looking at it from a distance. As India's third longest rail-cum-road bridge, this one is said to be a dangerous (only for the faint hearted) bridge. Plus, every Telugu movie shot in Rajahmundry carries this iconic bridge — whether it's a song or an action sequence.
Rallabandi Subba Rao Archaeological Museum
We're fond of nostalgia and what's a better place to seek it than a museum? Rallabandi Subba Rao Archaeological Museum is a government museum. Home to old and vintage coins, local art forms, pottery, handicrafts, statues, and swords, everything is well maintained and labelled for visitors' convenience.
Pushkar Ghat
Swing by the aarti time and occupy a seat on the steps till the night rolls in. The Godavari aarti is quite spectacular, and you can watch the still water and lit-up bridge during the evenings. Although Godavari Pushkaralu happens once in 12 years, you can witness the spiritual aura of the ghat, all the time.
Comments