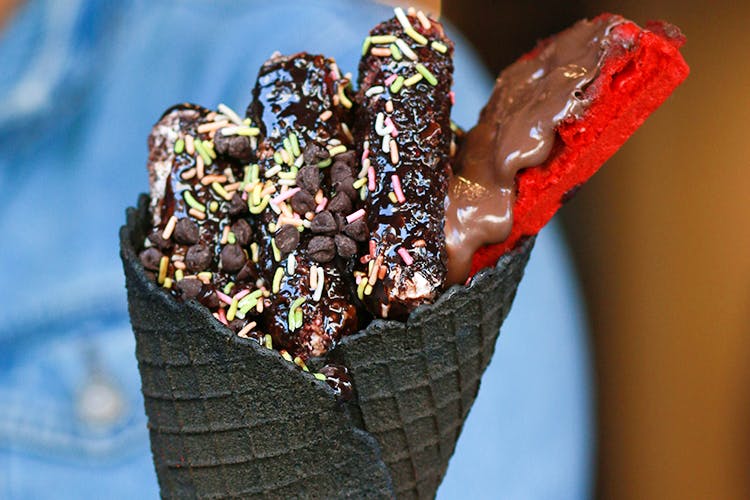 These Are The Best Ice Creams Shops In Hyderabad. How Many Scoops Have You Eaten?
If you ask us when is a good time to eat ice cream, we'd say: now, always, forever. And since summer is just around the corner and so is the torturous heat, what better way to deal with it than to stuff your face with ice cream. And no, these are not your run-of-the-mill vanilla, chocolate, and strawberry, but ice creams that are encased in gold, those that are infused with flavours from injections, and even biryani flavoured ones. Bookmark these ice cream shops that are some of the best ice cream shops in Hyderabad and serving the craziest ice cream flavours in town, one scoop at a time.
Froststicks
Dream a little of childhood and go nostalgic at Froststicks for its Natural Strawberry or Blackcurrant popsicles, which will take you back to those summers where nothing tasted better than your orange lolly. Be it a basic fruit-flavoured one, apricot, and figs or even a chocolatey gooey mess like Dark Knight or Double Oreo, you gotta ask for hazelnut and red velvet toppings, and settle on a bench. Froststicks has outlets in Inorbit Mall, Banjara Hills, Next Galleria Mall, and more, so go whichever is the closest.
Icekraft
Do you love activated charcoal so much that you'd even eat it? Icekraft is where you should be. The Black (Hi goth ice cream trend!) Chocolate Monster made with edible activated charcoal and Nutella (or any flavour of your choice) is served in a black waffle cone for you to enjoy. If that's not enough, we recommend their Tacos Platter where ice-cream rolls are stuffed inside waffles shaped like tacos. Go for the Chocolate Mexicana platter and thank us already!
Huber & Holly
Huber & Holly is one of the many ice cream shops in Banjara Hills and it has taken Hyderabad by storm. Known for its delightful waffle cone ice creams and the Mighty Midas Touch 24Karat Gold ice cream, H&H is also home to rich desserts. While the 24Karat Gold ice-cream (the Mighty Midas) isn't terrific to eat, it needs to be tried just one time for the experience of it. A cone is slathered with chocolate and dotted with mini gold balls. In goes the ice cream scoops, brownies chunks, nuts, chocolate sauce, more chocolate sauce and loads of whipped cream. And then the final touch, a delicate edible gold foil is put as a topping, and you are ready to eat your 24K gold dessert. Also, it's super Instagrammable!
Dr. Icecream
How cool would it be to have an ice cream as a cure for all our illnesses? At Dr. Icecream in Jubilee Hills, this is perfectly possible. Done up as a hospital with stretchers and wheelchairs, the staff is dressed as doctors. No matter what your ailment — headache or heartbreak, there's a cure for everything here. If your silly stomach demands funny fillings then you should try their ice cream — For Digestion — a tamarind chili ice-cream with a caramel injection. And god forbid you're suffering from a curious case of Hyderabadi fever, then there's a Biryani flavoured ice cream (yes, there is such a thing) with a hint of spice and to be infused with a caramel injection. Biryani ice cream is the only solution to this particular kind of malady!
Bilal Ice Cream Parlour
Bilal's is one of the oldest ice cream parlours around and it has a legit iconic status. The Nizami architecture with old portraits and chandeliers and the old-world charm of its ambience are sure to brighten even a grim day. While their Anjeer Badam and Black Currant ice creams are pure joy, it's their delicate rose petal flavoured-one that takes the glory. If you're looking for something adventurous, their Paan ice cream will do the deed.
Indulge IceCream
At Indulge, eat your ice cream and take home the dainty customised coffee cup it is served in. The parlour has an interesting spread of flavours that you'll not find in the other ice cream shops of Hyderabad. Although we loved the African Dark Chocolate or Filter Kaapi, we suggest you sample all the flavours and eat what you love the most.
Shah Ice Cream
Move over fancy ice cream parlours, Shah Ice Cream in Mozamjahi Market is a 68-year-old establishment serving delicious hand-churned ice cream that you cannot get enough of. Sit outdoors with a group of friends or make it a family ritual to grab this delicacy, and enjoy flavours like Mango, Custard Apple, Chickoo, Muskmelon, Lychee and Coconut among others (we tried them all). The ice cream is served as scoops on a plate rather than in a cup or cone.

Comments