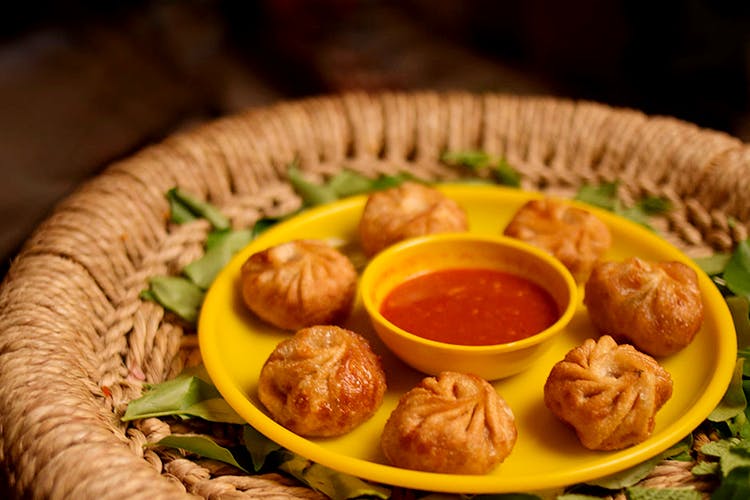 Steamed, Fried & Awesome! Here's Where To Find The Best Momos In Hyderabad
Momo maniacs, are you on a hunt to find the best momo places in Hyderabad? Luckily for you, we've been around the city chowing down some of the best momos the city has to offer, and here's where you should get your share.
The Himalayan Cafe
The Himalayan Cafe serves, arguably, some of the best momos in Hyderabad. If you love your momos with a bit of flavour, you might take a backflip after popping one. We recommend Mushroom & Cheese Momos and Schezwan Fried Momos, which are served with three types of homemade chutney. This is addictive, we warn you!

Momos Delight
Momos Delight is a tiny kiosk located on DLF Street. This kiosk is full of surprises and we mean it. Kurkure Momos to Momo Burgers, Momos Delight is awesome for all those momo lovers. You can keep it simple by chowing down their steamed chicken momos or walk into a momo frenzy with a Moburg (A burger with momos as stuffing). If you got a thing for Kurkure, the Kurkure Momos will seal the deal for you.
Katmandu Momos
Selling off the cart like hot cakes, Katmandu Momos attracts a crowd like no other stall in town. Popular for its steamed as well as fried momos, this stall is located right next to a bus stop in Somajiguda. It's a simple affair — vegetarian momos (INR 50), paneer momos (INR 60), and chicken momos (INR 60). While we love our momos steamed, you can get them fried at INR 70 if that's more your thing!

Alex's Kitchen
Alex's Kitchen in Himayathnagar is one of the most iconic restaurants in Hyderabad to serve Indo-Chinese cuisine that we can never get bored of. We usually go back to this restaurant for their delicious Chicken Steam Momos, which literally transports you to the streets of Dharamshala.
This The Place!
This is a dainty cafe in Madhapur that has a tiny section for momos on its menu. Called as Raju Bhayya Ka Sikkim Momos, you can gorge on not just steamed momos but also chili momos and momos thukpa. The cafe is decked with Tibetian prayer flags and we think it's a perfect place if you are hanging out with a couple of friends.
Kim Fung
Kim Fung in Tarnaka is yet another iconic restaurant in Secunderabad and Indo-Chinese cuisine lovers from all across the twin cities go here. While they have plenty of dishes like noodles and seafood that will turn you into Kim Fung loyalists, the momos are probably an underrated dish that you'll end up falling for.
Zing's Northeast Kitchen
Zing's Northeast Kitchen in Kondapur is known for its terrific ramen and pork momos and if you take your meat seriously, it's a crime to not go here. The momos are served with a spicy homemade sauce, and we love how the subtle aroma pulls us in. Well garnished and cooked, these pork momos are a rarity in our city.

Aama's
Aama's in Lingampally is sort of a hidden gem that is known for its Nepalese food. Quaint, pocket-friendly, and authentic, if you are looking for steamed or fried momos, this can be your go-to haunt. But there are also dishes like Cheese Fried Momos and Jhol Momos that we recommend trying.

Comments