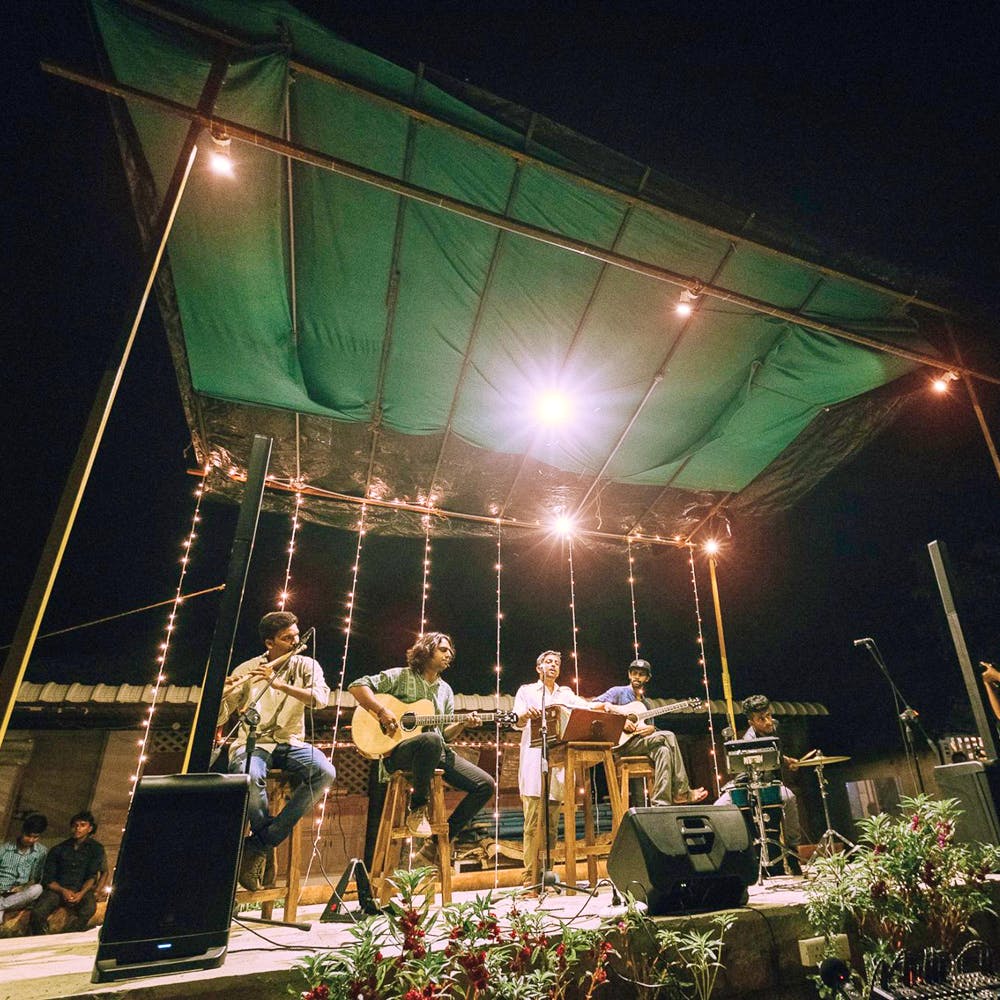 Don't Mind Going An Extra Mile For Good Food? Drive To These Places Pronto
We all have that one friend who loves traveling an extra mile for good food. And they drag you along in the process. But when is driving a big deal when you know there's food when the journey ends. So, here is a list of awesome restaurants that require a bit of a drive to reach.
Rajugari Thota
Stop by Rajugari Thota during nights, as it's quite Instagram worthy. If you take your meat seriously, it cannot get better than this. From spicy chicken pulao to meaty curries, a meat lover would absolutely refuse to leave this place. For a good reason. The architecture of this restaurant reminds you of a Telugu manduva house and it has been designed by Kamal Kama Raju (an actor and architect). So, go here and eat your way to glory.

Thinespo
Thinespo is tucked almost in the outskirts of the city, but the distance is really worth the drive. It probably isn't that far from Secunderabad, though. You can make a king's meal out of the Lamb Oven Baked Lasagna, or go for a chicken one. They've got amazing pizzas and mains as well, and you can end your meal with a dessert from their dessert shack! The ambience is quite cute too.

Jewel Of Nizam
Overlooking green gardens stands a tall white structure that houses the Jewel of Nizam, a restaurant that sounds (and looks) like something straight out of a fairytale. Jewel of Nizam — The Minar — is a fine dining restaurant located in Golkonda Resort, Gandipet. The intricate ivory decor and delicate chandeliers give the place a charming, elegant look and feel, and the cobalt blue crystal glasses and seating add a spunk of colour. But the cherry on top is the fantastic view from the tower, while you feast and clink your glasses to celebrate life in Hyderabad.

Paaka
Located in Tellapur, Paaka is an organic cafe and cultural space. From Tom Yum Prawns Soup to Millet Grilled Chicken Wrap, you're in for a treat with all the food choices. The menu keeps changing so there is a good chance of finding something new whenever you visit. Plus, it's a bustling space where activities and workshops happen all the time. The seating is done with up with a few tables and chairs and with mattresses on the floor. If you are all about experiences, go here.
Palm Arabiana
Located right next to Shamshabad Cricket Ground, Palm Arabiana is a great fix for Arabian and Mughlai dishes. With tiny cottages like seating zones, you can have a private time with your gang. Go here for Mutton Roganjosh, mandi, and kebabs. With a wide range of grilled and tandoori meat dishes, Palm Arabiana warrants plenty of visits. When are you heading?
Lucky Restaurant
Lucky Restaurant in Nagole might not be far, and if you live somewhere close by, you're super lucky. This iconic restaurant serves up amazing mutton biryani which has loyalists all across Hyderabad. Their Pathar Ka Gosht is one of the best in Hyderabad, and we kid you not when we say their Irani chai counter attracts a huge crowd.
Comments