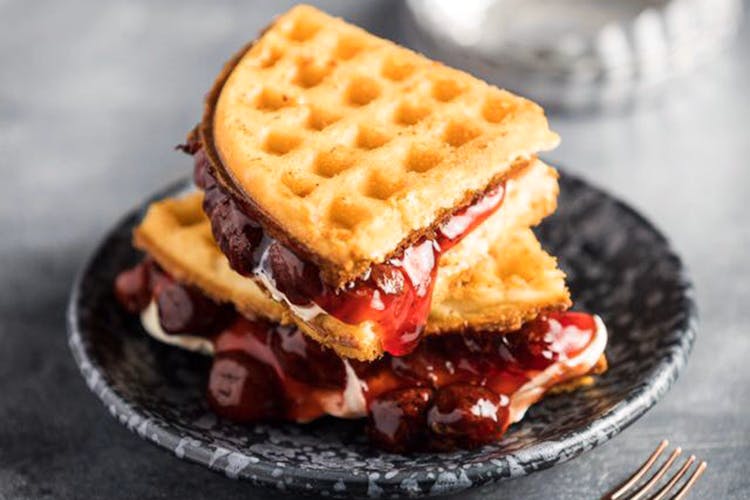 Waffling Around: Here's A List Of The Best Waffles In Hyderabad
They say you cannot be sad if you eat waffles. We think so too! We've gone around Hyderabad, waffling around, looking for the best waffles out there. Want some? Here's a list of the best waffles in Hyderabad. Let's get eating!
London Bubble Co.
London Bubble Co. is one of the coolest waffle cafes in town, and it scores high on desserts and funky ambience done in pink and white tints. They whip different kinds of waffles like the pocket and exotic waffles, bubble waffle wraps and Wafflewiches. We've tried a wide range of waffles that include Bubblegum, Nutella but what we really loved are the Ferrero Rocher variants.

WOFL
Where do you get the best waffles in town? WOFL, of course! With a decor that's pleasant to one's eye, it attracts kids (spot them gawking at the cartoons on the wall) and youngsters with its pocket-friendly menu. We tried the Nutella Wofl which comes with generous helpings of Nutella that'll leave you licking your fingers for good. While the mini waffle is ideal for kids and the ones with low appetite, the regular one can be quite filling. The best part about these waffles are they're served crispy, and the Nutella doesn't make them soggy. Also, did we mention their waffles are eggless? Plus, they have three branches in the city.

The Hole In The Wall Cafe
The Hole In The Wall Cafe is really a hole in the wall that opens up to a stunning cafe with rocky outdoors, table with swings as seating, interiors with books, and vibrant walls. You can choose between their Chocolate Waffles or Blueberry Cheesecake Waffles, and walk into a sweet frenzy!

The Belgian Waffle Co.
With four branches in Hyderabad, The Belgian Waffle Co. is also a favourite waffle joint in Hyderabad. With flavours like cheesecake, chocolate, creamy and crunchy, and double chocolate, a waffle here calls for a celebration. These are waffle-wiches and they have classic flavours like honey and maple butter too. Want more? Try out the pizza waffle-wich!
Waffle House
With more than 10 kinds of sweet waffles, Waffle House in Kondapur also has around 14 kinds of waffle savouries (vegetarian and non-vegetarian included). So, if you don't like a good old chocolate waffle, you can always go for a Garlic Mushroom Waffle (pan-fried mushrooms are tossed in garlic and fresh herbs and topped on a waffle) or a Blueberry Roasted Chicken Waffle (chicken roasted in a blueberry sauce is topped on a waffle along with more blueberry sauce).

Comments