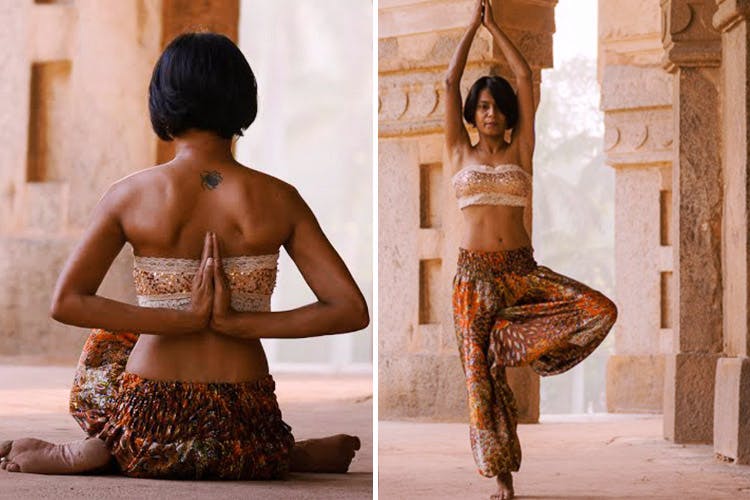 Perfect Those Asanas! Get To These Yoga Studios In Hyderabad
Practicing Yoga is a stress buster, and the beginning of a heathy lifestyle. If you're seeking to tone up your muscles and have fun while doing that, we have a list of yoga studios in the city that you can hit up.
Divine Tree - The Yoga Studio
Divine Tree – The Yoga Studio is located in Secunderabad, and run by Sakina Kapadia who aims to help people develop a strong mind and a flexible body. Her approach towards yoga is holistic and she teaches different kinds of yoga like Hatha Yoga, Vinyasa Yoga as well as makes use of props like pillows, ropes, cushions, bolsters which are a distinctive feature of Iyengar Yoga. Here, you will receive personal attention and get to explore your body's capabilities with ease. It is a calm, intense and rejuvenating experience offering a lot to anyone willing to learn.
Fery's Yoga
Fery's Yoga on Raj Bhavan Road is a studio where you can learn pranayama, yoga nidra, meditation, shatkarmas, and the pawanmuktasana series which together constitute the Satyananda Yoga. It believes in harmonising all levels of human life and experience through practical means. You can go here to improve your concentration skills, health and to relax. Fareena, who runs the place has over seven years of experience in Yoga and excels as an instructor making a difference in the lives of her students. The classes are held from Tuesday to Saturday, in different batches for groups, ladies and personal training too.
Bodhi Yoga Institute
One of the most reputed yoga institutes in the country, Bodhi Yoga Institute has branches spread across the city including Manikonda, Gachibowli, Jubilee Hills. They conduct group classes, offer teachers' training programmes and conduct stress relief workshops from time to time. You will get to learn simple yoga poses and meditation techniques here to attain a complete mind and body experience. You can attend a free class before taking the longer course, and also check out their weight loss programme.
Gandhi Gyaan Mandir
Gandhi Gyan Mandir has been teaching yoga to large masses since 1974. In a picturesque ashram like building in Koti, surrounded by greenery is where you can learn the practical benefits of yoga, and practice it too. They have special yoga classes for pregnant women, children and offer corporate training and home teaching as well. You can also avail their yoga teacher training course, or attend their free camps every Sunday to get an idea of the practice. You can go here for meditation as well.
Nirvaana Yoga Studio
Nirvaana Yoga Studio is committed to creating a disease-free society by means of yoga therapy. With classes in Madhapur, Gachibowli, Miyapur, and KPHB, they aim to cure and prevent bad health through Yogasanas, Pranayama, Meditation, Kundalini Awakening, and Chakra Meditation. With only 20 people per batch, they make sure that you get personal attention and can work on custom postures too. Their timings are flexible and we think whether you are struggling with a disease or not, it will hone your overall persona. They also offer teachers' training programme for those interested.
Comments