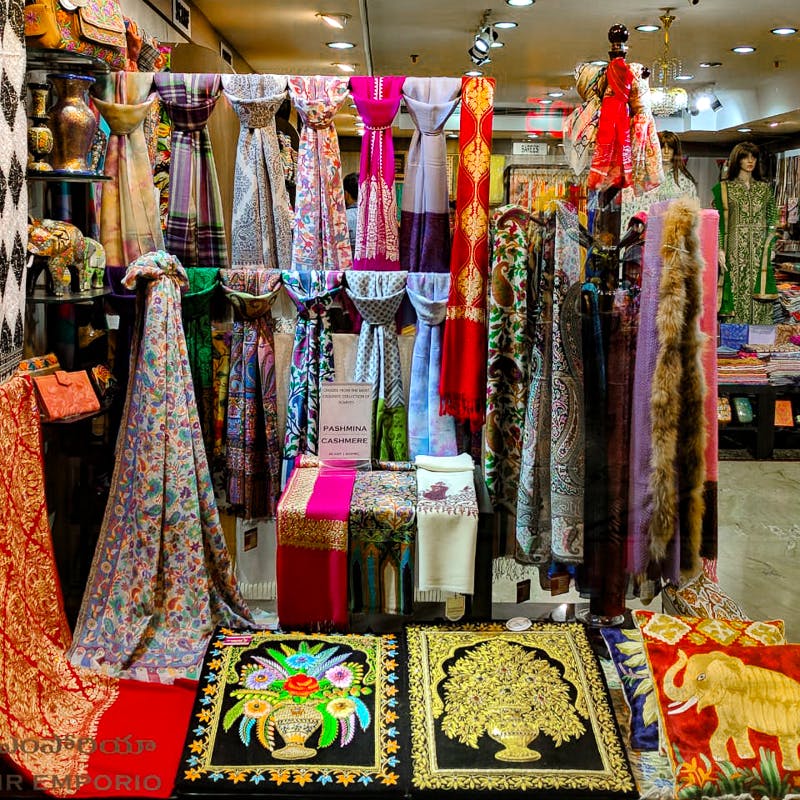 Heading To City Centre Mall In Banjara Hills? Here's What You Can Do
City Centre Mall in Banjara Hills is one of the oldest shopping malls in Hyderabad, and although the newer malls offer a lot more, we still go back to this mall for a few reasons. Want to know what they are? Here is a list of places and things you can do when you are hitting up City Centre Mall.
Kashmir Emporio
For all those days when you're wondering where to pick Kashmir handicrafts that don't cost a bomb, Kashmir Emporio is your go-to. The fact that Kashmiri Emporio has plenty of embroidered sling bags with tassels, ponchos in maroons, blues, and greens, and totally adorable fur shawls makes it quite awesome. But that's not where its variety ends — one look at the aisles and aisles of Pashmina Silk shawls and we're sold. Florals, checks, chevron, paisleys and more, the shawl and cashmere collection is boundless and if you're looking for something similar in sarees, you can score them too.

Toy Kingdom
It doesn't matter how old you are - stepping into a toy shop is like walking into a paradise. Even more so when you are a board game hoarder. Toy Kingdom in City Centre Mall has everything priced under INR 699. We were cheerfully welcomed by stuffed Donald Duck, Tweety Pie, Pikachu, and their fellow comrades. Right next to the counter, we spotted plenty of action figures. Ironman or Hulk anyone? The store has plenty of stationery like colouring books, sketch pens, and coloured pens that you might want to pick for the kids at home.

Laser Shooter
Laser Shooter is a part of Lazer Ops, Jubilee Hills, and you can expect the same level of awesomeness here. Put on your gaming vest and start chasing your mates (or enemies) at just INR 199 for 20 minutes. A 30-minute game will cost you around INR 269. They've got another outlet in Begumpet that you can check out and the pricing is the same.

Color Me Mine
Let your creative juices flow, and let your imagination show by painting pots, platters, piggy banks among 400 other things at the Color Me Mine studio. It is warm, spacious and super cute with comfy chairs and tables, lively walls, and organised shelves with plain white dinnerware, mugs, decor items as well as toys for kiddos. The process is pretty simple. You walk in, pick what you want to paint, make use of the tools and colorants available at the store (the friendly staff guides you with a few techniques if you're a rookie) to create a masterpiece.

Globus
Globus is where we shopped a lot when we were in college and even today, we go back to this store for frilly tops, monotone jumpsuits, and pocket-friendly accessories. Men can buy plenty of casuals and really cool formals too. We love how the store brings in different colours or themes in its clothing every season.
Shoe Factory
It's raining discounts all around the year at Shoe Factory. This store doesn't have anything fancy but if you are looking for walking shoes, running shoes, flip-flops, and simple pairs of sandals or chappal, you can grab them at great discounts.
Sahib Sindh Sultan
Sahib Sindh Sultan is where we go for elaborate family dinners. The restaurant is themed after regal train carriages that transport you to the British Raj era, and if you are wondering what to eat here, we say it's biryani. If you take your meat seriously, there's plenty to dig your teeth into. But considering how stunning the place is, food will be the last on your mind.

Comments