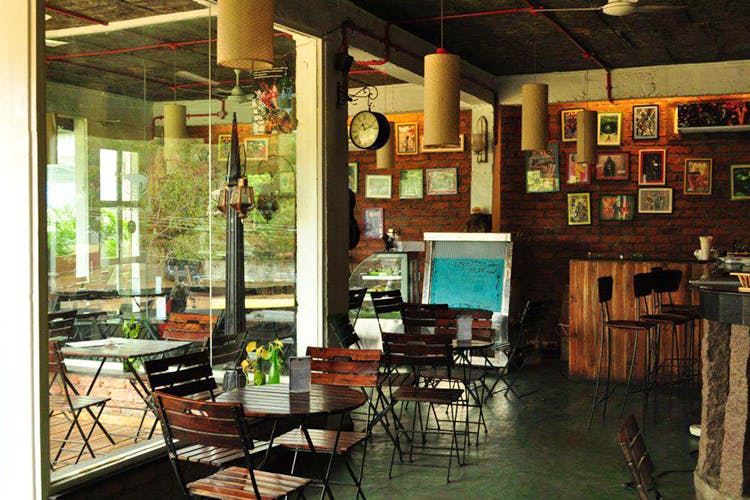 Are You Even A True Hyderabadi If You've Not Eaten At These Places?
We, Hyderabadis, love our food, and here's where we get our grub from. Think mouth-watering dosas and budget-friendly samosas, continental food, and epic Biryani — here's where you'll find the soul of the city. Also, if you think you're a Hyderabadi, you might have eaten here, for sure!
Bawarchi
Arguably one of the best places for Hyderabadi biryani, Bawarchi is where the city folk love to hog. They serve huge quantities of biryani at economical prices without compromising on quality or quantity. The biryani can be quite spicy at times but it's that good kind of spicy.
The Coffee Cup
No Hyderabadi can ever have a bad time at The Coffee Cup in Sainikpuri. Being regular visitors at this cafe, we can vouch for the consistently great taste of food. The coffee's aroma gives you a kick, and the Ginger Ale still makes for a balmy afternoon drink. The book collection keeps you sorted if you're eating alone. The service is prompt and the food arrives in no time. The ambience is simple yet has pop culture elements like wall art, and you can indulge in board games too.
Ohri's Gufaa
One of the oldest restaurants in Hyderabad, Ohri's Gufaa is a cave-themed space with dim lighting, and waiters dressed in a hunter's outfit. Teleport to the times when tribals painted stone walls and lived in jungles. The seating is made from bamboo, and you can also find wall hangings of tribal people on the walls, the lighting although sombre is soothing and just enough for you to know what you're eating, and they play 90s music that brings about a certain air of nostalgia. The mocktails at this place are really good and their talwar kebab is so delicious that it will melt in your mouth.

Lamakaan
The simple yet homestyle menu serves food on a budget. If you are spending the day here, we recommend getting roti with veg curry, followed by plain rice and khatti dal or chicken curry. They also have Mutton Qeema, Khichdi, and samosa that are a hit. Self-service and sharing tables with complete strangers are a norm at Lamakaan, so find someone interesting to sit next to and break bread together. Don't forget to get a glass of nimbu paani or sweet lassi here.
Maharaja Chaat
Maharaja Chaat in Madhapur calls all the chaat lovers to their yard. Sev Puris, Ragada Patties, Pav Bhaji and loads of other snacks are served throughout the day, and the crowd is massive. So, be prepared to wait. We personally don't see ourselves going ga-ga over the food here, but we cannot deny that it's loved!
Nimrah Café & Bakery
Winning hearts with its delicious cookies and Irani chai, Nimrah attracts crowds from both Old City and modern suburbs of Hyderabad. Right from the moment it opens its doors at 4 am, people rush in for their dose of chai and biscuit, and it runs full house till 11 pm. Walk up to the counter and you'll be greeted by the owner who will go through the history of the cafe all too willingly. Gorge on the Khopra Biscuits (coconut biscuits) and Shirmal (saffron-flavored traditional flatbread) like all the pakka Hyderabadis would.

Karachi Bakery
When you think of Hyderabad, Karachi Bakery is second only to the city's Biryani. This iconic bakery, known for its fruit biscuits and dil kush, has a fan following all over the world. Although they have mastered the art of baking some of the most delectable biscuits, the fruit biscuits here are still made by hand to preserve the taste people love it for. So, whether you're a local or a visitor, don't miss making a visit to Karachi Bakery as it is truly the soul of Hyderabadi baking.

Ram Ki Bandi
This iconic bandi in Nampally gathers crowds waiting for dosas, right from 3 am. From Pizza Dosa to Cheese Dosa, nothing can satiate a Hyderabadi's midnight craving quite like this place can. They also have a restaurant (which isn't as good as the bandi) for those of you who aren't too keen on a late night snack, so hit them up at Ram's Dosa House in Banjara Hills too.
Comments