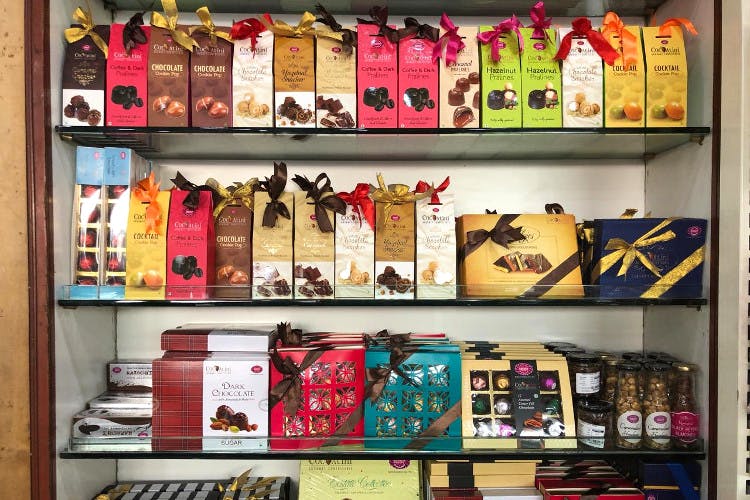 This Iconic Bakery Has Put Hyderabad On The Map With Its Fruit Biscuits & Dilkush
Shortcut
When you think of Hyderabad, Karachi Bakery comes second to biryani. This iconic bakery is known for its fruit biscuits and dilkush, and has a following all over the world.
What Makes It Awesome
Started in 1953 by Khanchand Ramnani who migrated to Hyderabad from Karachi, Pakistan during the partition — Karachi Bakery upgraded from selling bread, toast, biscuits to several products it houses in its multiple branches across the country today. Although the bakery has 13 branches spread across the city, and four stores at the airport too, we visited their oldest store in Mozamjahi Market and walked through aisles of sweet and salted treats, cakes, and gift packages. Drooling at the sight of Strawberry Kalakand and Besan Laddoos, we made our way to the biscuit section. They have a variety of 30-35 types of biscuits including Zeera Biscuits, Coconut Biscuits, Pista Biscuits. But, with their fruit, cashew, and Osmania biscuits they have created quite a legacy. They have cookies and biscottis of all kinds, and these are packed in beautiful boxes for gifting too. Their loyal customers swear by the quality of the products here, and there is no end to the tourists coming in. Any person who is visiting Hyderabad or travelling outside is instructed by their family members or requested by friends to return with boxes of these famous biscuits.
Although they have mastered the art of baking some of the most delectable biscuits, the fruit biscuits are still made by hand to preserve the taste people love it for. Of course, we tried them and although they are crispy, they are quite tender too. We also tasted the dilkush (stuffed sweet bread) and we've never had anything like it before.

Pro-Tip
Walk into one of their branches closest to you, whether in Hyderabad or outside (Warangal, Gurgaon, Mumbai, Delhi, Vizag, and more), whiff the sweet aroma of baked goods and take them home to indulge in during chai breaks.

Comments