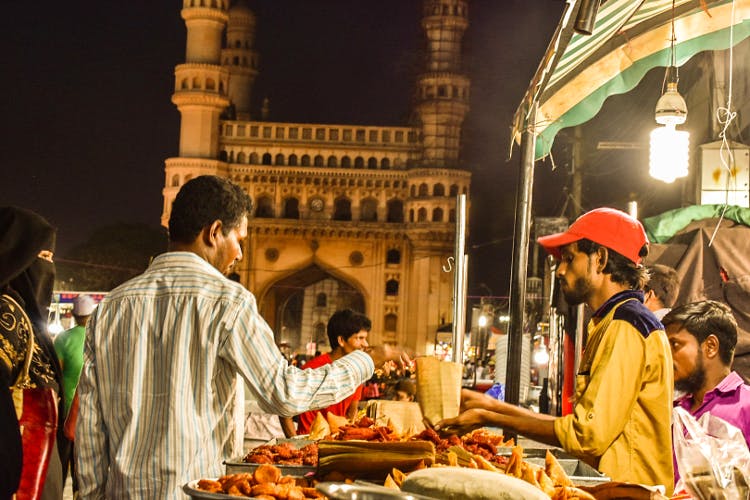 Shop, Eat, Sightsee And Soak Up The Old City For Under INR 1,000
Chiming with activities and people bustling to eat and shop, a visit to the Old City is a treat to our eyes and ears. But this time, we hit up the Old City with a firm purpose and budget. With INR 1,000 in our pocket and a zeal to experience the real spirit of Charminar and its surroundings, we did this trail. Want to try? Then just #FollowUs and have a splendid day.
Govind Dosa - INR 60
We started our day early and with a good appetite at Govind Dosa (also known as Govind Ki Bandi). We ate a plate of Butter Masala Dosa which was served along with two types of chutney. We carefully dug in because the dosa was piping hot and spicy. But with a bottle of water in our kitty, we were sorted. We spent INR 60 here and were left with INR 940.
Do note that this kiosk is always crowded, and we recommend you visit it between 6.30 am and 7.30 am because the first batch of their dosas is the best.
Nimrah Cafe & Bakery - INR 20
After a fine breakfast, who wouldn't love a cup of Irani chai? So, naturally, we walked up to Nimrah Cafe (while burning some calories). We asked for a chai (INR 12), a chand biscuit and a fruit biscuit (INR 4 each). Standing in front of the Charminar, we slurped down the chai and demolished the biscuits within seconds. We also shot a few pictures for our Instagram too.
We were left with INR 920.
Mecca Masjid - INR 0
It was around 9 am and we decided to visit the Mecca Masjid, which is a 5-minute walk from Nimrah. There is no entry fee, and we spent quite a few hours, gawking at the beautiful architecture. On walking around, we discovered enchanting doors and arches with inscriptions from the Quran written above. After that, we sat on the elaborate staircase and had a tête-à-tête with the flocking pigeons.
No money was spent here. Only good times, people!
Chowmahalla Palace - INR 110
When we walked out of the masjid, we found several autos. On paying INR 50 (Don't pay more), we boarded an auto to Chowmahalla Palace and reached in 10 minutes. This official residence of the Nizams was inspired the Shah of Iran's palace in Tehran and is said to have assimilated the architectural styles of Persia, Rajasthan, Europe, and Indo-Saracenic. While all the four palaces aren't open for public viewing, we checked out the open mahals, the Khilwat Clock (a 100-year-old clock tower), and the 1912 Rolls Royce Silver Ghost in the garage. The entry ticket is priced at INR 60, and along with the auto fare, we spent INR 110. We were left with INR 810.
Hotel Shadab - INR 340
It was around 1 pm and we were ravenous. We boarded an auto at the palace and headed to Hotel Shadab for biryani. It was crowded and we had to wait for a good 15 minutes to finally get a table. We swear by the Shadab Special Chicken Biryani and asked for it, which arrived quickly. This double masala biryani has large chunks of chicken and we love how tangy the mirchi ka salan makes it. Gladly, we spent INR 340 (Remember, the biryani can be shared between two people) on biryani and INR 30 on the auto. We were left with INR 440.
Charminar - INR 5
This time, we skipped taking an auto and walking through the narrow streets and bustling markets to reach Charminar. We admired the architecture and climbed to the top after paying INR 5 (entrance fee). The view of the surroundings is quite beautiful from the top. Even more so, during the sunset hour. And now, we were left with INR 435.
Laad Bazaar - INR 175
We were neither left with solid cash to spend nor time, so we walked (absolutely aimlessly) through the streets of Laad Bazaar. The street vendors called upon us but we walked straight past them and bought ourselves some bangles. The starting price is around INR 20 and we didn't stop with a dozen. There were pretty jhumkas that we hoarded at INR 50 a pair. These are simple and ideal for everyday use. We spent INR 175 here and were left with INR 260.
Note: Both men and women can buy classic HMT-style watches in and around Laad Bazaar. If you have the patience and the knack to find the rare pieces, you're in for a treat.
Jai Maajisa Jalebi & Khara Shop - INR 170
We hopped on an auto, paid INR 30, and reached Jai Maajisa, which is popularly known as High Court Court Jalebi. We were greeted by the owner and were recommended samosa and kachori. The samosa and kachori arrived on a paper plate with two kinds of chutney — green (green chili) chutney and a red (sweet and tangy) one. Both the dishes weren't oily and greasy which is a total win if you ask us. Since jalebi was in the making, we took a plate of it too. Since the store is known for its khara, we packed home a kilo at INR 140. We spent INR 170 here and were left with INR 90.
Pro-Tip
It's tough to find a rest-room in this area and if you must go, Cafe Coffee Day is your only saviour.
Comments