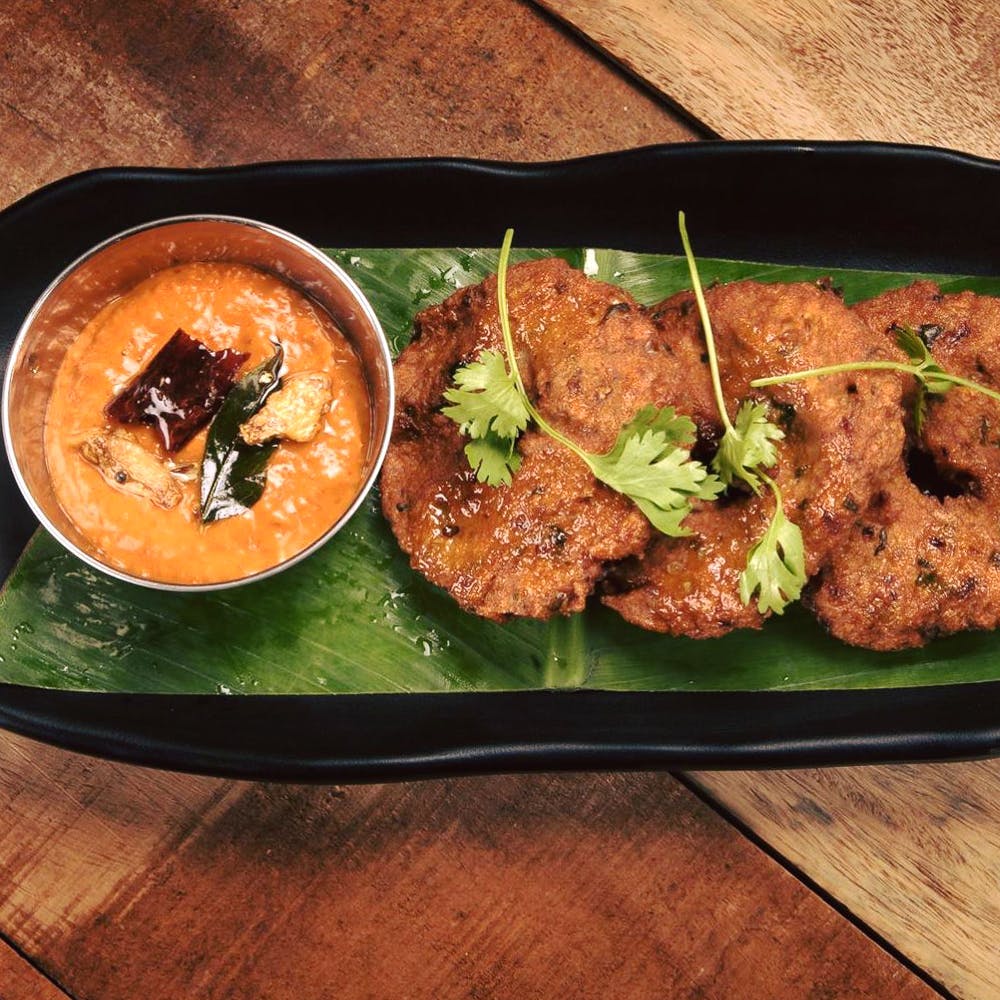 Here's Where To Find Good Stuff To Eat
What's the next best thing after shopping at a mall? Checking out its food court or restaurants around the mall, of course! We've scouted the food court and restaurants around Sarath City Mall, and picked a few of our favourites. Let's get eating, shall we?
Kodi Kura Chitti Gaare
With more than 10 types of gaari (wada) in its kitty, Kodi Kura Chitti Gaare rings in a celebration like no other restaurant in the city. They've got interesting dishes like Tamalapaku Kodi Chaaru, Allam Kodi Wings, Royyala Pakodi, Amalapuram Fish Masala that reminds you of a coastal town. Plus, their desserts like Paakam Gaare, Apple Rabdi, Seetaphal Rabdi, Poornalu are really bae.

Pita Pit
Pita Pit — an eatery in Kondapur is whipping pita sandwiches like a boss. We walked up to the stall and asked for a Khasta Kebab Pita and Ultimate Veggie Pita. The sandwiches are made right in front of you and you can pick veggies and sauces of your choice. Plus, they've got cold-pressed juices and healthy rice meal boxes where you can convert your favourite pita sandwich into a garlic brown rice meal box. This can be a respite on the days you crave biryani.

The Pancake Story
Walk past The Pancake Story, and the aroma of chocolate brings you back to the store. Located in the food court, two things you've got to try here: Mini Nutella Pancakes and Blueberry & Cream Cheese Croissant. The savoury waffles are for those of you who love spicing things up. Cannot handle too much sweet? Check out what they're offering and eat your way to glory.
Beijing Bites
Located in the newly opened food court on the fourth floor, Beijing Bites is for all of you who love Indo-Chinese dishes. Go for the Mushroom Pepper Salt or a classic Chicken 65. We ditched the mains and went straight for the steamed momos. Plus, you cannot skip on their Kung Pao Chicken and Hakka noodles. The only downside is, their food is slightly greasy.

Sentido Coffee Brewers
Sentido Coffee Brewers has quite hammered the art of making coffee. Touted as one of the best coffee shops in both Kondapur and Gachibowli, where your senses will be engulfed in all things coffee as you stand behind the counter and watch the baristas pull off magic with panache. We love their pour-over and AeroPress but we recommend you check out what's new of their coffee menu and sip away.

Gourmet Baklava
We are in love with Gourmet Baklava, and now that they've opened up in Sarath City Capital Mall, we're signing up for all the sugar rush. Treat yourself to a ginormous amount of baklava varieties which is a dessert made of layers of filo and filled with chopped nuts is held together by honey or sugar syrup. Or try out Cheese Kunafa, a filo pastry dough filled with cheese and cream and soaked through with rosewater and syrup.
Mycreamchip
Mycreamchip was once a food truck, and they've now opened a kiosk in this mall. Go for their ice cream sandwich or a Pizookie where a pan cookie is baked and infused with Nutella or caramel. Plus, they've got cookie packs and sundaes too. Mark our words and go for Cookies & Cream Sandwich, and you'll fall in love with the gooey and chewy texture.
Comments