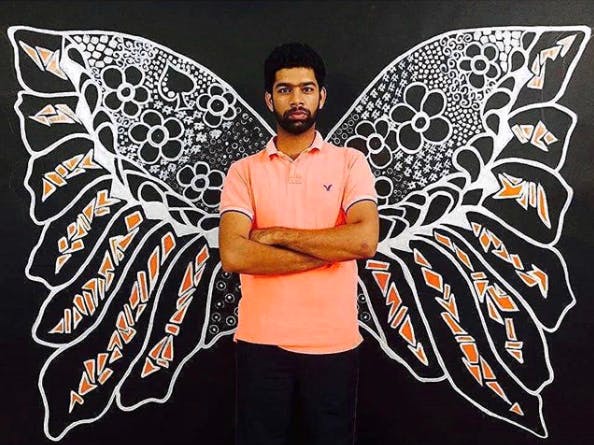 Graffiti, Nail & String Art, Interactive Walls: This Local Artist Is A Pro At Transforming Spaces
Shortcut
Add character to any room, with splashes of colour from Abused Ink by Ruchit Jain, a city-based artist who does graffiti and wall art. Be it a commercial space or your home, his art will make any room livelier.
What Makes It Awesome
Having begun with portraits, shoe art, and fabric art under the brand name Abused Ink, Ruchit has now moved on to wall art, murals, installation art, nail & string art, and graffiti. If you want to make your office space more inspiring or want to give your bedroom a makeover, let Ruchit make the walls his canvas and watch the magic unfold. He can transform your walls to tell stories, based on a theme/design you might have in mind. From drawing the world map in an office to filling up entire walls with doodles, he has done it all. In fact, some of our favourite hangout spots in the city like Smoky Pitara, Noc Noc Bistro, and By The Bottle (among others) boast of wall art by this artist. He also excels at interactive wall art like the multiple pairs of wings you can pose against, that has been a hit among city Instagramers.
He takes up projects on a freelance basis from clients of diverse backgrounds. Meet up with him to discuss requirements in an elaborate fashion, so that he has a clear understanding of the ideas you have and your budget. This will also help him decide the medium as he works with spray cans, wall paints, and paint markers. Following the inputs, he replicates ideas onto a drawing board or modifies references using Photoshop. Once the idea is approved by you, it gets on a wall. Currently, he works all by himself, be it for big projects or small; but we hear that Abused Ink will soon be Team Abused Ink with artists of the city coming together. The pricing depends on the design, area, and the budget of the client. So, accordingly — an 8×8 feet wall can cost anywhere between INR 10,000 – INR 30,000. It's time to say goodbye to boring walls now, isn't it?

Comments