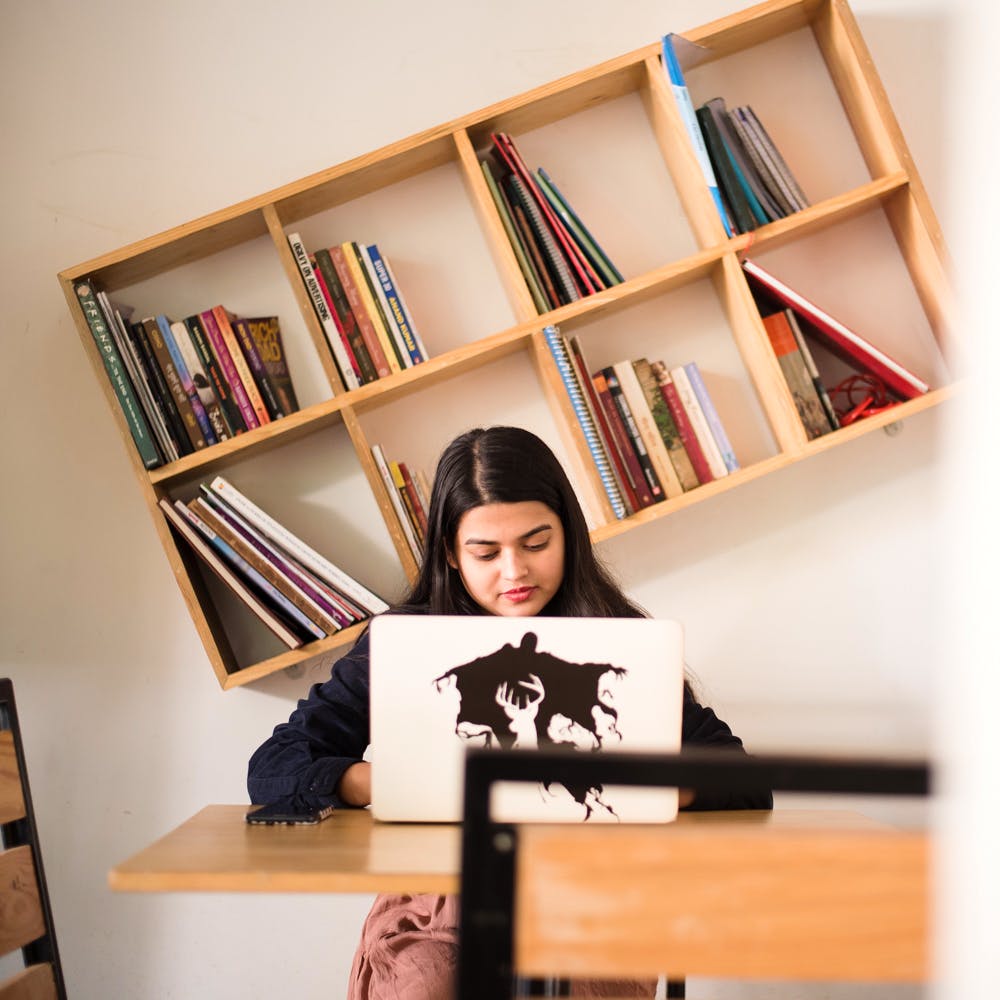 Work Out Of These Top Coworking Spaces In Hyderabad
Hustlers, if you are looking for the top coworking spaces in Hyderabad, you're in for a treat. With funky spaces, artsy corners, and awesome opportunities to network and take part in events, our city has plenty of coworking spaces that you'd love to work out of. Here is a list!
Jxtapose
Jxtapose is one of the most beautiful coworking spaces in Hyderabad where creators are juxtaposed with other creators and professionals. Here, you can work, network and let your creative juices flow. Every bit artsy and home to creative events and meetup, it is where all the indie artists, creators, and freelancers work out of. There's a conference room, a working space, an open pantry, mini-amphitheatre for screenings and the seating is bespoke with wooden planks on tote crates. Plus, the walls of Jxtapose act as a gallery of sorts and showcase works by local artists.

Coworking 24
Promising great views and rooftop amphitheatre setting, Coworking24 Lake View Centre (CW24) in Madhapur is quaint. Making it super accessible for not just tech geeks but also creative individuals, this space is hosting some of the coolest entrepreneurial and social events in Hyderabad. And if you're a part of CW24, you naturally gain access to all of them. With a free gym and swanky lounges, this is pretty much the talk of the town.

Awfis
Awfis (Yup, that's the name) has spaces all across the tech belt and it's a co-work space for all you pros. This fully-equipped space is available on six days of the week, and what really makes it stand out is the environment. The interiors are meticulously done, reminding you of coworking spaces from the Silicon Valley. Cosy yet classy! These vibrant spaces are definitely fun to work out from, and can definitely give you major inspo. Equipped with lounges, cafeteria, storage lockers, superfast internet, conference and meeting rooms, all the spaces have ample parking space too.

Rent A Desk
Rent A Desk is a co-working space that has four branches in the city, and it's ideal for freelancers and small business groups seeking a swanky office space on a budget. We love the wooded setting and exposed brick walls that give it a distressed yet cosy ambience. The conference room is well equipped with a screen and adorned with quirky posters. You can also rent out cabin spaces and the meeting lounges if you're bored of working from home and coffee shops.
Workaholic - The Work Cafe
Jubilee Hills is home to many co-working spaces but what makes Workaholic - Work Cafe stand out is that it has a cool cafe-like ambience. White walls and minimalistic decor with plants create an environment for a workaholic. They have a common seating area as well as private cabins for you and your peers to brainstorm.

Collab House At Out Of The Box
Collab House at Out of the Box is a creative space that started on the note — can we make people of Hyderabad curious and more importantly, can we gather curious individuals in one space? Always bustling with activity, it has a cafe cum bar that dishes out food and drinks too. And there's also DIY Thursdays, illustration workshops, meetups etc. Throughout the weekend, a bunch of events are hosted in the space and the co-workers have access to all of them. Right from DIY kits to tools for creating things, Collab provides a maker's space like concept.

91 Springboard
91 Springboard has quite a few branches in Hyderabad, and their locations are quite convenient to reach. They offer decent meeting rooms and workspaces at nominal prices. Although we must admit that we've worked out of their Kavuri Hills outlet, and didn't have a great experience in terms of WiFi (slow), hygiene when it comes to washrooms and cafeteria. Plus, there is no parking space for cars too. If these are important for you, we recommend signing up for a trial and then figuring it out.
Innov8
Innov8 is a 700-seater workspace comes with dedicated desks, private seating area, meeting rooms with plush chairs. Now that they've got corners with bean bags and lounge-area set-up, we're sure you can wind up here for casual meetings or team huddles. Well-designed and functional, this space looks like it's crafted to inspire you. Backed by Y-Combinator, Innov8 is built with an intent to offer top-notch coworking and co-living facilities.
CoKarma
Unlike the same old, boring office spaces, CoKarma is a co-working space where a number of entrepreneurs and freelancers work in a shared office. Located in the heart of the city, it's a great environment to work in under a limited budget. What's more, they even have a gym and some board games to help you relax. The outdoor terrace makes the perfect spot for some quiet time, and you can even get your caffeine fix here. The entire space itself is designed to be quite aspirational and they are quickly becoming a popular venue for a hoard of art workshops, classes, etc.

Comments