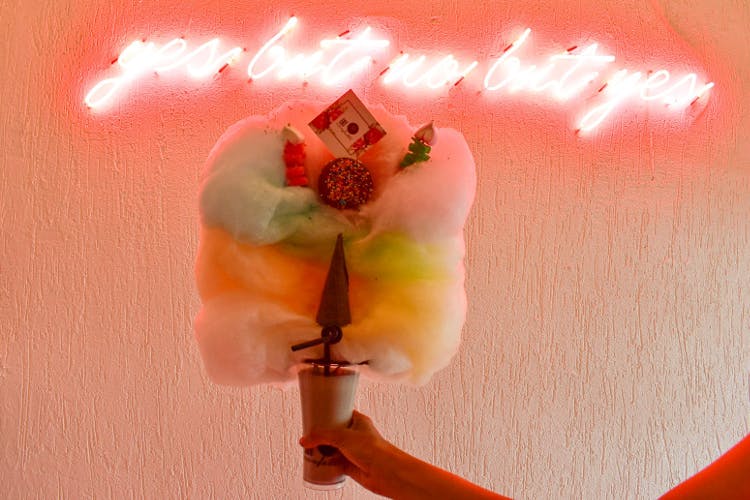 Here's Our Guide To The Top Unique Restaurants In Hyderabad
Food lovers, let's be candid — it gets rather boring to eat at the same restaurants. Looking for something fun? Want to dine at a restaurant that offers an excellent experience? Here is a list of unique restaurants in Hyderabad.
Beach House
Beaming yellow walls and glossy blue doors and windows, Beach House in Madhapur is where you can escape from Hyderabad and step right into Goa. On Wednesdays, Beach House throws candle-light dinners where you and your SO can dip your feet in the white sand but if live music is more your thing, Saturdays are your bae. You can expect cheap alcohol and spicy starters that go super well with your drinks. Just like in Goa!

Eat Confetti
Eat Confetti – a dessert cafe located in the bylanes of Jubilee Hills Road No 22, is a dream come true for unicorn lovers. From macarons to ice creams to milkshakes, go here to have fun with what you eat. At Eat Confetti, you are surrounded by confetti but you also get to eat it. While their range of desserts varies from cookies, cupcakes, donuts and more, their specialties are Unicone (an ice-cream) and Mount Confetti (a milkshake with 4-5 flavours of candy floss on top) – the most expensive ones on their menu which are nearly two feet and can be devoured by two or more people.

The Grand Trunk Road
The Grand Trunk Road in Madhapur has one of the best buffets in town (Where every dish is perfect) and we love it for its artsy walls and ambience. The walls of the restaurant are painted with signs like 'Horn Ok Please' and the like that one would usually find on a lorry. Plus, the place has two lorries, with one serving as a seating area for a large group. The lighting of the area reminds you of a highway dhaba and the Bollywood music pumps you up.

Club Raasta
Hidden in Jubilee Hills, Club Raasta's ambience is all things hippie. As you enter the cafe, you're welcomed by handpainted walls with bikers and trippy art. The seating area is surrounded by the art of audio cassettes and the other side has a background of houses with vinyl discs mounted on them. Plus, the cafe serves delicious drinks and awesome pizzas. Did we mention how much we love their music?

Robo Kitchen
Taking the game of themed restaurants a notch up and above, Robo Kitchen in Jubilee Hills is an exciting surprise. This is Hyderabad's first robot-themed restaurant where you're served by robots. Eerily dark with faint music blaring from the speakers, your first rendezvous with a robot is supremely fun. We were quickly shown to our table and an Android tablet was handed to us. We placed our orders from the tab, and in no time, the robots were whishing past other tables to serve us.

IceKraft
Do fries in a cone and brownie fries sound like music to your ears? Then head out to IceKraft in Begumpet for treats so interesting and Instagram worthy. The two-storied cafe is minimally designed with one wall significantly done with the prints of ice-creams. While we tried their waffles and ice-creams already, we hit up the store for Friffles (Fries in a waffle cone) and asked for Cheesy Jalapeno Friffles and Cheesy Mexicano with Nachos Friffles.

Kaidi Kitchen
This vegetarian-only restaurant follows the theme of a prison with the waiters dress up like prisoners and the manager, like a jailer. The ambience too resembles a jail with its exposed brick walls and prison gates. Luckily, however, the food here is nothing like the bland food that inmates have to eat, but rather a good variety of Continental, Italian, North Indian, and Chinese dishes. They have three types of Sizzlers here, and we recommend the Mexican Sizzler.

Ohri's Gufaa
One of the oldest restaurants in Hyderabad, Ohri's Gufaa is a cave-themed space with dim lighting, and waiters dressed in a hunter's outfit. If you've ever wondered what it must feel like to dine in a cave, like in the stone age, head to this place in Basheer Bagh and teleport to the times when tribals painted stone walls and lived in jungles. The seating is made from bamboo, and you can also find wall hangings of tribal people on the walls, the lighting although sombre is soothing and just enough for you to know what you're eating, and they play 90s music that brings about a certain air of nostalgia.

Sahib Sindh Sultan
Tucked inside City Center Mall in Banjara Hills, Sahib Sindh Sultan is where we go for elaborate family dinners. The restaurant is themed after regal train carriages that transport you to the British Raj era, and if you are wondering what to eat here, we say it's biryani. If you take your meat seriously, there's plenty to dig your teeth into. But considering how stunning the place is, food will be the last on your mind.
Comments