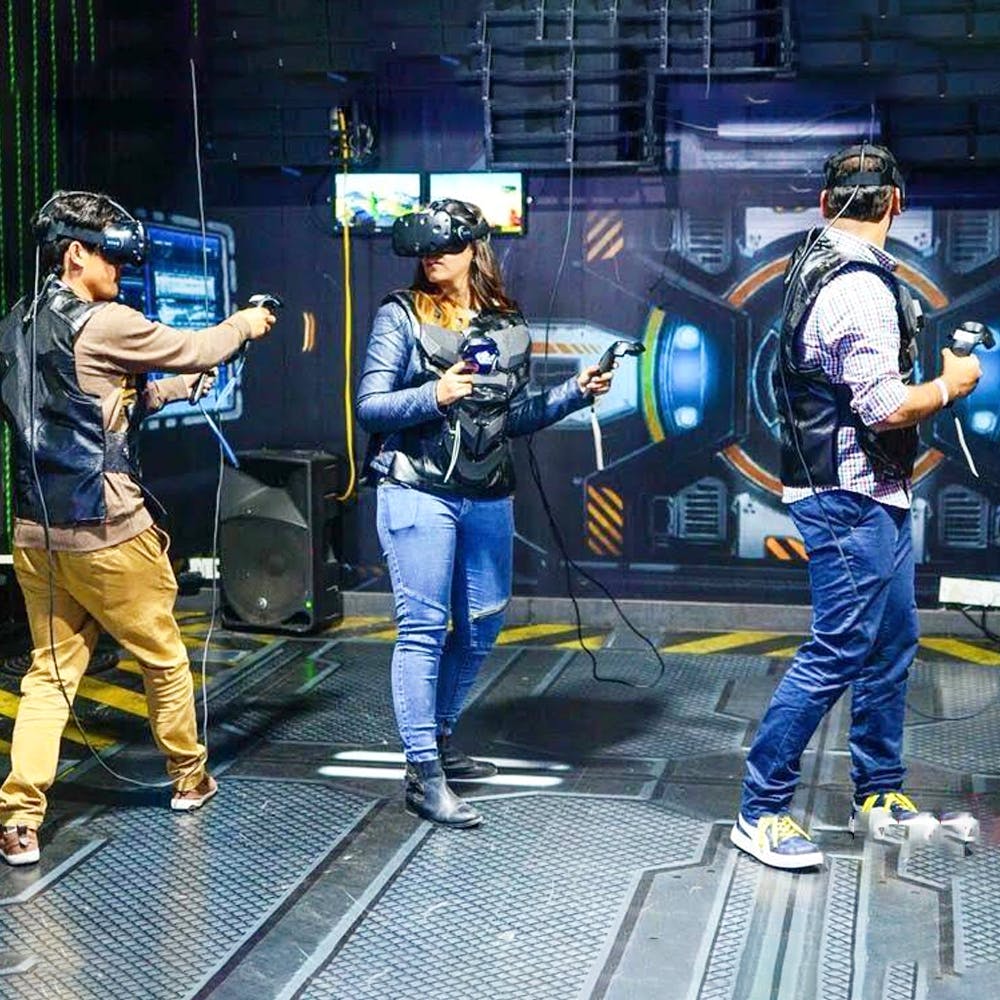 Fun Things To Do, Beyond Shopping
One of the oldest malls in Hyderabad, Inorbit Mall has everything under one roof and we mean things besides shopping. It's a mall for men, women, and children and you'll know what we mean by the time you finish going through this store. These are all the things you can do alone or with a group in Inorbit Mall.
Smaaash
Whether you are obsessed with gaming or just seeking an escape from the monotony, you totally should check out Smaaash, a sports arena that is located on the top most floor of Inorbit Mall. The kid inside us is super enthu as this sports entertainment spot has games like Pacman, E-claw, King of Hammer Dx, Super Bike, and many more. We don't believe anyone's ever too old for arcade games! If you'd like to go for something that's off-screen, you can also compete against your friends in a bowling contest (It's our favourite thing to do), or play a game of cricket at their multiple lanes of cricket pitch where you get bowled by the likes of Malinga and Shane Warne (virtually, of course) and if virtual reality excites you just as much as it does us, you should also try the thrilling Walk The Plank which will put you 50 feet high and on a narrow plank!

Dialogue In The Dark
Dialogue In The Dark is a unique experience where a restaurant or a meal is accompanied by a lovely guided tour. For under an hour or a little more, you'll know what it's like to be visually disabled. When we say it's dark, we mean it — everything happens in pitch darkness. Play cricket in the dark, listen to the splash of a fountain, have a cold drink, and hold a conversation with your friend. For dining, you have four options — Italian, Oriental, Desi, and Parantha. The food, although basic, tastes quite good, and since you're dining in the dark, you can feel the texture of the food in a far better way.

Kaya Skin Clinic
Kaya is a popular Indian hair care & skincare brand where you can get treatments done and buy their range of products. Widely touted in the skincare industry, their products for acne-prone skin are highly raved about and if you've not heard of it before, then well, you're welcome. If there's a special occasion coming up like someone's wedding, or if you're back from vacation all tanned up, you can get skin treatments like de-tanning, hair rejuvenation treatments, age-defying treatments, etc. You can also go there for a skin consultation because skincare is everything, amirite?

PVR
Want to catch up with a new release? PVR Cinemas will sort it out for you. Since this is one of the latest PVRs, the screens are quite good, and some of the screens come with recliners too.

Envi Spa & Salon
Done with retail therapy? It is time for some pamper sesh — whether you're looking for a manicure or want to colour your hair, Envi Salon & Spa is your oyster. These folks are extremely professional and use L'Oréal or Bed Head products. If all you need is a good massage, check out all the services they offer.

Fun City
Planning a kids day out? Bring your little one to Inorbit Mall's Fun City. You can take a break from all the mall walking and shopping and see your little one indulge in kiddy rides like slides, miniature roller coasters, and play arcade games, too. Their Bouncy Castle makes us want to become a kid again because it's so fun and your kid will give you a warm hug for a fun time.

Comments