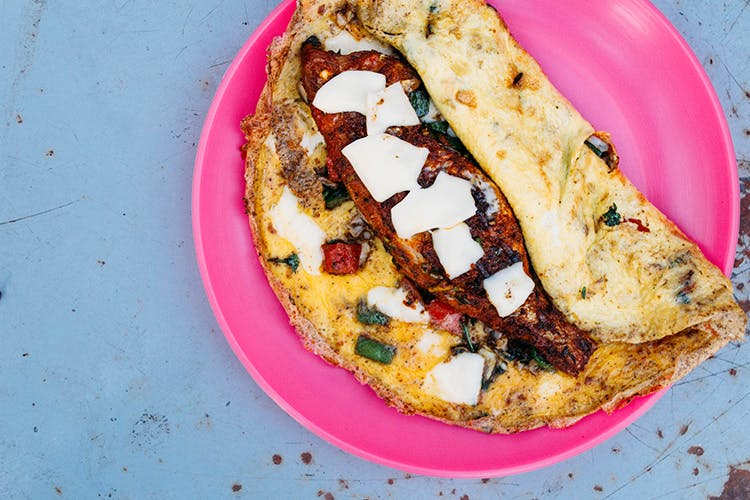 Avakaya Chicken Biryani To Fried Chicken Waffles: Here's Where To Eat & Drink In Jubilee Hills
Let's just accept the truth — even before we check out the best restaurants and cafes in Jubilee Hills, new ones are popping up. The eternal dilemma of what and where to eat prevails. But luckily for you, we have curated the best restaurants in Jubilee Hills and what you should eat there. So, let's get moving and chowing.
Kaficko
If you love all-day breakfasts or arrive a little late to eat eggs and toast, then Kaficko has to be your go-to cafe. Play a game of Scrabble on the wall and start your day with a French Press — the hazelnut flavour is to die for. They have plenty of breakfast options (and most of them include egg) but our vote goes to The Borough Full English. Ask for a side of asparagus or mushroom and fresh-cut fruits and you're all set to take on the day.

Mandi @36
Always crowded with foodies, Mandi @36 in one of the few restaurants in Jubilee Hills that serves mandi. While it is popular for its mandi and khabsa, we recommend their Non-Veg Platter. Meat lovers take an ecstatic backflip even at the mere mention of this dish. With an assortment of kebabs, Grilled Fish, Special Grilled Chicken, Special Prawns, and Mutton Black Pepper, you and your squad can have a little party right here. This gigantic dish also comes with pita and salad and can be easily be shared between four or five hungry peeps.

Spicy Venue
If traditional Telugu delicacies are your thing, then you cannot miss out on the South Indian Thali at Spicy Venue on Road No. 10, Jubilee Hills. We love the dal and the flavoured rice, and we cannot recommend the biryani enough. The Avakaya Chicken Biryani is for the ones who love their dishes fiery, but the Chicken Fry Pulao is the best out there because chunks of tender chicken are deep fried and added to the biryani. However, what keeps taking us back to Spicy Venue is — Apricot Delight — a custard based dish that's made from apricot and hits the right spot. And we are telling you, if you haven't tried this, you've tried nothing at all.

Zero40 Brewing
Go to Zero40 for its beer and fall in love with its food. Whether you're in the mood for a pizza or waffles (Fried Chicken Waffles with Maple Syrup — whaaaaat?), there is a lot for you to dig into. But our choice remains simple here — we ask for a glass of beer from their brewery and settle for Aglio Olio Popcorn. The subtle flavour of the popcorn does wonders with a beer. Plus, it's one of the best microbreweries in Jubilee Hills.

Concu
We have already expressed our love for Concu, unabashedly. With a large parking space and an outdoor patio welcoming you, walk into their indoor space and get cloaked in the bittersweet aroma of coffee and treats. We recommend hitting this patisserie in the evenings for grabbing a mug of hot chocolate (or Bailey's Latte) and a macaroon or two. Personally, we love Baiser Macaroon as it has a nice sour twist that adds a tang to the otherwise sweet flavour.

Hashi
Bringing together both fine dining and comfort feasting, Hashi in Jubilee Hills is where you should hog next. We recommend trying out Avocado Tempura Uramaki and dim sum basket. Plus, some of their Thai delicacies are as good as their Japenese ones, so chat up with the good peeps behind the counter and eat your way to glory!

Santè Spa Cuisine
Move over, regular — Santè Spa Cuisine in Jubilee Hills is doing wacky (but healthy) dishes and we're in love with them. Plus, they have the greenest (and beautiful) decor one could ask for. While the smoothie bowls leave you gasping for more, we love Sweet Potato Pancakes and Tofu Quinoa Egg Scramble. We do recommend trying Thai Spiced Fish Cakes. Plus, it's the only spa restaurant in Jubilee Hills.

Sofrehh - Persian Bistro
Ever seen a food truck in the back alley of a shopping complex? It's not a sight usually seen in and around Hyderabad. Sofrehh - Persian Bistro is a food truck in Jubilee Hills that belts out delicious sandwiches and marmalade. Do try their Murgh Pukh and Soy Pukh sandwich. Plus, the coffee and all-day eggs are really bae.

Ask Sunaina a question