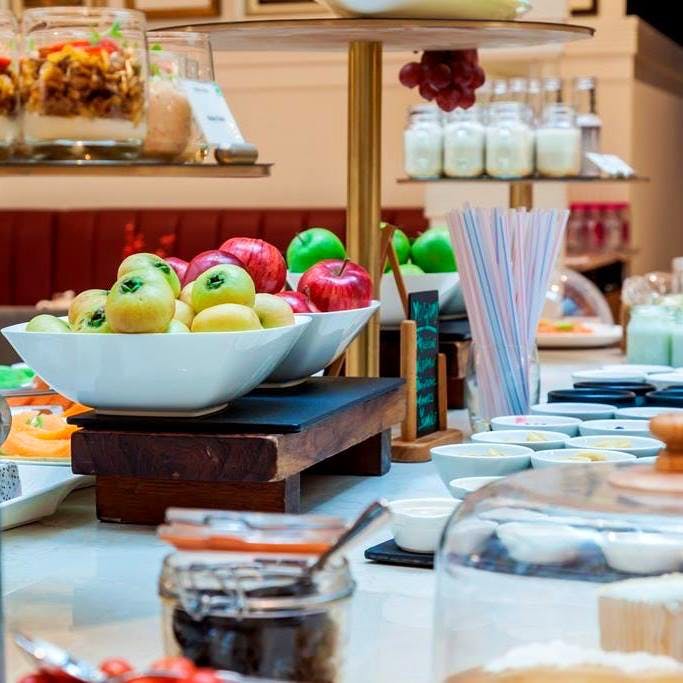 Pamper Your Palates At These 10 Luxury Restaurants In The City
In a choice between pleasing the palate or the pocket, sometimes you must pamper the former. Allow us to make that choice easier with our list of the most luxurious restaurants in the city.
West View Bar & Grill
West View is a meat lover's delight. The best international grill room in Kolkata, it offers the finest and freshest cuts of meats, poultry, seafood and vegetable, served in fusion styles. The fine pairing of wine and cheese here along with great views make this place an ideal choice for a special evening.
Must Try: Grilled English Vegetables with Arugula and Melted Talleggio Braised Scallops with Mirin dressing and wild rice salad.
Baan Thai
Baan Thai has all the ambience of a fine dining restaurant in Thailand. You will love the tastefully done interiors with hand carved statues, wooden masks and artefacts, as well as a life-sized Buddha statue welcoming you at the entrance. The ingredients are sourced directly from the country of origin, so that you can enjoy an authentic Thai culinary experience coupled with unparalleled hospitality.
Must Try: Baan Thai Kaeng Luang (Chef's Special Homemade Thai Yellow Curry)
Cal 27
The best part about this place is that it is open 24 hours. Cal 27 is famous for its lavish Sunday brunches with champagne, global menu and relaxed poolside ambience. Take a table near the giant glass windows overlooking the gorgeous swimming pool lined with bright yellow lounge chairs and umbrellas. A perfect place for fueling up, be it a quick snack or a leisurely meal.
Must Try: Chicken Bunny Chow (a South African street food),
La Cucina
If Italian food is bae, then La Cucina is where you should be. This restaurant offers the perfect setting to enjoy a lovely brunch with your better half surrounded by soft lights and soulful music. Add to that love affair - delectable cuisines and a sumptuous spread.
Must Try: Bekti Crosta Di Sale (fresh baby bekti filled with herbs, encrusted in salt and baked to perfection).
Seasonal Tastes
Enjoy experimenting with your food? Then Seasonal Taste should be right up your alley. With an altering menu for their brunches, they have a different dish assortment for each week. Dandelion yellow, peony pink and grass green colours lend this place a happy vibe. Food with a view? You got it! Located on the tenth floor, Seasonal Tastes pairs flawless flavors with an interactive dining experience.
Must Try: Gooey Double (hazelnut brownie with dark chocolate truffle).
The Legacy Grill
Say hello to a feast of grilled food! The Legacy Grill takes it one step further with live grill counters. Treat your palate to the delicious flavour of smoked meat with a menu that is packed with special grilled dishes from all around the world.

Must Try: Grilled Tenderloin and Lobster Thermidor.
Threesixtythree
Pamper yourself with a lavish Sunday brunch at the very fashionable Threesixtythree. Indulge in specially curated world cuisines that include European, Asian, Indian and Japanese. Enjoy pizzas cooked live in a wood fired oven, handcrafted single origin chocolate desserts and cold pressed juices. Let their specialist Japanese chef present you with live sushi, sashimi and a handpicked Japanese menu, complemented by uninterrupted views of the pool and palm trees in the central courtyard.
Must Try: Crab Meat Salad (on the all new wellness menu).
The Bridge
True to its name, it does successfully bridge the gap between hunger pangs and its utmost satisfaction. Their specialties include a live counter for starters, huge variety of salads and soups, a chaat counter, multi-cuisine main course spread and a dozen of sinful desserts to satisfy your sweet tooth cravings. Also popular for its immense collection of whiskeys, and famous brands of champagne and wines from all around the world.

Must Try: The Bridge Mixed Grill Sizzler.
Studio – The Pan-Asian Galerie
Kolkata's hub for live acts, eclectic eats and flamboyant cocktails. Authentic Asian food lovers, this is where you need to be. Studio has a variety of Chinese, Japanese, Thai, Indonesian and Vietnamese delicacies that are sure to keep you coming back for more.

Must Try: Mie Goreng (sambal tomato spiced stir fried noodles) and Char Siu (fish fillets barbequed in Chinese style).
Saffron
Ideal for a romantic first date or an evening of celebration, Saffron is the harmonious blend of the east and the west - a modern pan Indian restaurant with a tastefully cosmic ambient decor. Infusing the flavours of indigenous Indian cuisine with modern ingredients, the dishes served here are quite palate-pleasing, not too heavy on the stomach or even the pockets.
Must Try: Prawn Malai Curry and Cheese Truffle Baby Kulchas.
Ask Fatema a question