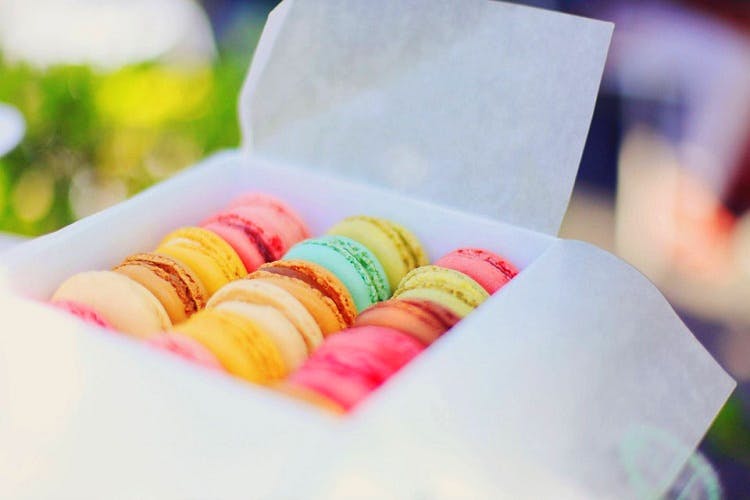 Hit Up These Six Places For Their Unique Collection Of Macarons We Love
Finding macarons in Kolkata can be quite an uphill task, since very few patisseries can pull off this luxurious dessert. Here are six cafes and patisseries in Kolkata that have nailed them to perfection.
Little Pleasures
Little Pleasures offers a variety of premium dessert options, including macarons priced at INR 75 in eight yummy flavours: Belgian chocolate, hazelnut, strawberry, lemon, salted caramel, orange, raspberry and mint. The quality is fresh and the texture is great.
The Rouge
Enjoy a cup of hot chocolate, coffee or tea with an assorted variety of four macaron options – hazelnut, chocolate, coffee and raspberry – for an affordable INR 35 per piece. Despite being reasonably priced, the quality is at par with other more expensive places, making it an ideal spot to grab them in bulk.
Yauatcha
Next time you are shopping at Quest and feel an urge to enjoy macarons, head to Yauatcha where you can enjoy one piece for INR 73 (including taxes) and three pieces for INR 260 (including taxes). If you want to take away an assortment of six macarons – in vanilla, pistachio, raspberry, blackberry, chocolate and sea salt caramel flavours – they'll happily box up a collection for INR 466, including taxes. This would actually be a nice gift idea for someone with a sweet tooth.
Paris Café
There are plenty of reasons to love Paris Café, and one of those reasons is definitely the number of flavours they offer, which go perfectly with a pot of refreshing tea. Innovative flavours, such as French toast, tiramisu, mango, matcha green tea and coconut passion fruit flavours are priced at INR 70, and chocolate raspberry macarons are priced at INR 75. These offbeat flavours will surprise your taste buds way more than the standard chocolate, lemon and rose ones priced at INR 40.
Glacé Patisserie
Glacé offers macarons in chocolate, strawberry, Nutella, rose and coffee, blueberry, pistachio and peach. You can pick up an assorted box of five pieces for INR 175. This patisserie is closed on Mondays, so plan a visit accordingly.
Comments