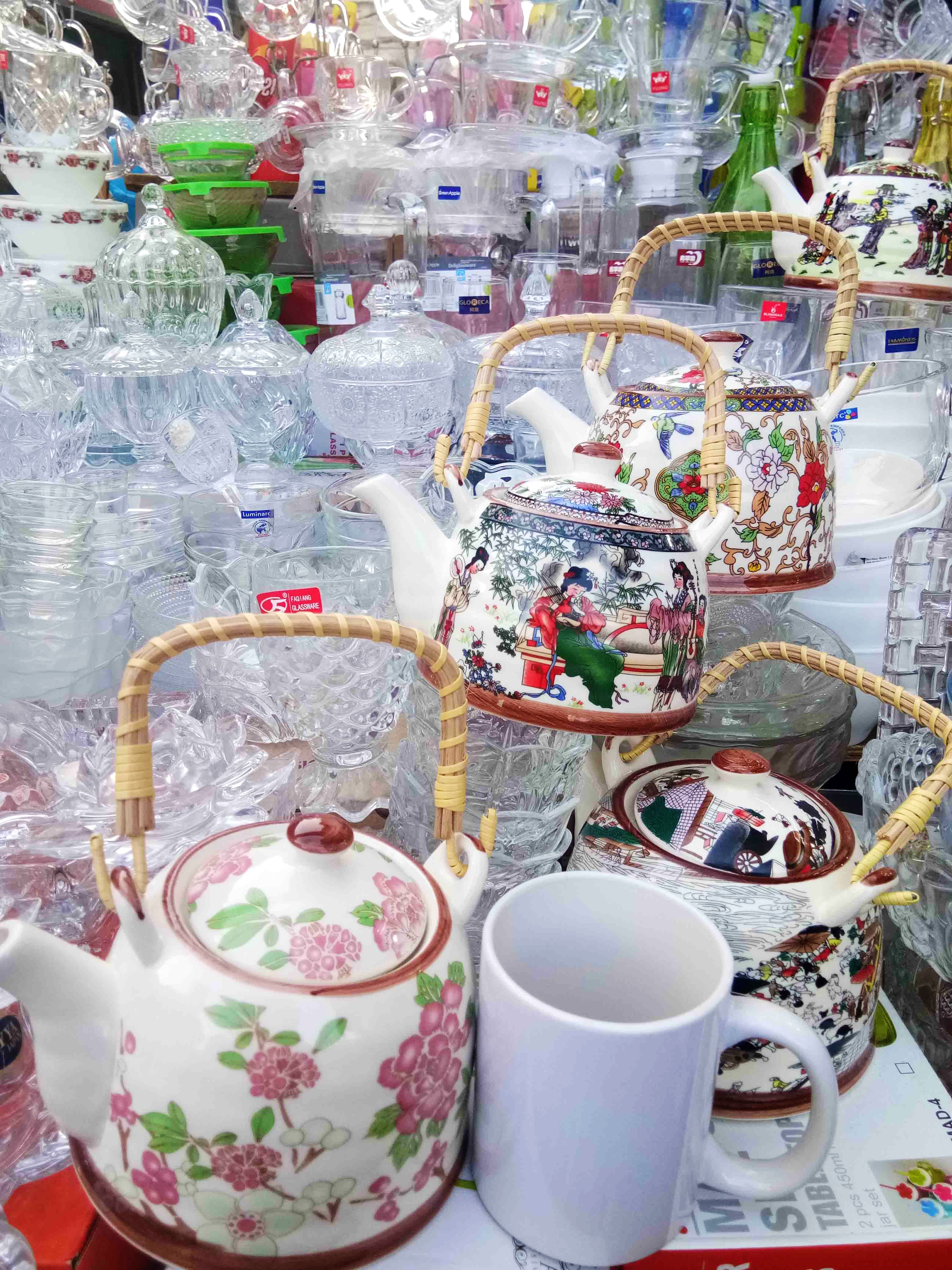 Bulb Glasses, Goblets And Plates: It's Time You Raid Crawford Market For Great Crockery
The kitchen is one of the most vital areas in our home. Most of our weekends, we either spend time whipping up meals, or loitering around the kitchen for food. We feel it's important to deck up this special room with crockery that's both colorful and quirky. Move over that basic kitchen, and revamp yours with kitchenware (read: awesomeness) that Crawford Market's Shaikh Memon Street has to offer.
Flora Collection
If you're a first timer at Crawford market, and are looking to buy good goblet glasses, bright melamine dinner sets, bulb glasses and much more, you will be directed to Flora Collection by everyone. It is one of the most popular crockery stores in the whole lane and rightly so, because they're affordable (a set of four medium-sized wine glasses will cost you just INR 400) And if you want to stock up on bulb glasses (for INR 100 a piece) or dinner sets (a set of four plates and bowls for INR 1,200), Flora is simply the best. Take our word.
Must Have Crockery
Again, another gem, Must Have Crockery is honestly a must have in your kitchen. They have super quirky printed knives and even though they serve the same purpose as a normal knife would do, no harm in adding some uniqueness, right? The biggest size comes for INR 120 and we'd say its worth it all. Apart from that, you can lay your hands on funky straws. They have them in cartoon characters, and they work wonders during theme parties (in case you want to dip them inside cocktails.)
P.S - They also have a toy store along with their crockery section.
Abdulla Kassam
This one's located between Shaikh Memon Street and Lohar Chawl. And if you want to stock up your fridge with classy, colorful and unique bottles (for INR 150 each), trust them with it. They also have really unique soap dispensers (for INR 250), that you can keep near your sink, and fill them up with dish-washing liquids. They're decked up with dry leaves and stones, and can instantly turn your usual sink to a pretty one.
Big Choice
Fancy flowery kettles and coffee mugs? Big Choice is your jam. For as cheap as INR 800 for the kettles, they are a good pick to serve tea in style. They're located at the beginning of the lane, and the owner of the store (he also has a stall) is super friendly. If your bargaining skills are on point, be assured of taking away a lot from Big Choice, at pocket-friendly prices.
K.G.N. Crockery Centre
Is it always a task to grab your tiny tot's attention? Get home some superhero and cartoon plates from this store, and watch how excited your kids are for a meal. They have Pokemon plates, along with Spiderman, Barbie, Mickey Mouse, Donald Duck, and a lot more to choose from. And they're all within an affordable range of INR 70 per plate.
#LBBTip
All the shops in Crawford sell Bone China products when it comes to crockery, and you must really have an eye to pick the best ones from the lot. Also, bargaining is a must. Hone your skills, or take someone along who knows the drill.
Ask Oindrilla a question