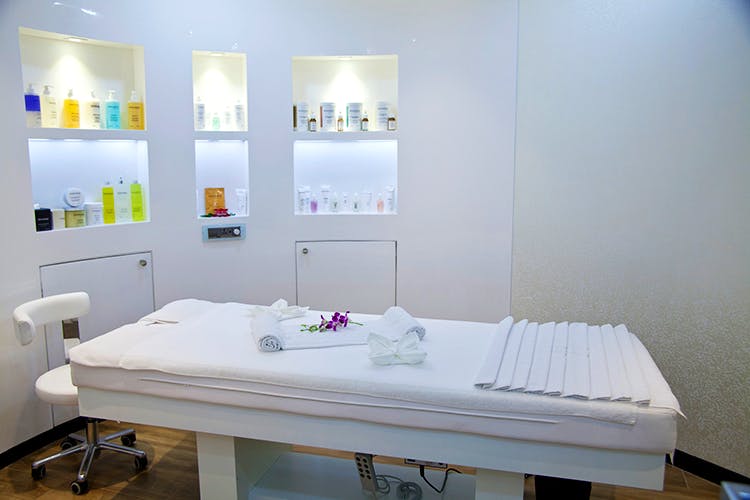 No Pain, No Gain: These Mumbai Parlours Are Your Safe Havens To Get A Brazilian Wax
Shortcut
Though as exotic as it sounds or is made out to be, there's nothing exotic about getting a Brazilian wax. If anything at all, getting our nether regions all out and open is possibly one of the most discomforting intimate activity we get ourselves into. Hence, it's utterly important to trust the women in the parlours, especially if you're a first timer. It's painful and uncomfortable-all rolled into one, but the end result is equally satisfying and smooth (in the literal sense of the word)
So, we've spoken to Mumbaikars and based on popular vote, these are some handpicked parlours in town to go to for a non-judgy and comfy Brazilian wax.
Shimmer Salon and Spa In Versova
Shimmer in Versova is a great place to get a Brazilian wax done, especially if it is your first time. It's a clean, luxurious salon and the staff is friendly and highly professional. They have separate rooms for waxing – so we advise making an appointment in advance lest you want to wait there. The rooms have music playing in them, and they even offer coffee, tea or plain juice to calm our nerves.
The Brazilian here will also include the back strip and we would personally recommend going for the chocolate wax as opposed to the normal one. However, if you're a regular, be a baller and do it the regular way.
Price: Regular Wax INR 900, Chocolate INR 1,200
Lakme In Bandra
Lakme Salon was one of the few salons in India to introduce Indian women to the glories and wonder of make-up, hair styling and more with their decently priced salon services.
The Lakme Salon, though has many outlets across the city, it's the Bandra one we would recommend. The ladies here are efficient, friendly and understanding. Over here they offer regular Brazilian waxing, and not the peel off. Book an appointment in advance over the phone so you don't end up waiting there for ages, as they tend to be quite busy regularly.
Price: Brazilian INR 1,200 excluding taxes, Backstrip INR 550
Jean-Claude Biguine Across Mumbai
The luxurious, high-end French brand made its way to India a few years back, and we could not be more excited. Not only do they offer a wholesome salon experience, it's a place many women swear by for their regular Brazilian. It's expensive but the services are worth it. They only offer bead peel-off wax here and is on an appointment basis.
The staff is well-trained, friendly and extremely efficient. If you have never done it before, they walk you through it well – and even suggest the days you ought to book the next appointment depending on the hair growth.
#LBBTip: You can even book online here, to save yourself time.
Price: Brazilian plus Backstrip INR 2,357 exclusive of taxes
Dessange In Kemps Corner
An exquisite salon from London and Paris, Dessange in Kemps Corner is a huge favourite. Though it's expensive, we do believe our nether regions deserve the best.
They offer only peel-off white bead wax for Brazilian, which is perfect because it's less painful, smoother and reduces the hair growth (which we've been told often). The Brazilian here includes the backstrip and they only work on appointments, so do not forget to book one in advance.
#LBBTip: We've been told Caroline at Dessange is the one person you must ask for.
Price: INR 1,900 plus taxes
Vannilla Salon And Spa
Vannilla Salon is in four locations, Andheri East, Khar, Oshiwara and 7 Bungalows, and it's one of the more affordable salons we've found for getting our Brazilian done.The ladies at Vannilla are easy to talk to, and even offer suggestions on how to keep the area moisturized and proper. Though they do not offer peel-off wax here, the regular waxing is really effective. They also keep coming out with regular deals which is great for when we're on a budget crunch.
Price: Normal wax INR 1,000, Chocolate Wax INR 1,250; Back Strip INR 400
Comments