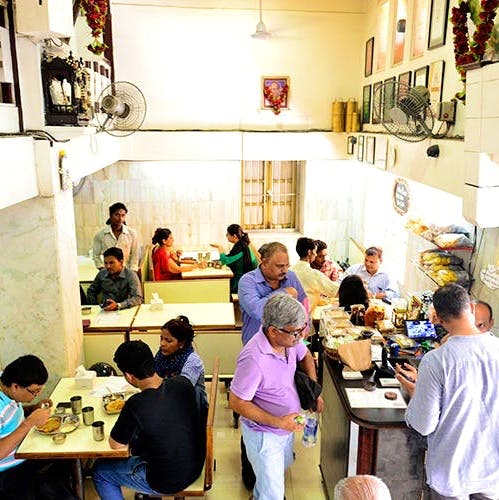 Madras To Matunga: South Indian Breakfasts We Will Wake Up For
Is there any better way to start your day than with appam and stew, vada and dosa and some gunpowder chutney and filter coffee on the side? For this, it doesn't get better than Matunga East, where the flavours of south India reside in Mumbai. Here are our favourite picks from some of the finest South Indian eateries in the area.
Ram Ashray
There's no doubt as to why this place ranks number one on our list. The small Udupi is located near Matunga Central station, and opens its doors to patrons as early as 5am, and by 6am it's already flooded with foodies.
If you don't mind waiting for an hour (we don't), then be rest assured you will be welcomed with varieties of sheera (pineapple, banana, chocolate, badam), rasam podi, medu vada, and Mysore sada dosa among their other specialties. Their service is super quick and their servers are friendly, making it an awesome morning for us.
Opens At: 5 AM
Arya Bhavan
Ever tried coin idlis? Well, you can now at Arya Bhavan, that serves steaming hot baby idlis with gun powder and ghee at the side.
The other must-haves of this slightly more refined south Indian eatery are their Brahmin idlis, rawa Mysore masala dosa and paniyaram (dal vadas). Their filter coffee is authentic enough to make you call for round two.
Opens At: 7 AM
Cafe Madras
The South Indian eatery to rule them all – getting a table here is a struggle in itself.
Good old Café Madras is iconic to this city, what with its popularity having risen over the last 75 years that it has been around. Go here for their delicious ragi dosa (all of their dosas are so crispy), upma podi, bisibele baat (our personal favourite), some filter coffee and close the meal with their amazing rawa ladoo.
Opens At:
Rama Nayak's Udipi Shri Krshna Boarding
Once you're at Rama Nayak's, it's pretty simple. You sit and eat, because the huge thali (served on a banana leaf) will have enough and more items to keep you busy.
The traditional south Indian meal comprises upkari (bhaji), two kinds of gravy, chapatis, rice, papads, and more. And if you eat here once, you will come back for more.
Opens At: 10:30 AM
Cafe Mysore
From rasam vadas to idli gadbad, neer dosa and pineapple sheera (it makes a comeback), Café Mysore is a quaint joint where you can spot people of all age groups enjoying the delicious southern flavours. Since it's one of the oldest udipis around, pretty much everyone living in and around Matunga (and every south Indian) has eaten here at least once.
Opens At: 7 AM
Sharda Bhavan
Another old establishment in Matunga, Sharda Bhavan is across Matunga station, and has some old favourites. It's a non-AC joint and the service here is pretty quick, so all you need to do is go there with a healthy appetite. Don't miss out on their upma, dosa, rasam vada and filter coffee.
Opens At: 7:30 AM

Comments