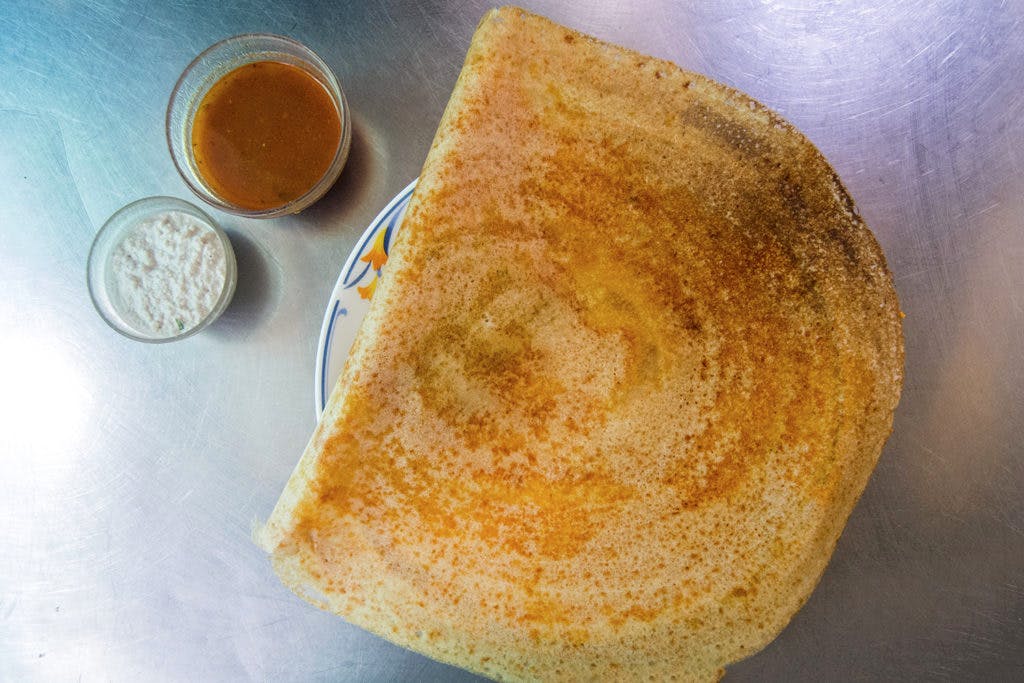 The Verdict Is Out: You Have To Try The Best Dosa In Pune At These Spots
Shortcut
Who doesn't love food from the south? We scouted for the crispiest and tastiest dosas in the city and these 10 places won our heart. Get munching.
Anna Idli
With several outlets across the city, Anna Idli serves some of the best South Indian food on a budget. You can try everything from a sada dosa, loni dosa and if you're staying off rice then order up a ragi dosa. The variety is sufficient and the flavour is delicious.

Kerala Café
An authentic Malayali restaurant, Kerala Café's food is delicious during every visit. So it's not surprising that their dosa is authentic, a little thick and perfect to eat your chicken, egg or buff roast with. They don't have a variety of dosas here but if you're looking to dip a good dosa in some curry, this is the ideal spot.

Ravi Famous Dosa
A favourite among the Viman Nagar crowd, Ravi Famous Dosa is known to have over 30 varieties and has some odd balls up his sleeve too. From Maggi dosa to American chop suey, paneer bhurji, noodles, Kerala cheese dosa, Ravi gives the South Indian cuisines a whole new definition. Starting at INR 20, eat the street dosa when you're up for some fusion food.

Mankar Dosa
Boasting of four outlets in Pune, courteous staff and comfortable seating, Mankar Dosa is a little bit of a competition to Ravi Famous Dosa when it comes to variety. Try dosas like schezwan cut masala, butter spring cut, loni sponge dosa among others here. And, their chocolate dosa is worth every penny.

Vaishali
The iconic age-old udipi, everyone who visits Pune makes a pit-stop at Vaishali for some delicious breakfast. So it's no surprise that this place would make it on a best dosa list. The Mysore cheese masala dosa here is our favourite. Other suspects include your regular masala, sada, rava dosa among others.

Sai Sudarshan Max Centre
If you're a fan of loni dosa, stop at Sai Sudarshan Max Centre. Students of Fergusson College cannot get enough of this place that is a small stall, serving up a variety of mouth-watering South Indian dishes. The taste and the cost passes every student's test with one plate of 3 dosas costing INR 40.

More Dosa
A small shop with outdoor seating, More Dosa's USP is the butter used to make all their preparations. Their loni sponge dosa is served with masala and green chutney which you cannot get enough of. You can also sample the usual suspects like masala, sada, cheese cut, cheese masala dosa.

Malgudi Station
With a varied menu, we'd recommend sampling the adei butter dosa here as it's the chef's speciality. You can also try the kal dosa and the neer dosa. If you're not into authentic dosas and want a few familiar flavours, dig into masala, Mysore, rava, set, paper and their few variations.

Madras Coffee House
With a few outlets across the city, Madras Coffee House is where you'll find delicious filter coffee and crisp dosas. They have a few other varieties like podi dosa, mint dosa, rocket dosa, pizza dosa and a few other varieties. It's very authentic and the crispy dosas will make you keep coming back for more.

Way Down South
Offering some varieties that you won't find at other spots, Way Down South offers some delicious dosas. Try bread dosa, teen dalli polo, mixed sprouts coriander dosa, doddak and others. The menu comes with a good description of all the dosas, so you won't be left wondering what you're ordering for sure.

Comments