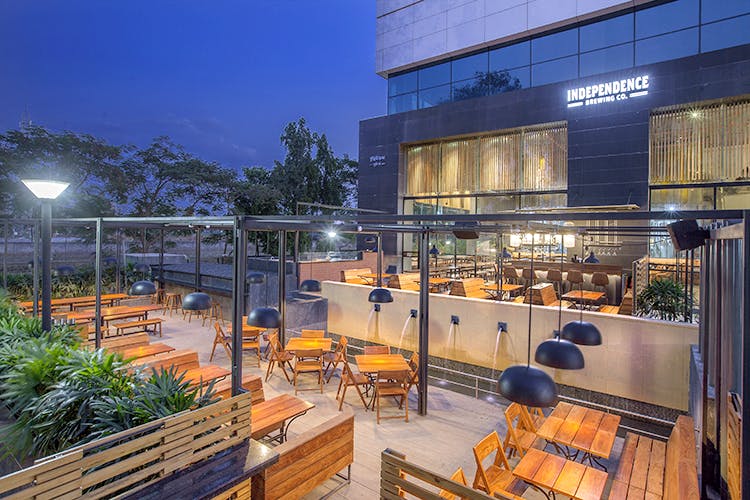 Break The Ice On Your First Date At These Bars In Pune
You matched online and are going on your first date. Head to these bars that are always crowded, very public and casual. They are perfect to break the ice at. And, if the date doesn't work out, at least you've got great drinks and food.
The Urban Foundry
The casual, industry-esque bar on Balewadi High Street has outdoor and indoor seating. We'd recommend sitting out. The food is non-messy, and if you're meeting on a weekday then the space has deals on each day of the week. If you're meeting for lunch on a Saturday, that's even better. It's a lovely space to be at in the day too, and the risk of meeting a stranger is put off. Plus, they've got their happy hours till 6 p.m., so it's an absolute win-win.

Elephant & Co.
Ask anyone in Pune for a good bar to hangout at, Elephant & Co. is always on their list. You just know that you'll be among the hippest crowd in the city and also manage to find privacy. With neon origami elephants hanging down from the makeshift ceiling to the table around the tree, this place is casual and fun all at once. Whether you're in Kalyani Nagar or Baner, this bar is ideal to meet your match at.
A big plus is that Elephant & Co. has an Elephant Shot. If you are ever uncomfortable and want to leave, you can go to the bar and ask for this shot and the staff will book you a cab and ensure you're leaving the bar safely.
Independence Brewing Company
If you love craft beer, this is an ideal place to stop by at. Sip on the brews on tap and gorge on finger food while you chat away. The Mundhwa and Balewadi High Street outlets are both well-lit, roomy and popular among a lot of people in Pune, so you'll be in a safe and comfortable environment all through the evening. Plus, you and your date can bond over craft beers and find out if that's your thing.

Lord Of The Drinks
Located in Kalyani Nagar, the Lord of the Drinks is a fun place to go to. Sit in the open air space or cuddle up inside. You'll get all the privacy you want, while the bar around you buzzes with activity. A few drinks later, you can hit the dance floor too. If you and your date don't like to dance, perhaps you can people-watch and talk over some drinks.

Linkin Barrel
The bar is pretty, cosily lit and cute for a first date with a match that could potentially be great. Linkin Barrel also has great offers on food and drinks. Its garden chairs and comfy seating will put you at ease, and you'll love the casual vibe here. And, the food and drinks are great too, so even if your company is boring, at least you can enjoy what the bar has to offer.

Comments