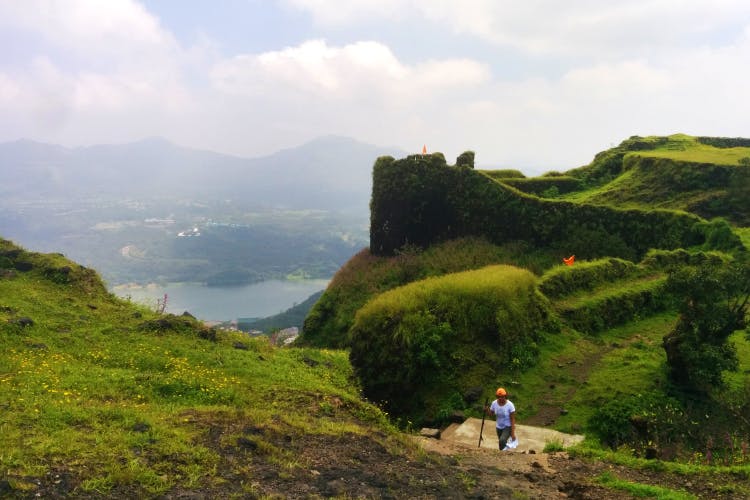 Go On These 5 Breathtakingly Beautiful Winter Treks Near Pune
Shortcut
The weather is great to get fit. If that's not your agenda, explore Maharashtra with these treks and take in the views. It's going to be foggy, green and beautiful! So strap on sturdy boots, carry water, food and a camera along with other trek essentials if you want to be out camping.
Torna
See where Shivaji Maharaj made history at the age of 16. Torna Fort also known as Prachandagad was first captured in 1646 and became the most important part of the Maratha Empire. It's the highest hill-fort in the district at 4,603 ft above sea level. It's about 50 km from Pabe Ghat, southwest of Pune. It's believed to have been constructed in the 13th century by Shiva devotees and is a large fort from where you can see other forts in the region.
Sandhan Valley
It's the Great Canyon of the Sahyadri range. Camping here in winter can be quite chilly, but it sets the perfect weather for a campfire. It's a combination of a canyon and a valley, and is known as the valley of silence or the valley of shadows. It's great if you can spend two days here and we recommend taking a private vehicle.

Korigad
Located near Amby Valley, Korigad is about 25 km aways from Lonavala and is near the more popular Tung Fort. The main attractions here are the caves and the ponds but you could also visit the Kolraidevi temple at the base. Take a route via Peth Shahpur, it's easy for beginners and first-time trekkers to trek from there.
Visapur
Higher than its twin fort Lohgad, Visapur is an easy trek to take. It's now mostly in ruins but you can see old caves, several old water cisterns and a few temples of Hanuman and old houses scattered over the precinct. It was built by Balaji Vishwanath, the first Peshwa of the Maratha Empire.
Kalavantin Durg
This could be one of the most dangerous treks to take, but if you're adventurous, you should definitely climb up. About 2000 ft above sea level, built for Queen Kalavantin, the steps zig-zag are have been carved into the edges of the rocky mountain. There are no ropes or railings to protect you, and the steps are quite narrow. So don't look down! The trek takes about three hours and promises gorgeous views. But anyone with vertigo should definitely avoid this trek.

Comments